2010 Akron Aeros Preview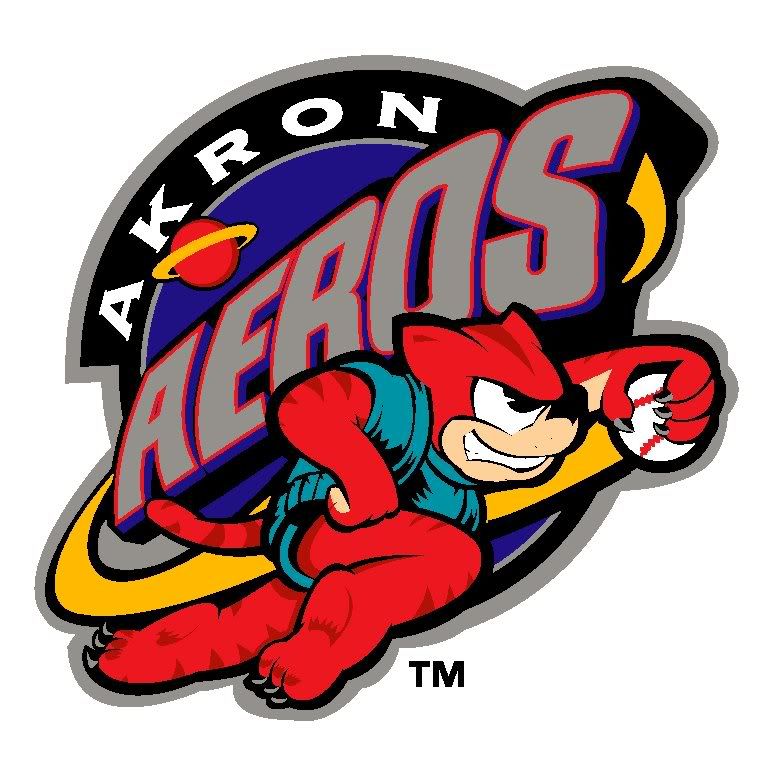 It was a magical season for the Akron Aeros in 2009 and it culminated in their third Eastern League Championship since 2003.
After making it to the Championship series and losing three years in a row, the Aeros finally broke through in what would be the final year for Eastern League Manager of the Year Mike Sarbaugh, who is now managing Columbus. The club has been to the Championship Series in the Eastern League in all but one of the past seven seasons.
With Sarbaugh promoted, Joel Skinner makes his return to the Aeros as manager. Skinner has won numerous Manager of the Year honors with just about every Indians team he has been with, the Aeros in 1998 included.
A few key players of Akron's run to the championship have moved on, but a few will be re-joining Skinner to start the year. They will have three offensive players in the top 20 of Tony's prospect rankings and before all is said and done, may have three pitchers in the top 20.
Both Carlos Rivero and Beau Mills will start the year with the Akron yet again. Offensively they'll be joined by Nick Weglarz from the start, who's advancement has been slowed down a little by injuries in 2009. The team will look toward Matt McBride and Lonnie Chisenhall, who had substantial time near the end of the season with Akron, to help replace the production of the departed Eastern League MVP Carlos Santana.
The starting rotation will also feature players that finished the 2009 season with the club. Eric Berger and Scott Barnes will attempt to replace Eastern League Pitcher of the Year Jeanmar Gomez. The pitching staff may see some changes at some point in the year as Nick Hagadone and Kevin De La Cruz are expected to be elevated if they stay healthy and pitch well for Kinston.
Akron is primed for yet another successful regular season run. With a strong offensive cast and the possibility of getting a stronger pitching staff as the season progresses, the Aeros will be looking to make their sixth straight Eastern League Championship Series appearance.
Note: Akron currently has more players on the roster that they'll be able to activate. This preview has more than 24 players included, but some may end up on the disabled list or not active until a later point in the season.
Coaching Staff
Manager: Joel Skinner
1st Season as Akron manager (3rd Season total), 15th season in Indians organization.
Hitting Coach: Jim Rickon
1st Season as Akron hitting coach, 12th season in Indians organization.
Pitching Coach: Greg Hibbard
1st Season as Akron pitching coach, 8th season in Indians organization.
Starting Rotation
Eric Berger (LHP), Scott Barnes (LHP), Ryan Edell (LHP), Zach Putnam (RHP), Paolo Espino (RHP)
The starting rotation for Akron could end up featuring high-end prospects, but for now it will be comprised of players that could fill different roles. 2008 draft picks Eric Berger and Zach Putnam join trade acquisition Scott Barnes, left-hander Ryan Edell, and Paolo Espino, who had a great breakthrough year in the Kinston rotation. Both Putnam and Espino have experience in the bullpen and it would appear as if Edell and Connor Graham may share starting duties.
Zach Putnam has perhaps the highest ceiling out of all the current starters. After getting into just three games the year he was drafted, Putnam was expected to start the year in bullpen last year. However due to injury, Putnam was pushed into the Kinston rotation. After five starts and a couple of more bullpen meltdowns in Cleveland, Putnam was moved back to the bullpen and earned a call-up to Akron. In the Aeros pen he notched 57 strikeouts in 56 innings with a 4.13 ERA. While his future may be in the bullpen, he'll be in the rotation to iron out his mechanics and develop the rest of his pitching arsenal.
Fellow 2008 draftee Eric Berger has had a similar rise through the ranks in the Cleveland organization. After an impressive debut for Mahoning County where we went 2-0 with a 2.12 ERA in eight games, Berger got a small shot in Lake County. He began the 2009 season in the Kinston rotation, but it wasn't long before he established that he needed a tougher test. Berger struck out 100 hitters in his 21 starts as a Carolina League All-Star and armed with a low-90's fastball and a 12-6 curveball, he jumped up to Akron for six starts. Berger's quick advancement suggests the Indians are high on him and are willing to continue moving him up the ladder as he improves on his pitches and throws more strikes.
Both Berger and Scott Barnes were drafted in the eighth round of the 2008 draft. Barnes came over from the San Francisco organization in the Ryan Garko trade last July, joining the Akron rotation after a few starts in Kinston. Barnes had a bumpy start to his stint in Akron, but he's made rapid progress through the Giants farm system, hitting three levels in his first year with the club in 2008. For San Jose in 2009, Barnes was 12-3 with a 2.85 ERA before he trade to Cleveland. With the Indians his walk rate rose a bit in the nine games, but with a full offseason under his belt, he should settle into the Akron rotation to work on developing his secondary pitches.
Despite getting a shot at Columbus last year for 15 games, left-hander Ryan Edell is expected to open up his third straight season in Akron. He pitched mostly as a starter for Akron last season, but saw more of his time in the bullpen for Columbus. Edell's age and versatility will probably land him in a filler role between Triple-A and Double-A as he will likely be one of the pitchers on the move when Columbus needs an arm. He could also slide into the Akron bullpen.
One player very familiar with shifting between starter and reliever is Paolo Espino, who was called upon to help the Kinston rotation due to injuries. Espino took the opportunity and ran with it, holding opposing hitters to a .206 average and carrying a 1.04 WHIP in 22 games for Kinston. Espino was drafted out of high school in 2006 and at the age of 23 has really started to mature as a pitching prospect. Like Edell or Graham he could get moved back into the pen at some point, but his versatility is a valuable aspect of his game.
Bullpen
Omar Aguilar (RHP), Connor Graham (RHP), Brian Grening (RHP), Kyle Landis (RHP), Chen-Chang Lee (RHP), Vinnie Pestano (RHP), Bryan Price (RHP), Erik Stiller (RHP), Heath Taylor (LHP), Neil Wagner (RHP)
With a lot of familiar names slated for the bullpen in Akron, it would be realistic to expect a repeat performance from a consistent part of last year's championship squad. The club will not have Carlton Smith, Josh Judy, or Steven Wright, but they are getting a few high-potential pitchers to fill out the bullpen.
It starts with expected closer Bryan Price, the third pitcher included in the trade that sent Victor Martinez to Boston. Price is moving back to the role he thrived in at Rice University, a back-end relief job, after being a starter in his minor league career. After coming over from Single-A Salem, Price started seven games for Kinston and recorded a 4.95 ERA. As a reliever, Price can bring a dominate mid-90's fastball to the table and compliment it with a slider.
The club also acquired Ohio-native Connor Graham from the Colorado Rockies organization at the trade deadline last year for reliever Rafael Betancourt. The big power armed right-hander had a successful season for Single-A Asheville in 2008, striking out 138 hitters in 147 innings. With Modesto in 2009, his strikeout rate climbed with his walk numbers decreasing. After 16 games for the Rockies High-A club, Graham was acquired and immediately sent to Akron where he started seven games. While he's only pitched out of the bullpen three times in his professional career, Graham's fastball and slider combination and inconsistent control make it more likely he ends up as a reliever. Graham could start the year in the rotation, but he'll likely spend most of the year in the bullpen.
Last year's closer Vinnie Pestano was having a career year, notching 24 saves through the All-Star break, before elbow issues struck and effectively ended his season. Pestano will eventually return to Akron as a member of the bullpen, but he first needs to get healthy. Another reliever that could eventually make his way to the Akron bullpen is left-handed Heath Taylor, who is recovering from a shoulder injury that claimed most of his 2009 season.
Undrafted Princeton product Erik Stiller will probably be one of the first in line for a Triple-A call. Stiller has spent the majority of the last two seasons in the Akron bullpen, winning eight games for the club in 2009. Stiller was forced into the rotation for a few games last season, but was extremely effective as a reliever, surrendering just two home runs in 69 innings.
Largely following the same path as Stiller, Neil Wagner's age may be catching up with him. He too is probably in line to be one of the first to get a shot at Triple-A, especially after his stellar season for Akron in 2009 in which he carried a 2.95 ERA in a team-high 46 appearances.
In his first year in the Indians organization, Chen-Chang Lee was a key to the 2009 Kinston bullpen. The sidearmed pitcher from Taiwan ended the year in Akron, but did not see any action during their playoff run. Now he'll suit up for the Aeros and display his outstanding strikeout-to-walk rate (just 28 walks to 97 strikeouts last season).
At 23-years-old, Kyle Landis will be one of the youngest members of the Aeros bullpen to start the season. Between Kinston and Lake County last season, Landis logged a 2.83 ERA over 70 innings. Landis has excelled at every level he's been to so far as a strike thrower with good control.
Brian Grening is one of the more versatile pitchers the organization has and that was proven by the fact he pitched at four different levels of the organization last year. The one team he did not pitch for was Kinston, which could be a team he sees time with this year. He could start the year in the Akron bullpen, but expect Grening being the guy the organization calls on when they are in a pinch somewhere else.
The newest addition to the Indians organization will round out the Aeros bullpen. Omar Aguilar was acquired just a few weeks ago to complete a trade that will keep Rule 5 pick Chuck Lofgren with the Milwaukee Brewers. Once a member of the 40-man roster and a higher-end prospect for the Brewers, Aguilar gets a second shot with Cleveland. He sports a blistering fastball that has reportedly reached triple digits at one point in his career.
Catchers
Alex Castillo (RHP), Miguel Perez (C)
They're both a far cry from Carlos Santana and his Eastern League MVP-type numbers, but the Aeros will sport a catching tandem of Alex Castillo and Miguel Perez. They perhaps could call upon Matt McBride to make some starts behind the plate as well.
Castillo is a 24-year-old out of the Dominican Republic who spent last season in Kinston. Mainly a backup catcher, Castillo will be pushed into starting duties for the time being. His real value is in his defense and he'll be leaned on to work with the pitching staff.
Miguel Perez is probably a relatively unknown product to many fans, unless you are a follower of the Pirates or Reds. Perez was once a highly-touted catching prospect in the Reds organization not long ago. At the age of 21 Perez got his only opportunity at the big league level, playing in two games for Cincinnati. Since then he's spent the past two seasons in the Pirates organization at the Triple-A and Double-A levels.
Infielders
Lonnie Chisenhall (3B), Adam Davis (UTIL), Jared Goedert (3B), Beau Mills (1B), Cord Phelps (2B), Carlos Rivero (SS), Josh Rodriguez (2B)
While the Aeros may be losing the number one prospect in the organization, gaining the second best prospect for a majority of the year isn't a bad trade-off. Lonnie Chisenhall hammered Carolina League pitching last year in his first full-season as a professional, and after 99 games was pushed to Akron. Despite missing the last month of the season in Kinston, he still finished sixth in RBI for the Carolina League. Chisenhall should be the centerpiece of the Akron lineup for a majority of the season, but could make the jump to Columbus before season's end if he continues to polish off his performance at third and at the plate. He is regarded as having one of the sweetest swings in all the minor leagues and the Indians no doubt regard him as their third baseman of the not-so distant future.
Across the diamond will be fellow first-round pick Beau Mills, who will start his second straight season at Akron. The former Carolina League MVP had a considerable drop-off performance-wise in 2009 and will need to prove he can consistently hit Double-A pitching before he makes the move to Columbus. Because he is a first-rounder the Indians have greater expectations for Mills, but he still knocked in 83 runs last season and almost matched his doubles total of 34 from 2008. Shelley Duncan may be keeping the seat warm at first base in Columbus, but if Mills gets off to a quick start, he could see himself at Triple-A sooner rather than later.
Not turning 22 until May, Carlos Rivero is still young for the Double-A level, so repeating the season isn't that bad. Rivero is very much ahead of the curve, so his numbers may not always match up to his status, but he's been compared to Jhonny Peralta for a reason. While he may be more of a power hitter like Peralta, he shows a lot of promise as a good all-around hitter with walk and strikeout numbers that are a lot closer to each other than they are apart. He's also able to move around the shortstop position despite his 6'3, 220 pound frame. Rivero needs to develop consistency and his second year at Akron may help him do that.
Rivero's double-play partner will be former Stanford product Cord Phelps, a consistent defensive player at second base. Phelps my not boast the healthy average he did for Mahoning Valley in his first professional season, but he has a knack for getting on base. In 130 games last year Phelps crushed the Carolina League in walks, leading with 93, which was 19 more than the second most. Phelps was second in on-base percentage last year and is expected to be a catalyst for the club at the top of the lineup.
Injuries and an increased depth in the farm system has pushed Josh Rodriguez down from a top prospect in the organization to likely a bench player at Akron. This will be his third straight year starting for Akron after breezing through the first few levels of the system in a year and a half. Rodriguez's 2009 season was pretty much dominated by a hamstring injury.
The bench could also feature Jared Goedert, who has the ability to play second and third base and Adam Davis, who can play just about anywhere. Goedert is coming off a season with injuries and loss of playing time due to Chisenhall's promotion. Davis is a former third round pick looking to make his mark as a utility player who can play just about every position on the diamond.
Outfielders
John Drennen (OF), Tim Fedroff (OF), Matt McBride (1B/OF), Nick Weglarz
The outfield picture may look a little crowded to start the season, but it should figure to be a strong part of the Aeros this season.
Who knows how long Nick Weglarz will be around in Akron, but after a year that involved injuries and other commitments, he'll be able to settle in to the outfield for a little while. Weglarz is what you would call country strong and he has a knack for getting on base. With the injury behind him, Weglarz will be expected to put up the big numbers he is capable of before an eventual move to Triple-A.
One player that could bounce around between the outfield, first base, designated hitter, and even catcher depending on what happens with Weglarz is Matt McBride. It was a breakthrough year last season for McBride as he obliterated opposing pitchers at Kinston to the tune of a .405 average in 31 games. It earned him a jump to Akron where he wasn't as hot, but still very much an extra-base machine. Durability has always been a concern for McBride and perhaps the move away from catcher helped preserve him. However, with the depth at both first base and the outfield, McBride's ability to continue to move up the system likely hinges on him becoming a constant behind the plate.
If Tim Fedroff is going to be successful, he should plan on being a constant for this year's Aeros squad in center field. The former Tar Heel had a decent season for Kinston last year, but the $725,000 the Indians gave him for a signing bonus suggests they expect more. It wasn't until after he returned from a hamstring injury that he caught fire to end the season. Fedroff should be in Akron all year as he's expected to polish his ability in center field and become a better base runner.
John Drennen's claim to fame has always been the home run he hit off Roger Clemens a few years ago when "The Rocket" was making his minor league comeback tour. The former first round pick couldn't find his way out of Kinston after two-plus years until he got his shot to start the 2009 season in Akron. A poor start led to a return to Kinston and the return to Kinston led to a switch being turned on for Drennen at the plate. By June, Drennen was back at Double-A where he would polish off a breakthrough season in Akron's postseason run. Still 23-years-old and back on track, Drennen can re-establish himself and perhaps make a push to be in Columbus by season's end.
Nino has his own blog at
www.thetribedaily.com
and will be following and writing about the Akron Aeros this season here at the IPI.
User Comments
No comments currently. Be the first to comment!