2010 Indians 12th Round Pick: 3B Tyler Cannon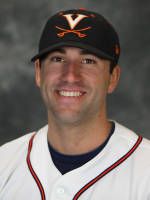 In the 12th round of the 2010 Draft, the Indians have selected
3B Tyler Cannon
out of the University of Virginia.
Height: 6'1" Weight: 185 DOB: 08/30/1987 Bats: Switch Throws: Right
Jeff Ellis:
Tyler Cannon is the first senior taken by the Tribe this year. Last year he was a 41st round selection, so he might be the rare senior where going back to school helped him out. Seniors are in many cases typically treated like plague careers in the baseball draft, if they are still around by their senior year then obviously something had to have gone wrong is the view. Cannon came back this year and played well and showed teams he should be given a chance to try and make his way to the majors. Cannon is another hard working, instinctual player. He has plus hands at SS and good instincts, though the Tribe announced him as a third baseman so I would think they are going to transition him there as they have done with many shortstops. Cannon doesn
User Comments
No comments currently. Be the first to comment!