2010 Indians 1st Round Pick: LHP Drew Pomeranz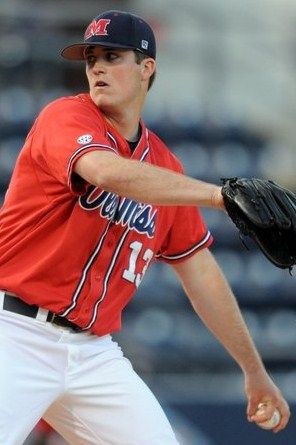 In the 1st round of the 2010 Draft, the Indians select
LHP Drew Pomeranz
out of the University of Mississippi.
Ranks:
Keith Law: 4th
PGCrosschecker: 3rd (ahead of Machado)
Baseball Amaerica: 5th
Director of Amateur Scouting Brad Grant's Takes:
On Drew Pomeranz:
"Drew brings a power fastball 90-95 MPH with a plus late breaking swing-and-miss curveball, a changeup, and an ability to start. On the mound he is an extreme competitor as he is very mature and very focused. Nothing wavers him at all and he looks much more mature than everybody else out on the field because of that presence that he brings out on the mound. He was the SEC Pitcher of the Year, so that does have a factor for us, but at the same time he pitcher very well and was one of the top starters with Team USA this year. We scouted him out of high school, for three years at Mississippi, and with Team USA, so we have a lot of history similar to the history we had with Alex White [last year]. This winter after his performance with Team USA and in the Regionals, he was a targeted guy for us. We feel like we got a big front of the end rotation left-handed starter.
User Comments
No comments currently. Be the first to comment!