2010 Indians 37th Round Pick: OF Trey Griffin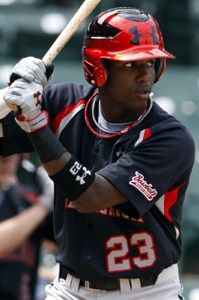 In the 37th round of the 2010 Draft, the Indians have selected
OF Theophilus "Trey" Griffin
out of Martin Luther King High School (GA).
Height: 6'2" Weight: 192 DOB: 11/20/1991 Bats: Right Throws: Right
Video:
Video of him at Baseball Factory
.
Quick Hit:
This is an interesting pick as Griffin has a lot of potential, though will likely make good on his committment to attend Oklahoma State University in the fall. PGCrosschecker ranked him as the 121st best high school player in the 2010 Draft and Baseball America projected him to go in the top ten rounds of the draft, so he obviously slid for signability reasons. He is very athletic and muscular, has a strong arm, and an interesting bat. The Indians are throwing a bone here to him and while he likely will not sign, they get the chance to exclusively negotiate with him the next two months and also follow him and watch him play in the summer leagues. File his name away as a potential Tribe pick in 2013 if he doesn't sign.
Video:
User Comments
No comments currently. Be the first to comment!