2010 Indians 43rd Round Pick: SS Christopher Waylock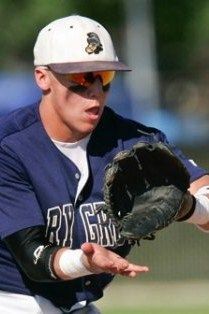 In the 43rd round of the 2010 Draft, the Indians have selected
SS Christopher Waylock
out of Cary-Grove High School (IL).
Height: 5'10" Weight: 171 DOB: 08/07/1991 Bats: Right Throws: Right
Quick Hit:
More high school players for the Indians, and good to see. Waylock is committed to junior college at Iowa Western Community College, but may be one of the more signable high school players the Indians have taken. The Indians were one of the most active teams in pursuit of Waylock before the draft, so it was no surprise to see them select him even though it came late in the draft. He is an athletic shortstop who has very good hands, a solid arm and could develop into a real player there. This year he hit .360 with 4 HR, 19 RBI, and 20 stolen bases for his high school team, and showed a good ability to limit strikeouts with just eight total over his junior and senior seasons.
Signing Update (June 11):
Shortstop Chris Waylock (43rd round, Cary-Grove HS) will probably honor his commitment to Iowa Western Community College, but the Indians were the team with the most interest in him when teams scouted him, and he may not be as hard of a sell as the other high school and juco players the Indians selected.
Video:
User Comments
curtis Lofgren
June 9, 2015 - 2:11 PM EDT
You need to reach out to Chris Waylock and lock him up for the next season. He'll end up on another team. Go get him and sign him!