2010 Indians 44th Round Pick: LHP Brock Stassi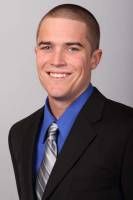 In the 44th round of the 2010 Draft, the Indians have selected
LHP Brock Stassi
out of the University of Nevada Reno.
Height: 6'2" Weight: 190 DOB: 08/07/1989 Bats: Left Throws: Left
Bio:
Here is
his player page
on the Nevada Reno site.
Quick Hit:
He was named the WAC Pitcher of the Year this season where he led the conference with a 3.28 ERA and tied for first with seven wins and three complete games. He also hit .378 which ranked 8th in the conference and his .701 slugging% was tied for 1st. Last summer he pitched in the Cape Cod League and in 14 relief appearances he was 1-1 with a 3.72 ERA and had 15 strikeouts in 19.1 innings. He also plays first base and some outfield, and this past season hit .364 with 9 home runs in 176 at bats. There is some talk that he will focus more on becoming a full time position player, which would make him hard to sign for the Indians as they drafted him as a pitcher. He is the older brother of Max Stassi who was drafted in the 4th round of the 2009 Draft by the Oakland A's, and his father Jim Stassi was a catcher who was drafted in the 17th round of the 1982 Draft by the Giants.
Signing Update (June 11):
Stassi is currently pitching for Wisconsin in the Northwoods League. The interesting thing is while he was drafted by the Indians as a pitcher, he is playing first base with Wisconsin and
according to his father
is a position his college is considering playing him at next season. His interest to try and play first base probably takes him off the signing radar for the Indians, if he was even on it to begin with.
User Comments
No comments currently. Be the first to comment!