2010 Indians 7th Round Pick: RHP Robbie Aviles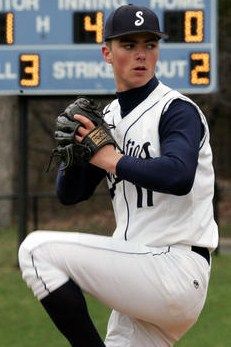 In the 7th round of the 2010 Draft, the Indians select
RHP Robbie Aviles
out of Suffern High School (NY).
Height: 6'4" Weight: 190 DOB: 12/17/1991 Bats: Left Throws: Right
Signing Update (June 11):
The Indians were excited to get right-hander Robbie Aviles (7th round, Suffern HS) as late in the draft as they did, but a lot of this had to do with him sliding because of a partial tear to the ligaments in his elbow a week ago. The injury made several clubs steer clear of him, but the Indians took a gamble on him and will want to have tests done on the elbow to determine the severity of the injury before going further in the signing process. He may have been a hard sign for any team going into the draft, but the injury may have changed things on that front.
Ranks:
Keith Law: 85
Baseball America: 58
PGCrosschecker: 69 (#1 in NY)
Jeff Ellis:
Robbie Aviles is a sign that the Indians are playing it a lot looser this year and not afraid to take risks. He is the number one prospect from the state of New York. He was considered a possible supplemental pick till it was discovered he had torn ligaments in his elbow, while not requiring TJ surgery it was enough to hurt his stock, and he will be sidelined for months.
Aviles is a very projectable pitcher who has hit 95 but sits at 88-92, and while he doesn
User Comments
No comments currently. Be the first to comment!