2011 Akron Aeros Preview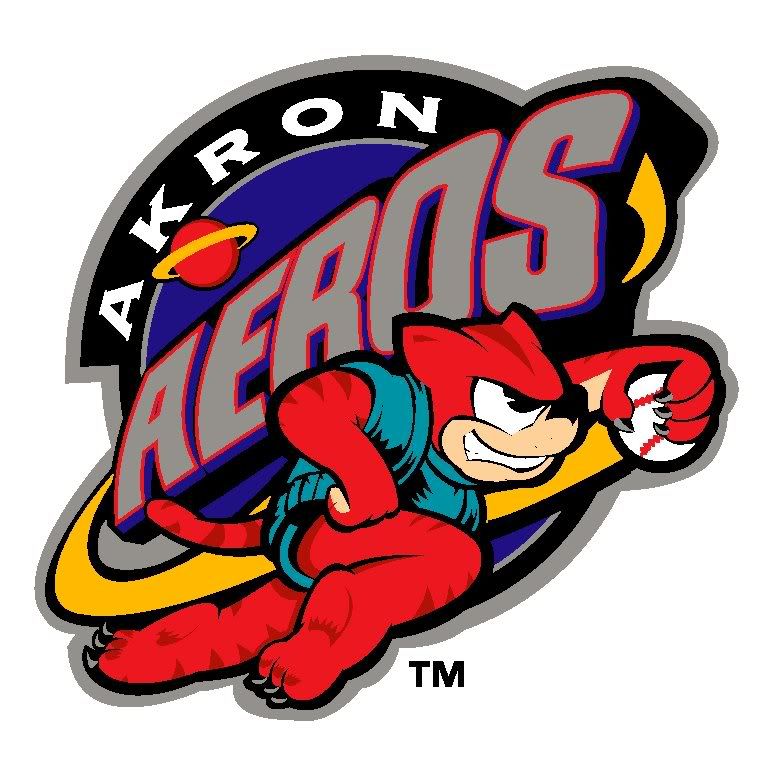 (Photo: Akron Aeros)
A magical run of Eastern League success came to an end last year, but the Akron Aeros run is far from over.
For the first time since 2004, the Aeros didn't make it to the playoffs. However they did finish .500 and we're yet again in the thick of it for a playoff spot. The move to the Western Division proved to be much tougher as Altoona rolled their way into the playoffs and to an Eastern League title.
This year, the Aeros will have some familiar faces but play a style that Akron may not be accustomed to. A lot of players from last year have returned, seasoned with Double-A experience, but most represent the new breed of Indians baseball. While relievers like C.C. Lee and Bryan Price are familiar names, their stays could be short depending on the movement in Columbus and injuries/need from the big league team.
With an outfield comprised of players that played the majority of their 2010 with Akron, the infield looks radically different, anchored by intriguing hitting prospect, Chun Chen. This team is very much built on getting on base and speed.
It could be a fun year with the possibility of young players like Nick Hagadone, Kelvin De La Cruz, Joe Gardner, and Tim Fedroff coming into their own. And with the possibility of players like first round pick Drew Pomeranz and Abner Abreu making their way to the Rubber City at some point; it could also be a return to the playoffs.
Coaching Staff
Manager: Chris Tremie
1st Season as Akron manager, 6th season in Indians organization.
Hitting Coach: Rouglas Odor
1st Season as Akron hitting coach, 13th season in Indians organization.
Pitching Coach: Tony Arnold
1st Season as Akron pitching coach (5th Overall), 14th season in Indians organization.
With Joel Skinner's departure for a big league gig in Oakland, the Aeros had an opening to fill. Cleveland decided to fill the space with Chris Tremie, a younger name in the Indians coaching ranks, has previously managed Lake County, Kinston, and was with the Arizona Rookie League team last season. He now makes his managerial debut at the Double-A level.
Continuing to shift their staff, the Indians have brought Rouglas Odor up from Kinston to be their hitting coach and return a familiar face to be their pitching coach, Tony Arnold. Now in his third stint with the Aeros, Arnold last was the pitching coach for Akron in 2008 and held a longer stint from 1996 to 1999.

Starting Rotation
Scott Barnes (LHP), Kelvin De La Cruz (LHP), Joe Gardner (RHP), Austin Adams (RHP), Matt Packer (LHP)
The Aeros stand to have a strong rotation to open up their 2011 season, headed up by returning left-handers Scott Barnes and Kelvin De La Cruz. Last year's breakout sensation Matt Packer is sticking around for possibly a full-season with Akron and they are joined by two right-handers who tore up the Carolina League, Joe Gardner and Austin Adams.
Barnes had a rocky year in 2010, but is still highly regarded within the system as he headlines the Aeros rotation. Barnes was a strikeout king, punching out 127 hitters last season, but he struggled in 26 starts. It was an inconsistent year, but it was also his first full-year in both the Indians organization and Double-A. He showed flashes of brilliance, so there is some hope that this will be the year Barnes puts it all together.
There's probably more hope in 40-man occupant Kelvin De La Cruz, who was likely rushed through Kinston to Akron in an effort to speed up his development. You'll remember that DLC hardly pitched at the High-A level with the K-Tribe, sitting out most of 2009 with an injury, and making only a handful appearances at Kinston before moving to Akron last season. This year should be much better for De La Cruz, and if things go right and there's an opening, he could be the first to get a call to Columbus. One thing he'll need to work on is his control, as he walked 64 hitters to his 77 strikeouts. A large difference than the 28-8 ratio he had in Kinston.
Matt Packer was the amazing story within the minor league system last year, jumping from Lake County (where he was tremendously successful in both roles of starter and reliever) to Akron. The success he had at Lake County carried over to Akron as a starter and it has earned him a spot in the Aeros 2011 starting rotation. With few growing pains last year, he may be in for some this year, but don't be surprised if he isn't phased at all.
The new faces to Akron's rotation are two of Kinston's brilliant starters. After sharing a piggyback role with Marty Popham in Lake County, Adams went on to make 12 starts for the K-Tribe, pitching way better than he did with the Captains. He went 6-1 with a 1.53 ERA and 51 strikeouts. Meanwhile, after making just six starts for the Captains, Joe Gardner went on to have an incredible season in Kinston, winning 12 games and striking out 104 hitters. Despite only starting 22 games, he was ninth in strikeouts among Carolina League pitchers. Over the course of 147 innings last season, the Carolina League Starter of the Year gave up just six home runs.
Overall, the Aeros rotation looks solid and has a good chance of sticking together for the entire year. De La Cruz may be the one guy the Indians look to move up at some point, but even he may need to prove himself over the course of a few months before that option is considered.
Bullpen
Cory Burns (RHP), Eric Berger (LHP), Connor Graham (RHP), Nick Hagadone (LHP), Matt Langwell (RHP), Bryan Price (RHP), Rob Bryson (Disabled List)
Even though some of the faces are the same, the Aeros bullpen has a new and different attitude that fans may be used to. In the past, the bullpen has been made up of the likes of Carlton Smith, Steve Wright, Randy Newsom, and even major leaguers Frank Herrmann and Josh Tomlin. No doubt successful, but not one that will blow the doors off lineup late in games.
The 'pen will be anchored at the back end by Cory Burns, Carolina League All-Star and closer extraordinaire. Burns notched 42 saves last year, 30 of which came in Kinston where he carried a 1.83 ERA and held hitters to a .210 average. Burns struck out 81 hitters and doesn't even begin to represent the breed of strikeout pitchers the Aeros will be carrying.
He's joined by familiar faces C.C. Lee, Bryan Price, and Nick Hagadone. Aeros fans are familiar with the abilities of Lee and Price, striking out a combined 151 hitters in 142 innings of work. Both Lee and Price spent full seasons at Akron last year with much success and if a need arises in Columbus, could get a promotion. Meanwhile Nick Hagadone makes the full transition into the bullpen, for now. Like De La Cruz, past injuries may have rushed the Indians to move Hagadone from Kinston after a short spurt of success.
After some issues starting and in just an overall effort to limit innings, Hagadone was put into the bullpen and after some initial battles, started to find his groove as a reliever. His move to the pen is perhaps a way to fast-track him to Cleveland, or at least speed up his development for the time being.
The rest of the bullpen is made up of a few other familiar faces as well. With an influx of high-ceiling arms in the organization, Eric Berger is making the transition from starter to reliever. Already making the full time transition into reliever, Connor Graham returns for another go-around in the Rubber City after some bouts with control in 2010.
The fresh face of the bunch is Matt Langwell who's steadily progressed through the system, posting back to back 45-apperance seasons in Lake County and Kinston. The reliable right-hander can also strikeout hitters, but is more known for his control and low walk counts.

Catchers

Chun Chen, Juan Apodaca
After being spoiled with Carlos Santana for pretty much a full-season, along with most of their roster, Akron had a big gaping hole behind the plate offensively. Throughout 2010 they had the void filled by the likes of Miguel Perez, Alex Castillo, Damaso Espino, Juan Apodaca, and even Wyatt Toregas initially.
This year, Apodaca returns after being acquired from Boston to be the backup to top-flight hitting prospect Chun-Hsiu Chen. Still raw behind the plate in terms of defense and handling a pitching staff, Chen's bat is nothing of the sorts. In 2010 he had a remarkable year between Lake County and Kinston, hitting .315 with 12 home runs, 69 RBI, and a .404 on-base percentage.
He led the minor league system with 38 doubles and garnered plenty of recognition but perhaps highest was making the World roster in the MLB XM All-Stars Futures Game. Chen got a late invite to major league camp this spring and is ranked 22nd in the Indians system by Baseball America and 20th in Tony's rankings here at IPI.
Infielders
Cristo Arnal (IF), Kyle Bellows (3B), Juan Diaz (SS), Matt Lawson (2B), Matt McBride (1B), Karexon Sanchez (IF)
After a few seasons of fielding a lot of the same players, the Akron Aeros infield looks dramatically different. Carlos Rivero was plucked off waivers this offseason, Beau Mills is starting injured, Josh Rodriguez is in Pittsburgh, and Lonnie Chisenhall is close to breaking through with the big boys.
Three of the four starting infielders for the Aeros were not in the Indians organization at this time two years ago. Shortstop Juan Diaz was acquired midseason in the Russell Branyan trade, second baseman Matt Lawson also came over from Seattle, but in the Aaron Laffey trade earlier in the spring, and Kyle Bellows was part of the 2009 draft class.
The one recognizable name is Matt McBride, who has been pushed out of the Columbus outfield and into the first base job with Akron. Who knows how long his stay will be, but he definitely is looking to get another crack at the Triple-A level.
Lawson is viewed as a non-prospect, simply a scrappy young player who will fill the Indians middle infield need at the higher levels. Diaz is an interesting prospect, still incredibly young and prone to strikeouts. But he's shown a good bat the past few seasons in the California League.
The intrigue should once again center on the hot corner with third baseman Kyle Bellows. The slick fielding Bellows isn't known for his bat (unless you like strikeouts), but is capable of producing some quiet run production. The focus with him mainly is on his highly regarded defense.

Outfielders
Johnnie Drennen, Tim Fedroff, Jordan Henry, Donnie Webb
If there is a strength to Akron's Opening Day roster it would be their outfield. All familiar faces to the Rubber City, John Drennen, Tim Fedroff, and Jordan Henry bring a great mix of hitting, speed, defense, and ability to get on base. They are joined by another speedy young outfielder, Donnie Webb, who fits the fourth outfield role perfectly.
Returning for his third season in Akron, Drennen realistically has no reason to be held back. He isn't back with the Aeros for lack of performance, that's for sure. But if Matt McBride being Akron tells you anything, it should tell you that if there's no room for McBride in Columbus, there likely isn't any for Drennen.
The shame of it all would be Drennen's 2010 numbers, a .300 average, .355 on-base percentage, and 39 extra-base hits. Drennen stands the most to gain from injuries at the upper levels, so if he remains healthy and carries over his 2010 performance, he should get rewarded.
The two players on offense that you should keep an eye on are most definitely Tim Fedroff and Jordan Henry. Former UNC product Tim Fedroff doesn't do one thing well and his bat may look a little lackluster in terms of the numbers, however he plays hard. He finds ways to get on base and plays a solid outfield. Henry meanwhile takes that idea of getting on base to another level with a high average and an even higher ability to work the walk.
And when he's on base, Henry makes you pay. Between Kinston and Akron last season Henry was successful 29 out of 35 times stealing a base. The speedy outfielder will also cover a lot of ground in center at Canal Park and should create havoc as the Aeros leadoff hitter.
Overall, the outfield may not produce a lot of power, but it could be the most exciting part of the Aeros regular lineup, both offensively and defensively. Look for the outfield trio (and even the speedy Webb) to be the catalysts of this squad, along with catcher Chun Chen.
-
Nino covers the Akron Aeros season-long here at the IPI. He has his own blog at The Tribe Daily and you can follow him on Twitter @TheTribeDaily.
User Comments
No comments currently. Be the first to comment!