2011 Draft Signings: Signings will go right up to deadline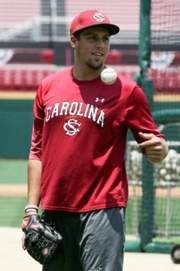 Michael Roth (Photo: AP)
There still is not much of anything to report on any of the Indians unsigned top ten picks as none of them have signed or are close to signing. In fact, the dialogue with most if not all is nearly non-existent between the Indians and the player's representation. I can tell you two things though: 1.) All of these signings except maybe 5th rounder right-handed pitcher
Will Roberts
will go right down to the August 15th deadline or close to it and 2.) in the end the Indians are very likely going to sign them all. This is just the charade that is the signing process where we have to wait until around August 15th for dialogue to pick up and for everyone to get their money and their guys signed.
All that said above for the top ten guys, the same does not apply to 20th round pick left-hander Dillon Peters. He is not a sure thing, and probably more 50-50 and a fallback in the event something goes sour with one of the top ten guys. He has a strong commitment to Texas where even late first round money may not be enough to pry him away.
Don't expect anything to happen anytime soon with 31st round pick left-hander
Michael Roth
. Fresh off helping his South Carolina teammates win a second consecutive College World Series championship,
he is off to Spain for six weeks
for a work-study program. His lack of interest in getting in touch with scouts during this year's draft and his comments lacking any sense of urgency suggest he is almost certainly expecting to go back to school and won't sign. If I were placing odds on him, I'd say 10% at best he signs with the Indians, and that's being generous.
Over the weekend the Indians announced that they officially signed 33rd round pick right-handed pitcher Jack Wagoner. He has been assigned to short season Single-A Mahoning Valley.
Follow Tony and the Indians Prospect Insider on Twitter @TonyIPI. Also, his latest book the 2011 Cleveland Indians Top 100 Prospects & More is available for purchase for $20.95 to customers in the US (shipping and handling extra).
User Comments
No comments currently. Be the first to comment!