2011 Indians 10th Round Pick: RHP Jeffrey Johnson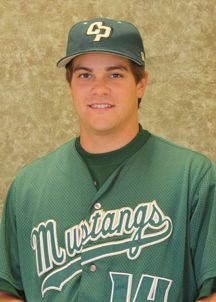 Photo: Cal Poly Athletics
In the 10th round of the 2011 Draft the Indians select right-handed pitcher Jeffrey Johnson out of Cal Poly San Luis Obispo (CA).

Bats: Right, Throws: Right, Height: 6'0", Weight: 200, Date of Birth: 02/09/1990

Notable links:

Cal Poly profile page
Linked to Indians pre-draft
Jeff Ellis: Jeffrey Johnson is this year's ghost man. He is not listed by any of the major scouting sites. He is a right handed pitcher who was mostly a closer for Caly Poly. He saw a big jump before his junior year in velocity going from the mid 80's to peaking at 95 before this year began. He also throws a plus splitter. This allowed him to strike out 40 hitters in 27 innings and have a 1.63 ERA. He did miss some time thanks to tendinitis this year or his numbers could have been even better. He was linked to the Indians and the Red Sox in a local article, so there you go Tribe fans we stole a player from Boston. So Johnson is another power arm to throw into the large pool of prospects for the Indians bullpen.

Follow Tony and the Indians Prospect Insider on Twitter @TonyIPI.
Follow Tony and the Indians Baseball Insider on Twitter @TonyIBI. Also, his new book the 2014 Cleveland Indians Baseball Insider which profiles the Indians' Top 100 Prospects and more is available for sale.
User Comments
No comments currently. Be the first to comment!