2011 Indians 11th Round Pick: RHP Luis DeJesus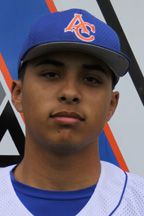 Photo: Angelina Athletics
In the 11th round of the 2011 Draft the Indians select right-handed pitcher Luis DeJesus out of Angelina College (TX).

Bats: Right, Throws: Right, Height: 6'2", Weight: 160, Date of Birth: 12/16/1991

Note: DeJesus hails from the same college that Josh Tomlin pitched.

Jeff Ellis: Luis Dejesus is a right handed pitcher out of Angelina College. He has only pitched one year at Angelina after playing for Luftkin High school last year. He was an excellent hitter and pitcher in high school earning his teams "Big Stick" award. In his first college start Luis threw a no-hitter as he had been coming out of the pen to start the year. In this game he struck out 12 and walked 2. I wish there was more to tell as this kid is a bit of mystery but he is big at 6'3" and has shown some flashes of dominance in college.

Follow Tony and the Indians Prospect Insider on Twitter @TonyIPI.

Follow Tony and the Indians Baseball Insider on Twitter @TonyIBI. Also, his new book the 2014 Cleveland Indians Baseball Insider which profiles the Indians' Top 100 Prospects and more is available for sale.
User Comments
No comments currently. Be the first to comment!