2011 Indians 14th Round Pick: RHP Cody Anderson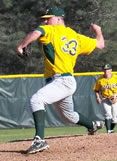 Photo: FRC Athletics
In the 14th round of the 2011 Draft the Indians select right-handed pitcher Cody Anderson out of Feather River College (CA).

Bats: Right, Throws: Right, Height: 6'4", Weight" 220, Date of Birth: 09/14/1990

Note: Anderson is a closer, and has signed a letter of intent to play for TCU next season as a junior. He pitched in 46 innings, giving up 11 ER (2.15 ERA). He K'ed 42 and walked 18. Opposing batters only hit .194 against him.

Ranks:

Perfect Game: 250

Notable links:

Feather River profile page

Jeff Ellis: Cody Anderson is a right handed pitcher from Feather River Junior College. He was drafted by the Rays last year in the 17th round, so a three round jump for him. He is an excellent athlete and played all three major sports in high school including being all league in both basketball and baseball. He is committed to go to TCU if the Indians do not sign him. He has size at 6'4" and his fastball sits in the low 90's. He is the third pen arm the Indians have targeted in this draft, which is a bit of a surprise when you consider the teams greatest strength is more than likely pen arms.

Video:





Follow Tony and the Indians Prospect Insider on Twitter @TonyIPI.
Follow Tony and the Indians Baseball Insider on Twitter @TonyIBI. Also, his new book the 2014 Cleveland Indians Baseball Insider which profiles the Indians' Top 100 Prospects and more is available for sale.
User Comments
No comments currently. Be the first to comment!