2011 Indians 16th Round Pick: LHP Ryan Merritt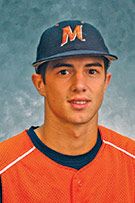 Photo: McLennan Athletics
In the 16th round of the 2011 Draft the Indians select left-handed pitcher Ryan Merritt out of McLennan Community College (TX).

Bats: Left, Throws: Left, Height: 6'0", Weight: 165, Date of Birth: 02/21/1992

Notable links:

McLennan CC profile page

Jeff Ellis: In a shocking turn (insert sarcasm) the Indians take a Juco player, this time it's a left handed pitcher named Ryan Merritt. They are also keeping with the recent trend of going off the map with the pick. He was second team all state in Texas out of high school. In high school he hit .455 and had an ERA of 0.98. In college in 88 innings he had 88 punch outs and only 12 walks with a 1.23 ERA. Thus far every step of the process Merritt has performed without any trouble. His numbers show excellent control and an ability to get batters to strike out which are not easy things to find in a lefty pitcher.

Follow Tony and the Indians Prospect Insider on Twitter @TonyIPI.
Follow Tony and the Indians Baseball Insider on Twitter @TonyIBI. Also, his new book the 2014 Cleveland Indians Baseball Insider which profiles the Indians' Top 100 Prospects and more is available for sale.
User Comments
seth
August 27, 2012 - 9:27 PM EDT
do your best bro and have fun luv you big brother!!
payton hoyt
May 22, 2012 - 12:14 PM EDT
he is the best
Payton Beall
May 21, 2012 - 10:19 AM EDT
he is sooo hot
Seth Merritt
May 2, 2012 - 12:07 PM EDT
thats my bro!!!
Cash Conder
February 22, 2012 - 2:32 PM EST
Ryan Merritt!!!!!
Butch Ford
February 22, 2012 - 11:27 AM EST
This guy is gonna change lives.
Jamarick Simmons
February 22, 2012 - 11:26 AM EST
he is the man!!!!!