2011 Indians 20th Round Pick: LHP Dillon Peters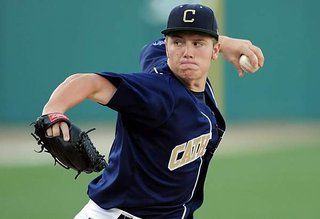 Photo: Indy.com
In the 20th round of the 2011 Draft the Indians select left-handed pitcher Dillon Peters out of Cathedral High School (IN).

Bats: Left, Throws: Left, Height: 5'11", Weight: 200, Date of Birth: 08/31/1992

Note: Peters was named the 2010/2011 Gatorade Indians Baseball Player of the Year, and currently has his team in the state semi's at 27-2. He pitched a 2-hit shutout in the regionals, leading Cathedral to a 10-0 mercy kill of Brownsburg HS. He's currently 9-1 with a 1.5ish ERA.

Ranks:

Baseball America: 104
Perfect Game: 143

Jeff Ellis: Dillon Peters is a smallish left-handed prep pitcher from Indiana. He is only 5'9", but ended up being the top prep prospect in all of Indiana. His record for all of high school was 36-3 with a 0.67 ERA, with 447 strikeouts in 258 innings. It is very hard to look at those numbers and not be impressed. It also meant that in his four years of high school, he never had a bad game. One of the losses was in the state championship, his team lost 1-0, and he struck out 16. I am sure Felix Hernandez could empathize. He throws in the low 90's and has three pitches already. His curveball has a nice break and his changeup should be a plus pitch. He will be a very hard sign to get away from Texas, especially because he has talent to go in the first few rounds but his size and commitment allowed him to drop to round 19. I know the size is a worry but he is not a hard thrower he gets by with nice movement and excellent breaking pitches. He doesn't need size to be effective. Peters is the top talent we have drafted since maybe Dillon Howard, and I want to start a campaign now to sign the Dillon's.

Video:



Follow Tony and the Indians Prospect Insider on Twitter @TonyIPI.
Follow Tony and the Indians Baseball Insider on Twitter @TonyIBI. Also, his new book the 2014 Cleveland Indians Baseball Insider which profiles the Indians' Top 100 Prospects and more is available for sale.
User Comments
No comments currently. Be the first to comment!