2011 Indians 21st Round Pick: OF Cody Elliott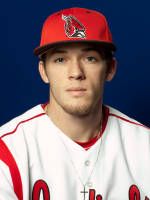 Photo: Ball State Athletics
In the 21st round of the 2011 Draft the Indians select outfielder Cody Elliott out of Ball State University.
Bats: Right, Throws: Right, Height: 6'0", Weight: 170, Date of Birth: 04/26/1990
Note:
Elliot was a 2nd Team All-Mac player. He batted .325, with five triples, 12 doubles, 38 RBI and 34 runs. He also stole 14 bases.
Notable links:
Ball State player page
Jeff Ellis:
Cody Elliot is an outfielder from Ball State. He was second team all MAC this past season. He played mostly center field for the Cardinals. He has a great arm in the outfield, and was a two way player for the Cardinals. His fastball sits in the low 90
User Comments
No comments currently. Be the first to comment!