2011 Indians 23rd Round Pick: RHP Cody Allen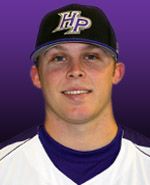 Photo: Highland Athletics
In the 23rd round of the 2011 Draft the Indians select right-handed pitcher Cody Allen out of High Point University (FL).
Bats: Right, Throws: Right, Height: 6'1", Weight: 210, Date of Birth: 11/20/1988
Note:
The Indians drafted Allen in the 16th round last year but did not sign him. He went 4-6 with a 3.12 ERA in 13 games. In 83 2/3 IP, he struck out 89 and walked only 29. While he finished below .500, he pitched well enough to be named second team All-Big South. He is a redshirt junior who spent two years at Central Florida.
Notable links:
Highpoint player page
Jeff Ellis:
Cody Allen is a right handed from High Point University. He was drafted in 2010 by some fly by night squad known as the Cleveland Indians. He was a 16th round pick but wanted money in the area of the 5th to 10th round, so he went back to school and became a 23rd rounder. A player who is redrafted must allow a team to draft them a second time so he should have no trouble with the redraft. This was his first full year back from Tommy John surgery. He continues the athlete theme as he was also a football star in high school, and could have been a hitter or a pitcher in college as he was excellent at both. He throws from a 3/4 slot and sits in the 88-91 range. He has a slider, curve, and a changeup, and at one point it was thought his breaking pitches could be plus pitches. Last year I commented that he was a raw, high upside guy and that is still true. As a junior he should be a much easier sign this year, and is still a name to watch. He has four pitches, is a great athlete, and those pitches were once thought to be able to become plus. He is fully back from injury now, and could be a sleeper this late.
Follow Tony and the Indians Prospect Insider on Twitter @TonyIPI. Also, his latest book the 2011 Cleveland Indians Top 100 Prospects & More is available for purchase for $20.95 to customers in the US (shipping and handling extra).
User Comments
No comments currently. Be the first to comment!