2011 Indians 25th Round Pick: SS Kevin Kramer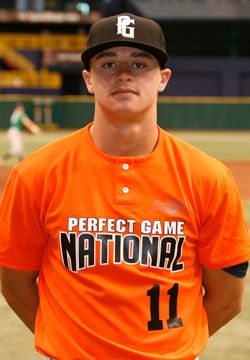 Photo: PerfectGame.org
In the 25th round of the 2011 Draft the Indians select third baseman Kevin Kramer out of Turlock High School (CA).
Bats: Left, Throws: Right, Height: 6'1", Weight: 195, Date of Birth: 10/03/1993
Note:
Some scouts have Kramer with fifth round potential, and he's committed to UCLA, so he could be a hard sign for the Tribe especially because he supposedly wants first round money or close to it. But it is worth the risk.
Ranks:
Perfect Game: 223
Jeff Ellis:
Kevin Kramer is a 2B prep player from California. He is a stellar athlete who has been recruited to be a division one quarterback. He had to decide between the sports and in the end decided he liked baseball more and signed to play with UCLA. He is a legit student with a high GPA and having taken several AP classes, so he will be one of the hardest signs in the draft for the Tribe. As for baseball he has good speed, a bit quicker than the previous pick Sparks. Being a QB he has a solid arm, and also shows very good pop. He would have plus power for 2B. The Tribe takes another risk on a great athlete, but I can
User Comments
No comments currently. Be the first to comment!