2011 Indians 2nd Round Pick: RHP Dillon Howard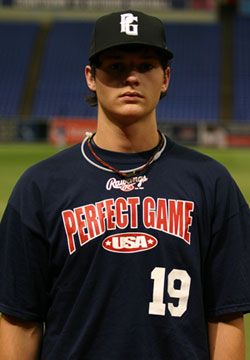 Photo: PerfectGame.org
With their 2nd round pick the Indians select right-handed pitcher Dillon Howard out of Searcy High School in Arkansas.

Bats: Right, Throws: Right, Height: 6'4", Weight: 210, Date of Birth: 07/01/1992

Note: Howard is a Scott Boras client. Also, Baseball America's Jim Callis tweeted "First-round arm but high-priced so slipped here, inconsistent but has a 92-94 mph sinker that touches 96."

Ranks:

Baseball America: 31st
Keith Law: 18th
Jonathan Mayo: 18th
Perfect Game: 29th

Notable links:

MLB.com video of him
Crawfishboxes.com report
Signs with U. of Arkansas
Jeff Ellis: Dillon Howard is a Boras client who is a major talent. He will be a hard sign but is a projectable righty. He does sit in the low to mid 90's and should be able to add more velocity as he matures. This is not guaranteed as he has had zero ticks to his velocity in the last 3 years though, but it is rare to not see a High School arm add a little more once they get into a MLB program. He is an established high school arm, and one I feel could move a lot quicker than your typical high school arm. He has two very nice breaking pitches. He shows the ability to have a plus curve and changeup. If you want a high upside arm it is harder to find one at this point in the draft. I liked him better than Daniel Norris and thought he was the best pitcher on the board and has the ability to end up being a front line starter. The reason he is still here is all about signability. He will not be an easy sign, as noted before he is advised by Boras. On top of that he would be a draft eligible sophomore, which gives him more leverage. A few sites also mention that he might be the best high school pitcher to ever come from Arkansas and that there is a lot of internal pressure to go to school and lead the University of Arkansas program to great things. As an Indians fan you have to love this pick, if signed he would make my Indians top ten prospects right away and would be the 6th or 7th best player in the system. Howard is a special arm, and one we should all hope they can sign.

Andrew Zajac: The Indians continue being agressive with their selection of RHP Dillon Howard, who is represented by Scott Boras and committed to Arkansas. He's a big, physical pitcher whose fastball is clocked anywhere between 90-94. Many scouts feel that once his body fills out, he can add a few mph to his fastball. His fastball is definitely a plus pitch, with good movement and run to it. His curveball is still a work and progress and is still a fringe pitch, but many scouts believe that he has the ability to develop it. Howard also possesses a changeup, which scouts feel can be an average pitch for him in the future. He has a very clean delivery and has generally good command. Many felt he would be a first round selection, but he may have fell due to signability concerns with Boras. Overall, a great, agressive pick for the Tribe.

Indians press release:

The Cleveland Indians today announced the club has selected RHP DILLON HOWARD with their second round pick (67th overall) in the 2011 First-Year Player Draft.

Howard, 18 is a 6-4, 210-pound right handed pitcher from Searcy High School in Searcy, AR. This past year he was 9-1 with a 0.31ERA (58.0IP, 19H, 2ER, 25BB, 115K) in 12 starts. He was recently named the Arkansas Gatorade Player of the Year and last summer was named the MVP at the Connie Mack World Series while playing for the Midland Redskins. As a junior at Searcy he went 7-4 w/a 2.96ERA in 54.1 innings (92K).

Howard has a verbal commitment to attend the University of Arkansas Razorbacks.

Follow Tony and the Indians Prospect Insider on Twitter @TonyIPI.
Follow Tony and the Indians Baseball Insider on Twitter @TonyIBI. Also, his new book the 2014 Cleveland Indians Baseball Insider which profiles the Indians' Top 100 Prospects and more is available for sale.
User Comments
No comments currently. Be the first to comment!