2011 Indians 30th Round Pick: SS John Polonius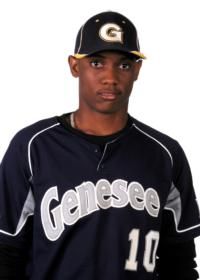 Photo: Genesee Athletics
In the 30th round of the 2011 Draft the Indians select shortstop John Polonius out of Genesee Community College (NY).
Bats: Right, Throws: Right, Height: 6'1", Weight: 160, Date of Birth: 01/13/1991
Note:
Polonius hit .370 with five triples and 15 doubles for Genesee, and has signed with West Virginia. He is currently playing for the Edenton Steamers in the Coastal Plains League and is .294, with a double, homer, 3 RBI, 2 BB and 5 K's.
Notable links:
Genesee player page
Jeff Ellis:
It
User Comments
No comments currently. Be the first to comment!