2011 Indians 32nd Round Pick: RHP Cole Pitts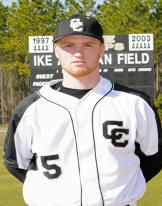 Photo: Colquitt HS
In the 32nd round of the 2011 Draft the Indians select right-handed pitcher Cole Pitts out of Colquitt County Senior High School (GA).
Bats: Right, Throws: Right, Height: 6'5", Weight: 215, Date of Birth: 09/03/1992
Note:
Pitts signed to go to school with Georgia Tech. He is raw and according to reports has no idea how to spin a ball. That's easy to fix, and he has a ton of ups.
Notable links:
Local story on him
Jeff Ellis:
Cole Pitts is a righty from the Georgia prep ranks. He is committed to attend Georgia Tech in the fall. Last summer as a member of the all Georgia team, he earned Most Valuable Pitcher honors in the Junior Sunbelt classic. He is big at 6
User Comments
No comments currently. Be the first to comment!