2011 Indians 33rd Round Pick: RHP Jack Wagoner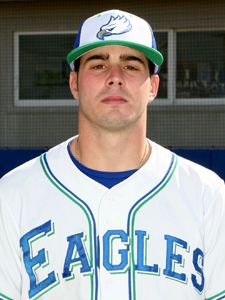 Photo: FGCU Athletics
In the 33rd round of the 2011 Draft the Indians select right-handed pitcher Jack Wagoner out of Florida Gulf Coast University.
Bats: Right, Throws: Right, Height: 6'1", Weight: 203, Date of Birth: 06/20/1989
Notes:
Wagoner was 5-3 with a 4.34 ERA. In 58 IP he gave up 62 hits and 28 ER. He walked 21 and K'd 53.
Notable links:
Florida Gulf Coast player page
Jeff Ellis:
Jack Wagoner is a right handed pitcher from Florida Gulf Coast University. He is the first senior the Tribe has drafted which shows a very aggressive approach and a major change from just two years ago where we saw multiple college seniors go in the first 30 picks. He is second all time in the FGCU program with 9 saves. He has bounced from a starter to the pen throughout his career. He was on the watch list for the National Collegiate Baseball Writers Association Stopper of the Year Award after his 2010 season. He is more than likely going to sign quickly since he
User Comments
Jim & Carolyn Gerrard--Queensbury, ny7
September 9, 2013 - 11:39 AM EDT
Keep up the good work Jack