2011 Indians 35th Round Pick: RHP Mason Radeke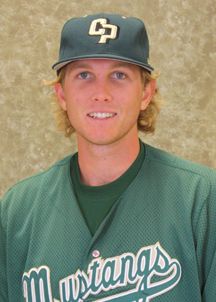 Photo: Cal Poly Athletics
In the 35th round of the 2011 Draft the Indians select right-handed pitcher Mason Radeke out of Cal Poly San Luis Obispo.
Bats: Right, Throws: Right, Height: 6'1", Weight: 175, Date of Birth: 06/13/1990
Note:
Radeke went 8-4 with a 3.07 ERA. He led the Big West with strikeouts looking with 41 and was 2nd overall with 95 K's.
Notable links:
Cal Poly player page
2010 summer stats
Jeff Ellis:
Mason Radeke is a righty from Cal Poly- San Luis Obispo. He set a record for his school this year by striking out 14. He was drafted in the 41st round by the White Sox coming out of high school. He has had some injury problems throughout his career, but he was his teams Friday night starter this year. He started the year unhittable, but cooled a bit. He has a solid four pitch mix, and he doesn
User Comments
No comments currently. Be the first to comment!