2011 Indians 36th Round Pick: LHP Abel Guerrero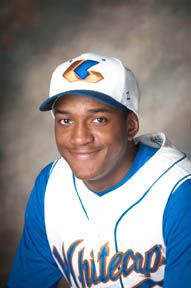 Photo: Galveston Athletics
In the 36th round of the 2011 Draft the Indians select left-handed pitcher Abel Guerrero out of Galveston College (TX).
Bats: Left, Throws: Left, Height: 6'1", Weight: 182, Date of Birth: 12/28/1991
Note:
Guerrero went 2-5 with a 4.71 ERA. He struck out 52 and walked 24.
Jeff Ellis:
Abel Guerrero is a lefty from Galveston College. He is our first junior college player today and our second player in this draft from Galveston College. He has a 90-plus two seam fastball and is one of the best pitchers in the conference. He hails from the Bronx originally, which means cold weather would not be a problem for him. He has been a punch out pitcher in college first at Old Westbury and then at Galveston. He has some power in his arm which can be hard to find in a lefty. There is some potential in his arm, and to me maybe the highest upside of any player chosen today by the Tribe.
Follow Tony and the Indians Prospect Insider on Twitter @TonyIPI. Also, his latest book the 2011 Cleveland Indians Top 100 Prospects & More is available for purchase for $20.95 to customers in the US (shipping and handling extra).
User Comments
No comments currently. Be the first to comment!