2011 Indians 38th Round Pick: SS Yhoxian Medina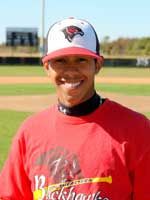 Photo: Southeastern Athletics
In the 38th round of the 2011 Draft the Indians select shortstop Yhoxian Medina out of Southeastern Community College (IA).
Bats: Right, Throws: Right, Height: 5'10", Weight: 170, Date of Birth: 05/11/1990
Note:
Medina hit .420 this year, with 5 HR, 47 RBI, 63 R, 34 BB, and only 11 K's. He stole 45 bases, and was caught only once.
Jeff Ellis:
On top of winning our name of the draft award, Yhoxian Medina is a shortstop from Southeastern Community College. He fills two of the big trends being from a Juco school along with being an up the middle player. He is interesting since he is from Caracas, Venezuela and come to America to get discovered. Normally we see players from Latin America go to academies to sign and not head to college. He hit .397 as a freshman which was 3rd best on his team, and hit .420 this year. I found out his nickname is
User Comments
Dan
August 25, 2016 - 7:52 PM EDT
Found out his nickname is what?