2011 Indians 40-man review: Who is added?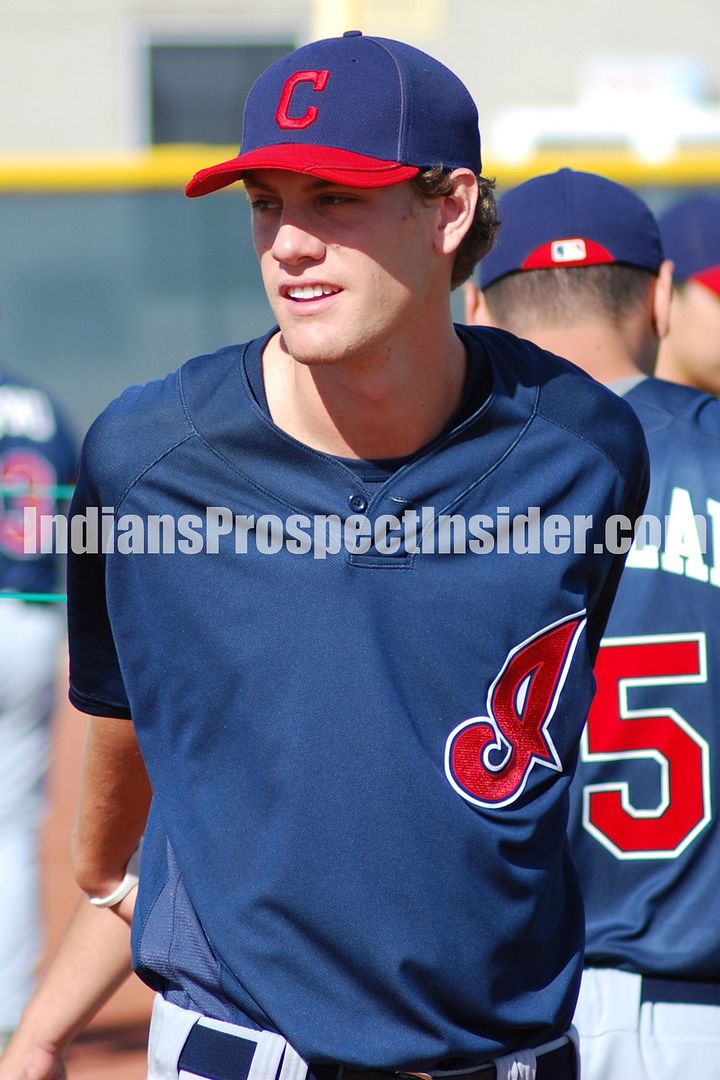 Scott Barnes (Photo: IPI)
The November roster deadline looms this weekend for all teams in Major League Baseball.

Teams have already begun to set their 40-man rosters by designating a few players for assignment and clearing out the 60-day disabled lists. All that is left to do is to add important players from their minor league player development systems that are eligible for roster protection from the Rule 5 Draft this December. (For more information on what makes a player eligible for roster protection or what the Rule 5 Draft you can view the FAQ.)

The offseason 40-man roster process does not get a lot of attention from a majority of fans or the media. This is mostly because the names being added to the roster are unknowns to a lot of people and the names coming off are players who underwhelmed with performance or had injury issues and the fans are ready to move on to other options.

But the offseason roster process is very important to follow as it is one of the first steps teams take to finalize their roster for the upcoming season. It is also a huge deal for the players coming off the roster because their big league dreams take a serious hit and they find themselves having to quickly reassess things and figure out what they need to do to get back onto a Major League roster. For the players coming onto the roster it is a big moment for them as it is their biggest step to date in their quest to make the big leagues and get an opportunity in the future.

For those players up for roster protection it is a very stressful time filled with a lot of hope and anxiety. It's not just for the bump in pay and a legit big league chance maybe coming their way in the near future, but also for a feeling of accomplishment for what they have done in the minor leagues and that they have value and have been noticed. Since only about 10% of any drafted player ever reaches the big leagues, getting rostered means everything because so few ever get that chance.

The Indians recently completed some roster moves to clear space on the 40-man roster in advance of the roster deadline.

Outfielder Grady Sizemore's 2012 club option was declined which removed him from the roster and made him a free agent. Also in the past few weeks the Indians have designated outfielder Trevor Crowe, outfielder Jerad Head, and right-handed pitcher Mitch Talbot for assignment. The Indians also had three free agents in outfielder Kosuke Fukudome, designated hitter Jim Thome, and right-handed pitcher Chad Durbin come off the roster.

With the removal of those seven players above along with some players that were on the 60-day disabled list being added back to the 40-man roster, the Indians current 40-man roster stands at 38 players.

There are certainly some players still on the 40-man roster that could still be removed, but most of the housecleaning has already been done on the roster and it does not appear any more players will be designated for assignment in advance of the roster deadline this weekend. Some of the players who survive the roster cut this weekend will still be the first options to remove if the Indians need roster space when they acquire players this offseason via free agency or trade.

With all this in mind, let's take a look at the players in the Indians minor league system that are eligible for roster protection and the likelihood any are added.

Pitchers: Elvis Araujo, Scott Barnes, Eric Berger, Rob Bryson, Paolo Espino, Francisco Jimenez, Kyle Landis, Matt Langwell, Joey Mahalic, T.J. McFarland, Oswel Munoz, Alexander Perez, Marty Popham, Bryan Price, Danny Salazar, Bryce Stowell, Steven Wright

Catchers: Doug Pickens, Roberto Perez

Infielders: Adam Abraham, Juan Diaz, Jared Goedert, Argenis Martinez, Beau Mills, Karexon Sanchez, Jeremie Tice

Outfielders: Delvi Cid, Ben Copeland, Tim Fedroff, Bo Greenwell, Chad Huffman, Carlos Moncrief, Donnie Webb

Locks

Scott Barnes: Left-handed starting pitcher
2011 stats: 8-4, 3.45 ERA, 18 G, 99.0 IP, 85 H, 12 HR, 36 BB, 107 K, 1.00 GO/AO, .230 BAA

The only absolute lock to be added to the 40-man roster is Barnes. Even though he tore the ACL in his knee back in July he is still too valuable to leave unprotected as he is already considered to be a Major League quality pitcher. He was consistently pitching at 93 MPH last year and has some good secondary stuff to where he has the potential to be a solid middle of the rotation big league starter. He really broke through this past season as a prospect and is no doubt one of the Indians top five prospects going into 2012. He will serve as rotation depth next season, though his chances of pitching in the big leagues are remote because he is coming off of injury and he has several other pitchers in the pecking order ahead of him, so he will need to wait his turn. The wait will serve him good as he still needs to work on his fastball command and get more consistent with his delivery, two things that he can do in the early parts of the season at Triple-A Columbus next year.

In Consideration

Elvis Araujo: Left-handed starting pitcher
2011 stats: 9-1, 3.36 ERA, 15 G, 69.2 IP, 65 H, 2 HR, 25 BB, 63 K, 1.36 GO/AO, .245 BAA

Araujo puts the Indians in an interesting conundrum. He is a top ten prospect and arguably the best left-handed pitching prospect in the system as he can get his fastball in the mid-90s and has a nice power breaking ball. But by the same token he has yet to pitch a single inning for a full season Single-A team and has pitched just 6.2 innings above the rookie ball level. Considering that he would be an extremely green pitcher to roster that is still at least two or three years away from sniffing the big leagues. If you roster him now he likely will blow all of his option years in the minors developing and the Indians may run out of time with him later and have to cut him earlier than they want because he was rostered so soon and ran out of options. The Indians are in this position because he missed the entire 2009 and 2010 seasons because of an elbow injury in spring training back in March of 2009 that required Tommy John surgery. After the time away he did not make his return to the mound until this past summer for rookie level Arizona. I think it is very doubtful that he is rostered, but the Indians may feel he is too valuable to expose and just decide to roster him on talent alone.

Rob Bryson: Right-handed reliever
2011 stats: 2-1, 2.29 ERA, 30 G, 39.1 IP, 28 H, 3 HR, 16 BB, 48 K, 0.61 GO/AO, .292 BAA

It is amazing how things can change from one year to the next. At this time last year Bryson would have had a great shot to be rostered, but because of a clause with him being part of the final draft and follow class of 2007 it prevented him from being eligible for roster protection last year. This ultimately hurt him as it is now very questionable whether or not he will be added this offseason. He missed the first two months of the season because of a broken foot and even though he pitched well when he returned he still only managed to finish the season at Double-A Akron. Had he been rostered and healthy all year he probably would have made it up to Triple-A Columbus at some point and pitched meaningful innings there. He is one of the Indians' top relief pitching prospects and he has extra value to the organization as one of the players acquired in the C.C. Sabathia trade from the Brewers in July of 2009, so this will help his chances of being rostered. But he does not have the momentum this year that he had last year going into the offseason, and it does not look like it will happen unless the Indians clear more roster space.

Tim Fedroff: Outfielder
2011 stats: .308 AVG, 71 R, 28 2B, 6 3B, 3 HR, 63 RBI, 62 BB, 74 K, 10 SB, .793 OPS

Fedroff had a very good bounce back season after a subpar 2010 campaign at Double-A Akron (.274 AVG, .715 OPS). He is a steady defender who is tough and has shown an ability to draw walks and steal a few bases. I think it is very unlikely the Indians roster Fedroff, but he is a higher profile player and there is a possibility he could be rostered so it is why he is listed here. I just find it hard to believe that the Indians would remove Trevor Crowe from the 40-man roster so they could add Fedroff, a player who in some ways is like Crowe. But Fedroff has never been regarded as a prospect anywhere near what Crowe was, and Crowe is already a Major League option with experience. So barring something very surprising, Fedroff will not be added. He is definitely Major League depth for the Indians next year, but if he is rostered the chances are more likely it comes during the season next year and not now.

T.J. McFarland: Left-handed starting pitcher
2011 stats: 9-10, 3.74 ERA, 27 G, 149.1 IP, 149 H, 11 HR, 51 BB, 115 K, 2.49 GO/AO, .259 BAA

McFarland is about as close to a lock as you can get, but he is not a slam dunk to be rostered so it is why he is listed here. He has the potential to pitch in the big leagues someday as a starter or reliever, and the Indians have been very high on him for awhile. The Indians continue to rave about his ability to eat innings and be a groundball machine, two things that fit right into their current organizational philosophy with starting pitchers. He is currently pitching out in the Arizona Fall League and has pitched well there going 2-0 with a 3.33 ERA in 7 games (6 starts). He has had three straight good to very good years in the minors and though he will probably start next season at Double-A Akron he should pitch a meaningful amount of games at Triple-A Columbus. Unless the Indians only roster one player (Barnes), McFarland will likely be added to the roster.

Beau Mills: First baseman
2011 stats: .289 AVG, 50 R, 22 2B, 1 3B, 18 HR, 67 RBI, 32 BB, 59 K, .860 OPS

It was the year of the comeback for a few Tribe players as not only did Tim Fedroff come back this year to have a good season, but Beau Mills arguably had his best pro season and put himself back on the big league radar. Unfortunately for him he hits left-handed, something the Indians have a lot of on their big league roster already. He also plays first base, which is a position they are looking to upgrade this offseason via free agency or trade, and they already have in house options as good or better than Mills to fill the position such as Matt LaPorta, Shelley Duncan, and Carlos Santana. First basemen generally are avoided in the Rule 5 Draft because of a lack of versatility, and even if Mills did in fact put it all together last year his prospect status with a lot of organizations is probably a ship that has already sailed. He should open next season at Triple-A Columbus and be Major League depth in the event the first base option the Indians do acquire this offseason gets hurt, and then maybe if he is playing well he gets rostered during the season. But he most likely will not be added now.

Carlos Moncrief: Outfielder
2011 stats: .233 AVG, 73 R, 26 2B, 7 3B, 16 HR, 53 RBI, 76 BB, 158 K, 20 SB, .768 OPS

This is an extreme long shot, but Moncrief is included as part of the discussion (like Araujo) because of his talent alone. The batting average and strikeouts last year were not very good, but he may be one of the most complete position players in the entire Indians' system and is one of their better prospects overall. He has had a busy year playing all season for Low-A Lake County and then in Instructional League and now the Arizona Fall League. Every day he showcases his athleticism in the outfield as a very good defender with a howitzer for an arm, and at the plate has a nice power-speed combo and has shown an ability to be patient and draw walks. He is only in Low-A because he spent the first two years of his pro career as a pitcher and in 2010 he was converted to a position player. He provides a lot of raw ability for the Indians to work with, and while the odds are he will never become anything, he by every definition is a valuable prospect because of his potential. Another club may view him just as highly as the Indians – if not even more – and the Indians may decide that is too big of a gamble to risk losing him. That having been said, I'd put the odds of him being rostered as extremely remote.

Bryce Stowell: Right-handed reliever
2011 stats: 1-1, 2.09 ERA, 38.2 IP, 21 H, 1 HR, 21 BB, 57 K, 0.72 GO/AO, .159 BAA

The year Stowell had was one of the most peculiar of any player in the Indians' system in some time. After finishing the 2010 season at Triple-A Columbus he looked locked and loaded for a big league opportunity in 2011 because of his prospect standing and 100 MPH fastball. But in spring training he was a mess mechanically as he could not throw strikes and when camp broke he mysteriously was left off any full season team roster. He reappeared in mid-June all the way down at Low-A Lake County, and when asked where he had been or why he was in Lake County the Indians simply said that Stowell had some personal issues he was dealing with and was being built back up. That may have been the case, but there may have also been an injury that neither he nor the Indians wanted to disclose (they do not have to disclose injuries). In any case he spent most of the season on the shelf or in Single-A before finally going to Double-A Akron in late July. He did not get a late season promotion to Triple-A Columbus – even for the playoffs – which is interesting for a pitcher or his caliber and standing, so something else was definitely in play here. The fact that Stowell had such an odd season and teams may not fully understand why the Indians handled him the way they did may be a big red flag and result in them just passing on him for any consideration as a Rule 5 pick. Yes, he has a blazing 100 MPH fastball, but that fastball also comes with some sizable control issues. You combine that with a questionable health status and teams may decide to look elsewhere. I believe the Indians will gamble and not roster him as there appears no way he can stick on a Major League roster all season because of those command issues. But if the Indians do add a third player to the roster, it should be him or Bryson.

Out of the Picture

As for the rest of the players up for roster protection, they pretty much have no shot to be rostered. The reasons as to why this is the case varies, but the main reasons are talent, value, performance and skill set.

A player like Paolo Espino continues to pump out great stats in the minors, but he is one of those undervalued guys in the minors that a lot of teams see little if any Major League future in and even if he does make it the outlook for his success is limited. He is the kind of player that the Indians can take the gamble on not protecting and if he is taken in the Rule 5 Draft they have more than enough right-handed starting pitching and relief depth in the upper levels of the minors to fill in for his loss.

Matt Langwell has put up great numbers out of the bullpen in his minor league career, but because of so much right-handed relief pitching depth he probably will not be rostered especially considering some higher profile right-handed relievers like Rob Bryson and Bryce Stowell are up for roster protection as well. The same thing is the case for a guy like Eric Berger who has some potential Major League value someday, but is still too inconsistent and the Indians have some left-handed pitching depth already on the 40-man roster.

Also, for as solid a season as Jared Goedert had this past season, he has almost no chance to be added to the 40-man roster this offseason. He was removed during the past season and all 29 other MLB teams had a chance to claim him off of waivers but passed. Considering they passed before it is unlikely they will pick him up in the Rule 5 Draft and have that Rule 5 roster stipulation over their head when they could have just added him to their roster a few months ago when he was available on waivers.

Conclusion

With only two spots open on the 40-man roster, the opportunities are definitely limited as to whom the Indians add to the roster before the deadline this weekend. Thankfully, there are not a lot of high level prospects they need to add as most of the players who were up for roster protection were already added during the season. Players such as second baseman Jason Kipnis, third baseman Lonnie Chisenhall, second baseman Cord Phelps, and right-handed pitcher Zach Putnam.

There is no slotting system the Indians use to put together their 40-man roster as they will simply just add the best eligible players. Whether or not they are roster heavy with pitchers or outfielders does not matter as they will always add the talent first and then figure out the position surplus later.

So at the moment – barring a trade or a player or two being designated for assignment in the next few days - it looks like the Indians are going to roster just two players. The two players I predict they will add are Scott Barnes and T.J. McFarland.

As noted above, Barnes is an absolute lock. McFarland is a pretty strong possibility as well, and it appears the only way he is not added is if they choose to just roster one player. There is a small chance the Indians could roster Bryson or Stowell over McFarland, but considering McFarland's value as a groundball specialist who can start it just outweighs the value of any relief pitcher, especially considering the Indians have so much relief pitching depth in the system.

With Barnes and McFarland looking like the two guys the Indians roster, the only drama that remains is whether or not the Indians make a move to clear another spot on the roster to add a third player. If they do then it should come down to one of Bryson or Stowell and the decision there could really go either way. But that appears remote as in the end I will still predict just two players get rostered.

And there could always be a surprise as in the past there have been some like Wes Hodges and Carlos Rivero who were rostered in 2009.

In any case, in the next few days we will find out for certain who has been rostered.
Follow Tony and the Indians Baseball Insider on Twitter @TonyIBI. Also, his new book the 2014 Cleveland Indians Baseball Insider which profiles the Indians' Top 100 Prospects and more is available for sale.
User Comments
No comments currently. Be the first to comment!