2011 Indians 43rd Round Pick: LHP Geoffrey Davenport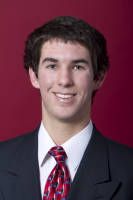 Photo: Arkansas Athletics
In the 43rd round of the 2011 Draft the Indians select left-handed pitcher Geoffrey Davenport out of the University of Arkansas.
Bats: Left, Throws: Left, Height: 6'1", Weight: 180, Date of Birth: 03/14/1990
Note:
Davenport is a lefty who went 3-1 with a 4.95 in six appearances. In 20 IP he gave up 18 H, 11 ER and 7 BB while striking out 22. He injured his arm in the middle of March of this season, and had Tommy John surgery. He was expected to be a day 2 draft pick prior. He was a middle reliever/weekend starter for Arkansas.
Notable links:
Arkansas player page
Jeff Ellis:
Geoff Davenport is a lefty from Arizona. This is a pick to watch because there is a good chance we can get Davenport to sign. He suffered an injury earlier in the year and had Tommy John surgery. He would have been a top 10 round pick if healthy, so at round 43 it
User Comments
No comments currently. Be the first to comment!