2011 Indians 47th Round Pick: OF Cory Embree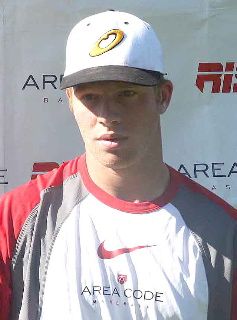 Photo: Area Code Games
In the 47th round of the 2011 Draft the Indians select outfielder Cory Embree out of Moberly High School (MO).
Bats: Right, Throws: Right, Height: 6'0", Weight: 180, Date of Birth: 07/12/1992
Note:
Embree is 6'3", 218 lbs and had a ridiculous season. He hit .683 with 11 HR, six of which went over 410 feet.
Jeff Ellis:
The Indians continue their assault on the prep ranks by taking Cory Embree a prep outfielder from Missouri. He is committed to Maple Woods CC College. He is considered the third best high school player in his state. The fact he is community college commit might make him an easier sign. He hit .400 his last two years at school and .571 on his summer league team. He has a plus arm in the outfield and has hit a 425 foot homerun, showing the possibility of plus power as well. He is your classic country strong type of build. When you add in the power, arm strength, and very good bat speed, Embree is a very interesting player this late in the draft. You do wonder if he can be signed away from a community college, as it doesn
User Comments
No comments currently. Be the first to comment!