2011 Indians 48th Round Pick: RHP Blaine O'Brien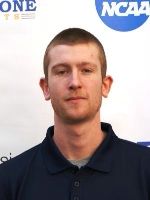 Photo: Keystone Athletics
In the 48th round of the 2011 Draft the Indians select right-handed pitcher Blaine O'Brien out of Keystone College (MA).
Bats: Right, Throws: Right, Height: 6'7", Weight: 180, Date of Birth: 10/16/1989
Note:
O'Brien was originally supposed to go to Georgia, but ended up at Middle Georgia instead. He was also supposed to go to Maryland after that, but ended up at Keystone. He went 8-2 with a 3.77 ERA. In 74 IP, he gave up 61 H, 31 ER, 44 BB and struck out 66. Obvious control issues: 11 WP and 11 HBP. But very tall at 6'7".
Notable links:
Keystone player page
Jeff Ellis:
Blaine O
User Comments
No comments currently. Be the first to comment!