2011 Indians 4th Round Pick: C Jake Lowery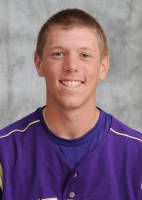 Photo: James Madison Athletics
With their 4th round pick the Indians select catcher Mark Lowery out of James Madison University.

Bats: Left, Throws: Right, Height: 6'0", Weight: 200, Date of Birth: 07/21/1990

Quick take: Baseball America tweet from Jim Callis after pick said "Indians pick Jake Lowery is another guy with Qs about D but no one has reservations about the bat. At least big league backup." Also Perfect Game had him as a prospect on the rise and best power in a very deep state.

Scout's take (IPI source): "He's a good player. I had him right where the Indians drafted him, solid 4th round. Strong kid with good body and makeup. Plus arm and okay catcher. Lefthanded hitter with plus power and decent bat. Good pick."

Ranks:

Perfect Game: 176

Notable links:

James Madison profile page
JMU article on power
Baseball America article on him June 2011
Semi-finalist for Golden Spikes Award
Jeff Ellis: Jake Lowery might remind Tribe fans of Matt McBride coming out of college. Both came from smaller schools and had huge offensive numbers. Lowery's line last year was a .357 average, 22HR, 83 RBI's. The park he hit in is super hitter friendly, but in spite of this Lowery has been a player on the rise as he just kept hitting all year long. He is an athlete behind the plate, has good bat speed, and a very strong arm. Some thought he was the second best college prospect in Virginia behind only Hultzen. He needs to develop behind the plate, but the combination of athleticism and power make him a player with nice upside. He was one of the bigger rises this year. BA tweeted "he is at least a big league back up", so not a bad choice if you get a player in round 4 whose floor is a big leaguer.

Andrew Zajac: Lowery is a first team All-American from James Madison University. Prior to the season, coaches of the Colonial League took a survey. The coaches voted Lowery the best defensive catcher and the catcher with the best arm in the league. His offensive numbers were impressive this season, hitting .359, with 24 HR/91 RBI with a line of .359/.442/.797. However, their home ballpark is hitter friendly, so I wouldn't expect those numbers to translate going forward. This draft isn't very rich in catching talent, so the Tribe decided to be agressive and draft one early.

Indians press release:

In the 4th round (128th overall) the Indians selected CA JAKE LOWERY from James Madison University (VA). Lowery was the Colonial Athletic Association (CAA) Player of the Year in 2011 as a junior and was a 2011 Louisville Slugger/Collegiate Baseball First Team All-American. In 2011 he hit .359 (90-251) with 22 2B, 8 3B, 24HR & 91RBI in 61 games (80RS, .797SLG, .442OB). He was named one of 13 semifinalist for the Johnny Bench Award (top collegiate catcher) and one of 30 semifinalists for the Golden Spikes Award (top collegiate player).

Video:



Follow Tony and the Indians Prospect Insider on Twitter @TonyIPI.
Follow Tony and the Indians Baseball Insider on Twitter @TonyIBI. Also, his new book the 2014 Cleveland Indians Baseball Insider which profiles the Indians' Top 100 Prospects and more is available for sale.
User Comments
No comments currently. Be the first to comment!