2011 Indians 5th Round Pick: RHP Will Roberts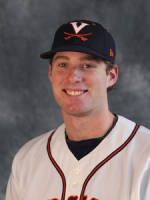 Photo: U. of Virginia Athletics
With their 5th round pick the Indians select right-handed pitcher William Roberts out of the University of Virginia.

Bats: Left, Throws: Right, Height: 6'4", Weight: 205, Date of Birth: 08/17/1990

Notable links:

U. of Virginia profile page
Throws perfect game in March 2011
Jeff Ellis: William Roberts is a junior pitcher from the University of Virginia. He is large at 6'5", but is not a power arm. He had a heck of a year for Virginia and while his numbers look dominating, Roberts is a control guy. He has a below average fastball, sitting at 86-89. He threw a perfect game this year needing just 98 pitches. He is a control arm, hits his spots well, and sports a nice slider. He is a bit like Tomlin in that he doesn't have great stuff, but has the ability to hit his spots and just throw strikes. I know this is a pick that will make the hardcore fans moan, just not an exciting player, but he could end up in the majors just based on the fact he knows how to pitch.

Indians press release:

RHP Will Roberts was selected by the Indians in the 5th round (159th overall) of the 2011 First-Year Player Draft out of the University of Virginia where he was 11-1 w/a 1.61 ERA in 16 games/15GS as a junior (95.0IP, 67H, 17ER, 12BB, 90K). His 3-year career at UVA is 18-1.

Video:



Follow Tony and the Indians Prospect Insider on Twitter @TonyIPI.
Follow Tony and the Indians Baseball Insider on Twitter @TonyIBI. Also, his new book the 2014 Cleveland Indians Baseball Insider which profiles the Indians' Top 100 Prospects and more is available for sale.
User Comments
No comments currently. Be the first to comment!