2011 Indians 6th Round Pick: OF Bryson Myles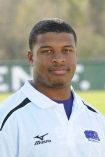 Photo: SFA Athletics
In the 6th round the Indians select outfielder Bryson Myles from Stephen F. Austin College (TX).

Bats: Right, Throws: Right, Height: 5'11", Weight: 230, Date of Birth: 09/18/1989

Notes: From Baseball America's Jim Callis, "Draws Kirby Puckett comps for his 6', 235 lb build...put up big numbers after transferring including an NCAA Division I-leading 53 steals. Profiles as a left fielder with intriguing power and speed."

Ranks:

Baseball America: 143
Perfect Game: 213

Notable links:

SFA profile page

Jeff Ellis: Bryson Myles is a former football star who played for Stephen F. Austin University in college. He was a commitment to TCU coming out of high school. He is a big guy who might have the ability to hit for power, but his best skill is his plus plus speed. He also has very good bat speed. He set his school's hit record this past season thanks to his quick wrists and excellent bat speed. He has the potential to be a five tool player down the road, though his arm is a bit weaker so he might profile best in CF down the road. The Indians took an athlete who is still raw as the game was not his focus for many years. He should be an interesting player to watch with a lot of upside.

Video:



Follow Tony and the Indians Prospect Insider on Twitter @TonyIPI.
Follow Tony and the Indians Baseball Insider on Twitter @TonyIBI. Also, his new book the 2014 Cleveland Indians Baseball Insider which profiles the Indians' Top 100 Prospects and more is available for sale.
User Comments
No comments currently. Be the first to comment!