2011 Indians 7th Round Pick: C Eric Haase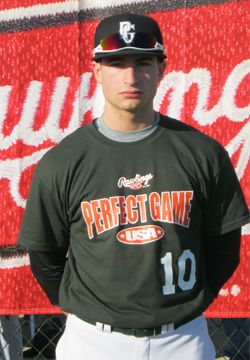 Photo: PerfectGame.org
In the 7th round the Indians select catcher Eric Haase out of Divine Child High School (MI).

Bats: Right, Throws: Right, Height: 5'10", Weight: 180, Date of Birth: 12/18/1992

Note: Haase is committed to attend Ohio State University. Perfect Game also lists him as being having the best power, speed, and defense in the state of Michigan.

Ranks:

Perfect Game: 194
Jeff Ellis: Eric Haase is a prep player from Michigan, and is committed to Ohio State. Haase is viewed as the best talent in all of Michigan this year, and is a five tool player. The reason he is here is that he plays in Michigan and the weather made for a shortened, rough season. Many scouts did not get the exposure or make the trips they would like to visit him because the winter cut the season so short. Then once it got nicer, he was really the only player worth seeing from the high school ranks, so unless you went to see Haase there was no point in making the trip. He played all over and was his team's ace, but catcher is where he should stay. He has plus power potential and above average speed. He might be a hard sign and will cost over slot, but it is hard to let that plus power, bat speed, and above average speed get away. Even if he moves off catcher his abilities will allow him to play just about anywhere. He is a yet another athlete which seems to be the Tribe's target in this draft. One of the most intriguing yet.

Video:



Follow Tony and the Indians Prospect Insider on Twitter @TonyIPI.
Follow Tony and the Indians Baseball Insider on Twitter @TonyIBI. Also, his new book the 2014 Cleveland Indians Baseball Insider which profiles the Indians' Top 100 Prospects and more is available for sale.
User Comments
No comments currently. Be the first to comment!