2011 Major League Awards Predictions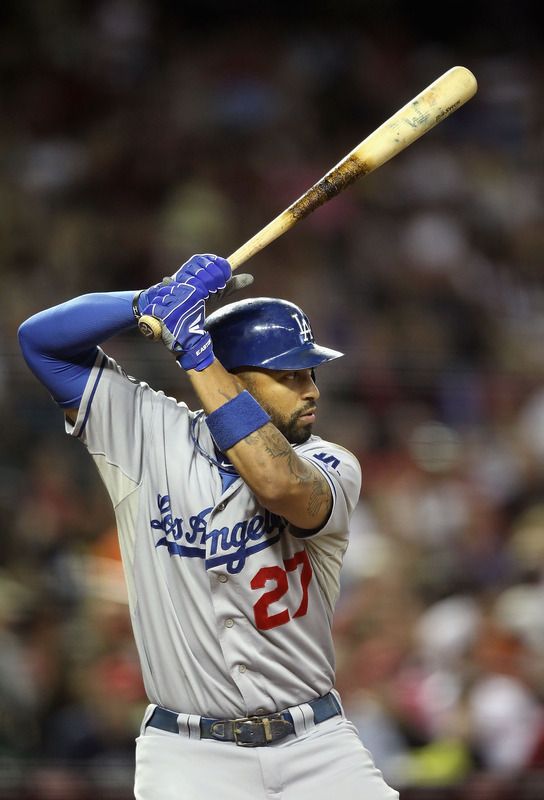 Matt Kemp (Photo: AP)
The IPI's Kevin Dean and Andrew Zajac offer two varying points of view in their predictions on who wins some of the big awards that Major League Baseball will announce next week. They agree on a few awards, but how they determine the winner for each award could not be any more different.
American League Most Valuable Player
Andrew Zajac:
Jose Bautista
This is one of the most up in the air predictions that can go several different ways. For a while, it seemed like the front runner was Curtis Granderson, who fell down to Earth towards season's end. Miguel Cabrera is also a serious candidate here and is easily the most valuable player of the Tigers' lineup. He did hit .344 with 30 home runs and 105 RBI's while hitting 48 doubles and scoring 111 runs. The only major category he led the league in is average, but did so by a fairly wide margin. Bautista, on the other hand, hit .302 with 43 home runs and 103 RBI's while hitting 24 doubles and scoring 105 runs. So you're probably thinking to yourself, Cabrera basically has better numbers than Bautista. True, but he's not the only one Bautista is competing with. Ellsbury also makes an incredibly strong case for himself as well. In the end, what are the Jays without Bautista? What are the Tigers without Cabrera? And what are the Red Sox without Ellsbury? Clearly, the Jays would be hurt the worst in this scenario. Probably not exactly the best logic, but you might as well flip a coin on this award anyway. It could go a number of different ways.
Kevin Dean:
Jacoby Ellsbury
This is essentially a coin flip between Ellsbury and Jose Bautista. Not many expected Bautista to repeat his out-of-nowhere 2010 like he did, and not many expected Ellsbury to recover from his injury-plagued 2010 like he did. While Bautista may have been more "valuable" to the Blue Jays than Ellsbury was to the Red Sox, that says more about either of their teams than about these two individual players, and shouldn't be the determining factor. Bautista had considerably higher percentages (on-base, slugging, wOBA) but the other batting peripherals are close. I don't think anyone would argue that Bautista was more valuable in the batter's box, but Ellsbury slightly edges Bautista because of his all-around play. 39 stolen bases, the element of speed in every facet of the game and exceptional defense at a premier position push him over the top for me. A 9.4 wins above replacement level to Bautista's 8.3 supports Ellsbury as the better overall player, but again, not by much. I don't expect Curtis Granderson to be as serious of a threat to the award as many might think, and Justin Verlander should make very little noise here.
National League Most Valuable Player
Andrew Zajac:
Matt Kemp
A dodger winning both the Cy Young AND the MVP? I must be crazy, right? Ryan Braun had a hell of a year and is comfortably the second place winner, but Kemp was so close to being the first triple crown winner in quite a while. Kemp hit .324 with 39 home runs and 126 RBI's while stealing 40 bases and scoring 115 runs. Braun hit .332 with 33 home runs and 111 RBI's while stealing 32 bases and scoring 109 runs. Braun is no slouch and makes it nearly too close to call.
Kevin Dean
: Matt Kemp
Just like its American League counterpart, this probably ends up being more or less a coin toss. In fact, I wouldn't be entirely shocked if either race ended with co-winners. Kemp bounced back from a disappointing 2010 campaign in the most major of ways, but Ryan Braun had a similarly impressive season. Kemp beat Braun in most offensive categories by very slim amounts, and accounted for 0.9 more wins. They both provided about equally average defense in the outfield (Kemp plays the more valuable center field), though fielding metrics are difficult to judge based on a single year. Kemp wins by besting Braun across most of the board, but the gaps are minuscule throughout. It is worth noting that Kemp had 60 more plate appearances. Impossibly close. Roy Halladay will probably take away a few first-place votes, and in my opinion, he will be more of a factor to this race than Verlander in the American League.
American League Cy Young
Andrew Zajac:
Justin Verlander
This is one of the easiest predictions I will ever make. Many believe he is also a candidate for MVP, but I'm not in that camp. However, I do believe he is a virtual lock for the Cy Young Award. Verlander posted a 24-5 record with a 2.40 ERA and 250 strikeouts. Every time he took the mound this year he had the potential of throwing a no-no, and he actually did throw one. Like Clayton Kershaw, he led the AL in all three major pitching categories and his WHIP was .92, which is light years ahead of any other pitcher. Verlander will win this award, hands down. C.C Sabathia is my runner up.
Kevin Dean
: Justin Verlander
The voting won't be, but this race might have been a little bit closer than many imagine. C.C. Sabathia turned in a season that saw him top Verlander in FIP (fielding independent pitching, which is a measure of how well a pitcher has done based on what he can control, not results of luck, poor defense, etc.) and wins above replacement, but still, the award is Verlander's and had been for most of the season. The difference between the two in either of those categories was not large (just 0.1 in wins above replacement), and Verlander paced Sabathia (and usually the league) in plenty of other areas, including wins, earned run average, strikeouts and walks per nine innings, WHIP and average against, among others. He also threw a no-hitter. Keith Law put it in a way I think is very fitting, saying something along the lines of him "winning the narrative." Verlander was almost transcended into a somewhat of a myth by the media, and there is no way he doesn't come away with this award.
National League Cy Young
Andrew Zajac:
Clayton Kershaw
For years now, we've been hearing about Clayton Kershaw's potential and the rare ability he possesses. This season he finally put it all together and without a doubt is the front runner for the NL Cy Young. He posted a 21-5 record with a 2.28 ERA and 248 strikeouts, all of this while pitching on a poor team that gave him little run support. He also led the NL in all three major pitching categories. I give him the slight edge over Roy Halladay because of that fact. Halladay is fairly close, who would get my second place vote, but again, Kershaw is the clear front runner.
Kevin Dean
: Roy Halladay
2011 was the best year of Halladay's illustrious career, as measured by wins above replacement. Of course, that doesn't necessarily mean he was the best pitcher in the National League in 2011, but I still think he was. The margin of difference in WAR totals between Halladay and Clayton Kershaw was much wider than that of Sabathia and Verlander (1.4 wins). Halladay also topped Kershaw in FIP. Kershaw led Halladay in most every other category by a small margin, and he didn't pitch on a staff with two other potential aces, but I still think Halladay is awarded the hardware, and deservedly so. This may end up being the closest voting for any award.
American League Rookie of the Year
Andrew Zajac:
Jeremy Hellickson
A product of the defense behind him, Hellickson still shined more than the rest of the rookies in the American League. He went 13-10 on the year with a 2.95 ERA. He stuck out 117 while walking 72, with a 1.15 WHIP. Opposing batters hit .210 off him. One alarming number was the number of home runs he allowed (21). You can also make an argument for Dustin Ackley, who had a fantastic year with the Mariners.
Kevin Dean
: Michael Pineda
This is probably the most wide open award of all. Whether or not Pineda actually does win, I think a Seattle Mariner will, as Dustin Ackley figures to be a top candidate, too. I'm not going to give Pineda credit for pitching on an awful team, just like I didn't to Bautista for hitting on a (less) awful team. However, Pineda looked like one of the best pitchers in the league for awhile, and posted the highest wins above replacement level among league rookies. He also struck out the second most hitters per nine innings in the American League, topping even Verlander and Sabathia. Mark Trumbo, Ivan Nova and Brett Lawrie are considerable, as well.
National League Rookie of the Year
Andrew Zajac:
Craig Kimbrel
This is another slam dunk prediction right here, some of which I feel is for the wrong reason; the NL rookie class wasn't entirely strong this season. He saved 46 of 54 games for the Braves with a 2.10 ERA, and in 77 innings he struck out 127 hitters. Honorable mention goes out to his teammate Freddie Freeman who will likely finish second in the race.
Kevin Dean
: Craig Kimbrel
There is a school of thought that says closers don't effect the game enough over an entire season to be considered for postseason awards, but Rookie of the Year is the one where it can most widely be accepted and Kimbrel was the best the Senior Circuit had to offer (like Huston Street before him, and Andrew Bailey and Neftali Feliz in the American League). He tied for second in all of baseball with 46 saves and struck out an outrageous 127 batters in 77.0 innings, while holding opposing batters to a .499 on-base plus slugging. He also accumulated a 3.6 wins above replacement level, which was best for a reliever of any kind. This should be an almost unanimous decision, as far as first place votes go.
User Comments
No comments currently. Be the first to comment!