2011 MLB Draft: Q&A with Brad Grant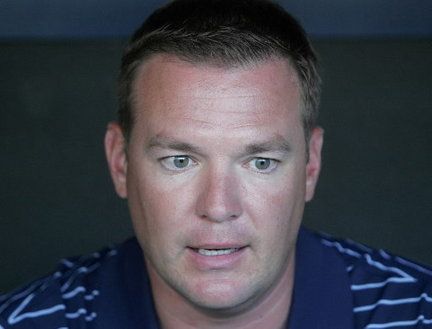 Brad Grant (Photo: AP)
The 2011 MLB Draft is less than a week away.
The three day extravaganza kicks off next Monday night with the first round on national television, and with that in mind it is time to start focusing in on the draft and get a feel for what the Cleveland Indians may do this year.
I recently had a chance to chat with Indians Amateur Scouting Director Brad Grant about the upcoming draft and asked him a ton of questions with regard to their philosophy going into it. While he kept several of his answers simple and vague so as to not tip anyone off on who they may pick or what their budget may be – which makes sense from a competitive standpoint – he did share several things that should help answer several burning questions on the minds of Tribe fans leading into the draft.
Q: The weather has been brutal around the country, especially the eastern portion of the United States. How has this affected your scouting efforts?
Brad Grant (BG): "It's been tough. You have only been able to see four or five starts with high profile pitchers because of all the weather and everything. It has been everywhere to Alabama and Mississippi, and for the first four weeks on the West Coast you couldn't get a game in out there. It has been stressful, but we will get it done."
Q: Scouting Director John Mirabelli runs the entire scouting operation for the organization and is still very involved with the draft. How do you and John handle the draft with regard to who ultimately has the responsibility and makes the final decisions?
BG: "I rely on John a lot for his evaluations and his experience in the draft room. He is invaluable to me in terms of those two things, but at the same time he allows me to ultimately make the decision in the end who we scout and who we draft. But he is definitely a big part of it and I rely on him a lot. There is a big process to it and you have to rely on all of your people to give you the information and then make the decision."
Q: With the depth in the system does it allow you to maybe be more aggressive with higher upside high risk picks?
BG: "Yes it does. We are at a point now where we do have depth and we can take some risk. I think we have shown we are willing to do that, but there is still a balance to everything. You want to try and acquire all different types of players with some guys who will make it quickly and guys who have higher upside too possibly. We are going to scout everybody, put them under the microscope, go through the process with everyone, and then take the player we feel best about with each pick."
Q: So if you had a weaker system you may play it safer?
BG: "Yes, but at the same time you don't want to draft all the same type of guys where you are basing your risk on these high upside guys. You want to try and balance it out at the same time too. There is a risk and reward to balance with each pick and the investment that goes with it as well."
Q: You haven't drafted a high school player with a first round pick since 2001. Any chance we break the ten year cycle of no prep plays in the first round this year?
BG: "We'll see. We are not eliminating anybody at all. We are scouting everybody, and it is just a matter as to what is available with that pick. We are looking at taking the best player."
Q: It does not seem like a coincidence but more a philosophy that we have taken a college player with our first pick for so long. Has it really been a philosophy to go with college players in the first round?
BG: "Yes, I think so. Again you are trying to minimize the risk with that first pick, but I think with where we are at right now and with where the strength of the draft is this year we have to keep everything available. Everything is in play this year, I can tell you that."
Q: Are there any players you have ruled out due to perceived bonus demands or being a two sport high school player?
BG: "We'll just take it on a case by case basis and take a look at it. Right now we are not eliminating anything and everything is open to us at this point."
Q: Due to compensation rules the Tampa Bay Rays will make ten selections before we even make our second pick. Do you foresee the draft compensation system being something that is looked at this offseason when discussing the new CBA?
BG: "I think it will be for sure, but we will see what happens. It will be something that will surely be talked about with the next agreement."
Q: Does the looming CBA and the potential for hard slotting in the future affect your draft plans at all this year?
BG: "No, you just take it on a year by year basis. We are going to go with what we have to work with right now, and then adapt with whatever comes in the future."
Q: Do the new composite bats in college change the way you evaluate the players? Does it give you a better feel for hitting ability and a pitcher's pitch ability?
BG: "We are going through the process a little bit, but it definitely helps the pitchers for sure and I think it helps clarify a little bit the hitters as it is closer to wood. I actually think the ball comes off wood better than the composite bats at this point. So, it is something we are trying to figure out how we balance it, but I think it has definitely helped the pitchers pitch with their fastball more and keep the ball in the ballpark more. At the same time your good hitters are always going to be able to hit no matter what bat they use, so those guys kind of separate themselves out. But there is a noticeable difference, there is no doubt about that."
Q: Is your scouting philosophy focused more on results or projection?
BG: "Both come into play. We are looking at results, but at the same time we are projecting how things will play out in the future too. Results help you in the process, but at the same time you are not always going to see results when you go to the games. You are always projecting out different things with how they are going to play. With a pitcher you are projecting out how their pitches are going to play, and with a hitter you may not see him go 4-for-4 but you have to project out how things are going to go in the future too. It is a combination of both, and when you have both it gives you more information to make a better decision."
Q: Last year you guys broke the bank with a very aggressive draft and signing process, in 2009 you guys mostly held to slot, and in 2008 it was a mixture of the last two years. Do we plan to be aggressive again this year with the draft and budget?
BG: "Just from a competitive standpoint we can't really say where we are at with our draft philosophy or budget coming in. I think it is safe to say we will go out and get the best player available."
Q: Do you consider this to be the deepest draft in many years?
BG: "Yeah, I think especially with the power arms with the number of people throwing up to 95 MPH is deep this year. We haven't seen that number of power arms in the past. When you add in the position players as well, it is a very good draft and definitely has depth to it. It should be an exciting draft this year for sure."
Q: There are no guarantees with the draft since so much forecasting is involved. You have had three strong drafts in a row, so do you feel confident in your process and the success of the past where we can have another very good draft this year?
BG: "I think we have learned from our process and I think we will be prepared to make good decisions. You don't know what is going to happen and you can't predict things or make assumptions. With where we are at now we don't go into the draft room and make any assumptions. We are prepared to make good decisions all the way through the draft, and react when we have to react. Hopefully that process continues this year, and I believe it will."
Follow Tony and the Indians Prospect Insider on Twitter @TonyIPI. Also, his latest book the 2011 Cleveland Indians Top 100 Prospects & More is available for purchase for $20.95 to customers in the US (shipping and handling extra).
User Comments
No comments currently. Be the first to comment!