2011 MLB Mock Draft: Final Edition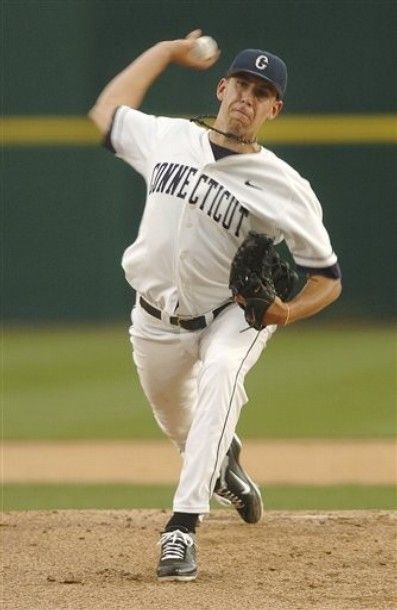 Matt Barnes (Photo: AP)
It is draft day, so here we go with the final mock before the Indians make their pick tonight.
This final mock draft was actually written on Sunday, so things can easily change as we get closer to the draft tonight. In the last three hours before the draft last year the Indians were supposedly locked to take five different pitchers and were not going anywhere near Drew Pomeranz. So this is my best projection with all the information that is currently available.
The mock will be based on what I think is going to happen not who I think should be drafted. So while you might read and wish that another pick is made, the projection is based on past history and what they have been linked to. I also want to keep the reminder in about two sport athletes where the bonus can be spread out over five years making it easier for teams to sign a player, rather than paying all up front.
So enjoy, feel free to comment and I will respond to all comments before the draft occurs.
1. Pittsburgh - Gerrit Cole, RHP, UCLA
This pick seems down to Cole and Hultzen. The question is Cole worth the cost to acquire. I am sure that the Pirate front office will love to envision the trio of upper 90's arms of Tallion, Cole, and Allie. I hope they do this pick, and then fill the rest of the rotation with a soft tossing lefty and a knuckleballer. The rotation would really mess with opposing batters, going from 99 one day to 80's the next. Cole could be a FOR starter and you could wish he had dominated more this year, but the arm should end up being special.
2. Seattle - Anthony Rendon, 3B, Rice
I have harped on this point, but it still is relevant last year Rendon might have been the first pick. He has been hurt this year, but people are really going out of their way to down grade him. I am pretty sure that Seattle is sitting there more than willing to draft him and watch him turn into an all star at third baseman. This pick seems about 80% guaranteed, though they could take Lindor. They seem to really love the guy and he has an outside chance of going here over Rendon.
3. Arizona - Danny Hultzen, LHP, Virginia
Hultzen was drafted by Arizona before, and seems like the pick here. They have been linked to Bauer and Bundy, but with Hultzen on the board he seems like the fit. He is a guy who is seen by many as a number two starter, and should be able to move quickly through the system.
4. Baltimore - Dylan Bundy, RHP, Owasso HS
Hultzen, Bauer, and Bundy should be the next three picks in some order. Bundy might be a smallish high school arm, but his pitches are advanced and he should move much quicker than the typical high school arm. He grades out higher then Bauer on most boards, and the O's seem to be very high on him.
5. Kansas City - Trevor Bauer, RHP, UCLA
The Royals core players are slowly starting to hit the majors, so this had lead to the Royals targeting a player who can move quickly through their minors and help out with this core. Bauer is an advanced college pitcher who has been dominating all year. He has out pitched his more high profile teammate Gerrit Cole. There are major concerns about the work load, but Bauer has played his way into the top five picks.
6. Washington - Bubba Starling, OF, Gardner-Edgerton
Washington has shown a willingness to sign top talent. Last year they paid for not just Harper but also AJ Cole. So I looked at who is the top talent and that player is Starling. He is a player who could be an all star CF, a Grady Sizemore in his prime type of player. The issue is he is very raw, and more than likely won't get near the majors until 2015. It's a risk at the cost it will take to sign Starling, but I think the Nationals are willing to take that risk.
7. Arizona - Sonny Gray, RHP, Vanderbilt
Arizona got this pick since they failed to sign their first rounder last year, which means if they don't sign this pick they lose it. Gray is undersized and it is rare to see a guy with his size who dominates with a high velocity fastball. A few teams think he is destined to be closer, but is viewed as a Billy Wagner type potentially. He is signable, has potential FOR ability, but even if he fails you still get an all star closer. This pick seems like a slam dunk for Zona.
8. Cleveland - Matt Barnes, RHP, UCONN
It has been a decade since the Indians spent a first rounder on a high school player. I know there is talk that they would consider a high school player this year, but most of the talk is that they are targeting college arms. This pick comes down to a quartette of four college pitchers Barnes, Jungmann, Bradley, and Meyer. I have Barnes here, because the Indians have over the years shown a real interest in cold weather pitchers. The Indians have been linked to many players, most of them high school, but until the Indians do draft a high school player I am locked into them taking a college arm.
9. Chicago Cubs - Francisco Lindor, SS, Monverde Academy
The Cubs seem to be targeting high school players. Lindor could go as high as second. He is the top shortstop in this draft, and there is no question that he will stay at shortstop. He has an excellent glove and his bat shows surprising pop for an up the middle hitter. The would love Starling to fall to them, but Lindor is a very nice consolation prize.
10. San Diego - Taylor Jungmann, RHP, Texas
This is an unprotected pick, and Jungmann should sign for right around slot. He has been one of the best and most consistent pitchers in college baseball for the last three years. He does not have FOR ability, but should be one of the first players to make the majors and seems bust proof. I think he could end up an All Star pitching in Petco.
11. Houston - Archie Bradley, RHP, Broken Arrow HS
The past two years the Astros have gone with a prep player. The top player on the board is Bradley who has risen past Guerrieri on boards, and if you believe what Keith Law has posted from scouts there is no way Bradley gets past this pick. He has a heck of an arm, and could develop multiple plus pitches. Add in the bonus that he is a multisport athlete and his bonus won't be as painful to pay.
12. Milwaukee - Taylor Guerrieri, RHP, Spring Valley High School
Milwaukee will take a risk on players that might be a little more costly or raw. Guerrieri is another player who has been linked to spots all over the draft. He could be end being a FOR starter. Milwaukee's minor league system is barren after trades, so I expect them to have an aggressive draft to restock their minors. The best player on the board would be Guerrieri, who would become their top prospect right away.
13. NY Mets - Jed Bradley, LHP, Georgia Tech
The Mets always stick to slot, so the player who makes the most sense at this point would be Bradley. Add in their financial woes and this pick becomes even easier. Bradley was once viewed as a lock to go in the top five. He is a big, hard throwing lefty, which is not easy to find. The problem is he is the opposite of Jungmann in that he has failed to perform throughout college or to maximize his ability.
14. Florida - Mikie Mahtook, OF, LSU
The Marlins tend to draft high school players, and love to draft big arms. So that is why I am very tempted to believe that they are huge on Mahtook. I know that makes little sense, but follow my thoughts. The Marlins have been connected to him by multiple sources, and while he goes against type the fact of the matter is as hitting has been down across college baseball Mahtook has really excelled. This should be his floor and he could easily end up going in the top ten even.
15. Milwaukee - Javier Baez, SS, Arlington Country day School
This is yet another compensation pick in this draft, which again means taking a signable player. Baez should be a player who they can sign. He has an extremely special bat, and many scouting services have his bat as one of the best in the entire draft. He is going to grow out of shortstop, but the upside he has would be too much to pass on. He has been linked to several teams in the top ten, and depending on the site is viewed as a sure fire top ten pick by some.
16. Los Angeles Dodgers - Robert Stephenson, RHP, Alhambra High School
This pick will be slot, no doubt about it. Since Major League Baseball has taken control it seems very likely that they will take a player who will sign for slot. Stephenson seems to be the player they are locked in on with this pick. He should sign for the slot value of this pick, and is one of the many very good high school arms in this draft.
17. Los Angeles Angels - Jose Fernandez, RHP, Alonso High School
The Angels are a team that seems to prefer prep players, and Fernandez is the prep player who makes the most sense. There is talk about Norris, here but he is demanding $4 million to sign, and the Angels don't go that far over slot for picks. Fernandez is a pitcher a lot of teams like, he has a nice upper 90's fastball and won't cost as much as a Norris.
18. Oakland Athletics - Cory Spangenberg, SS, Indian River State College
The A's seem to be all over the bats in this draft. Spangenberg has great speed and a plus bat. He will more than likely end up in center field. He is another player who has been all over the draft map. Even still the bat and his speed make him very much in line with the A's recent trend to drafting athletes.
19. Boston Red Sox - Alex Meyer, RHP, Kentucky
A bit of a fall for Meyer as he is not linked to a lot of teams, which makes it hard to find a landing spot for him. He has a lot of potential but he is super raw, and some of the high school arms might beat him to the majors. His size and ability is very interesting and this pick is his floor.
20. Colorado Rockies - CJ Cron , 1B, Utah
Colorado is looking at the safer bats like Cron and Wong. Cron seems to be target number one, and with his power he would fit right in Colorado. He has plus power, but that is his only real plus skill. He could have 40 HR potential for Colorado, or he could be a complete bust.
21. Toronto Blue Jays - Andrew Chafin, LHP, Kent St.
Toronto has traded just about everyone they could and gone into full rebuild mode, so I expect them to draft the best signable player they can. They are linked almost entirely to college pitchers, and Chafin is a player who has been linked to them. He is the biggest name player on a great Kent St. squad. He is a rare lefty with high velocity, and worst case he is a very good reliever.
22. St. Louis Cardinals - Daniel Norris, LHP, Science Hill High School
Norris has scared off some teams with his $4 million dollar demands, but the Cards have had no problems paying players in the draft like Cox and Miller. I expect them to take the best high school arm and Norris is that at this point. He has a very high upside arm, and being left-handed is a major bonus.
23. Washington Nationals - George Springer, OF, UCONN
Washington has been looking to make a few splashes with their picks and seem to be on athletes. If things fall this way they would get the top two athletes in this draft. Springer has not had a year many expected and could go higher just based on his overall ability. An outfielder of Harper, Springer, and would be high on star power and ability.
24. Tampa Bay Rays - Kolten Wong, 2B, Hawaii
Tampa has so many picks, I expect them to punt a few. I don't mean drafting guys they won't try to sign but draft top talent and see if they can sign them. One of the worst kept secrets seem to be that they will be conservative with this pick, and then take risks later. Wong is a player who is sitting on the first round bubble, but could go to any number of teams looking at a more conservative approach to a pick. A solid, but not great player a lot of teams really seem to like.
25. San Diego Padres - Tyler Anderson, LHP, Oregon
It seems that the Padres are looking for pitching this late in the draft. Anderson is your typically lefty, and he put up big numbers in college. He is linked to the Padres by more than a few sources, and with proper development would be a middle of the rotation starter for the Padres.
26. Boston Red Sox - Blake Swihart, C, Cleveland High School
Boston likes to take risks, and this pick could go many directions. Swihart is one of the top catchers in this draft and was once viewed as a top ten pick. There are signability issues that cause him to slide, but the Red Sox have the picks and the ability to take some risks.
27. Cincinnati Reds - Joe Osich, LHP, Oregon State
The Reds much like the Indians have targeted college players with their last few drafts. Osich is an interesting name because he was a potential top ten pick before he blew out his arm. He isn't all the way back yet, but has hit 98 MPH this year. He sits more in the mid 90's but it is always interesting to see a lefty hit the high 90's. He might take a little longer, but the talent is enough to make a team like the Reds take a look.
28. Atlanta Braves - Joe Ross, RHP, Bishop O'Dowd High School
The Braves are linked to the best player available and to high school arms. At this point Ross would be both of those things. He is the younger brother of the A's Tyson Ross and should end up better. He has been linked as high as the Indians and would be a nice addition to Atlanta's minors.
29. San Francisco - Henry Owens, LHP, Edison High School
They have been linked to mostly high school arms. The arm they are most often linked to is Joe Ross who went one pick earlier. The best high school arm without a major signability issue at this point is Owens. He is more a projectable pitcher than a dominator at this point, but the projection should be enough to entice SF.
30. Minnesota Twins - Levi Michael, SS, UNC
Every player I have heard of being linked with the Twins is currently off the board. Michael is the best talent out there who fits what the Twins look for. He has fallen as he is not linked to many teams, but he has a good bat, solid eye, and above average speed. The Twins have been trying to fill their shortstop need for years, and Michael could be the one to do it.
31. Tampa Bay Rays - Brian Goodwin, OF, Miami Dade College
Tampa is linked to mostly athletes this late in the draft. Goodwin has shown every tool but power in college and that could develop. He started at UNC, but had to leave due to academic issues. Goodwin has athletic ability to spare, and his issues for leaving UNC were not major. He should land somewhere in round one and fits to the Rays.
32. Tampa Bay Rays - Brandon Nimmo, OF, East HS
If the Rays are targeting athletes then Nimmo is a natural fit. Rumors say he is asking for $2 million, but he has the ability that someone will pay him. His high school actually doesn't even have baseball, so most of his attention was based on summer leagues and then this spring on an American Legion team. He is a bit raw, and because of this there is concern about the level of competition. Yet when you look at his tools it's hard to not be impressed.
33. Texas Rangers - Travis Harrison, 3B, Tustin HS
Harrison is one of the few players left on the board that has links to Texas. He has a great bat, but there are questions about his defense. He might end up moving off third base because of his defensive issues. The bat will play somewhere, it is just a matter of where for Texas at some point down the line.
So there it is with the final mock.
I know many will not be happy with the Tribe's pick, but this isn't me doing best player available. It's based on what I read and the teams tendencies. Remember it will be years before any of these players help the Indians, but we can hope that in two to four years this pick turns into another cornerstone for this franchise.
User Comments
No comments currently. Be the first to comment!