2011 Organizational Overview - Catchers and Outfielders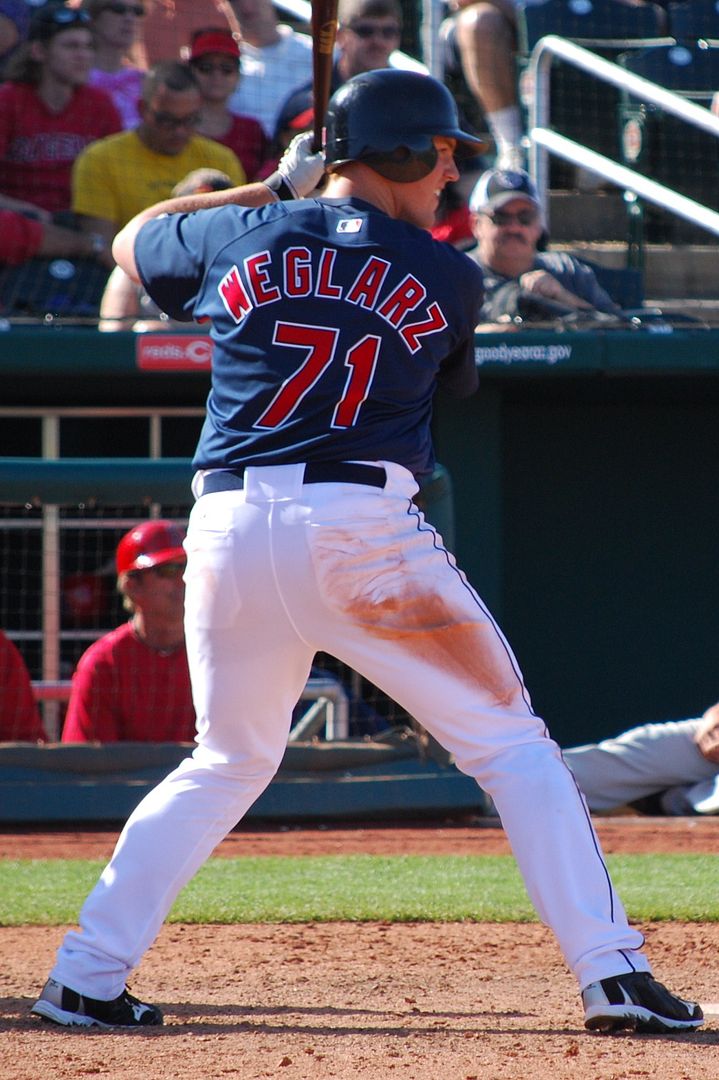 The Indians could use Weglarz's powerful bat in
their big league lineup (Photo: Tony Lastoria)
Today we continue with the overview of the Indians organization by taking a look at the catchers and outfielders. As previously noted, I'll be using the same rules as Tony concerning eligibility for prospects (50 IP, 130 AB, and played stateside). The age next to the players name is for next season using the July 1 cut-off date.
Catchers
Catchers Not Eligible:
Carlos Santana, Lou Marson, and Paul Phillips
Prospect Ranking (Catchers):
1.) Chen-Hsiu Chen (22)
2.) Alex Lavisky (20)
3.) Roberto Perez (22)
4.) Alex Monsalve (19)
5.) Juan Apodaca (24)
With another season like last year, Chen may be a top 5 prospect for the Tribe. Let's just hope he is not a one year wonder. I've got him ahead of Lavisky just because he has already proven something, while Lavisky will be 20 this season in his first year out of high school. I'd like to see Perez hit a little better to go along with his defense, and if he can do that, I'm pretty happy with where the Indians are 1-3. Monsalve is young (19), and he should get a chance at Lake County this season. You could put anyone in the 5th spot, as there are not a whole lot of 'prospects' after Monsalve.
Didn't Make the Cut:
Diego Seastrunk (23)
Luke Carlin (30)
Doug Pickens (26)
Dwight Childs (22)
Moises Montero (21)
Future Prospects From the DSL Team:
Charlie Valerio (20) -
According to Tony, the Indians are moving him to first base and are very high on him. He hit .276/.387/.383 in the DSL last season, and the Indians like his power potential. He could play for Arizona this year.
Organizational Report:
Cleveland - Santana / Marson
Columbus - Carlin / Phillips
Akron - Apodaca / Pickens
Kinston - Chen / Perez
Lake County - Lavisky / Monsalve
Extended Spring Training - Valerio / Montero / Seastrunk
Cut? - Childs
The Indians seem set at catcher for the next 5 years (hopefully more) with Santana. The only thing that may change that is if they are concerned with injury and they make him a first baseman if LaPorta flops. Marson is a solid defensive backup who threw out a high percentage of base stealers at the ML level. I know everyone wishes he would hit more, but he is a good backup. Carlin/Phillips will prove to be good 3rd catchers this season until Chen develops. I have Chen at Kinston again because he only got 172 ab's at Kinston. If Chen makes it to Akron to start the season, then Childs and Pickens may be battling for the backup spot at Kinston. The best case scenario for the Tribe is that Santana and Marson excel and Chen/Perez/Lavisky push Marson as early as mid-2012. If the Tribe is making a playoff run during the 2012-2015 seasons, the continued development of Chen/Perez/Lavisky/Monsalve could provide some trade chips during one of those late season runs.
Outfielders
Outfielders Not Eligible:
Grady Sizemore, Shin-Soo Choo, Michael Brantley, Austin Kearns, Trevor Crowe, Travis Buck
Prospect Ranking (Outfielders):
1.) LeVon Washington (19)
2.) Nick Weglarz (23)
3.) Abner Abreu (21)
4.) Matt McBride (26)
5.) Delvi Cid (21)
6.) Bo Greenwell (22)
7.) Tyler Holt (22)
8.) Jordan Henry (23)
9.) Ezequiel Carrera (24)
10.) John Drennen (24)
11.) Jerad Head (28)
12.) Jason Smit (21)
13.) Tim Fedroff (24)
14.) Chad Huffman (26)
15.) Donnie Webb (25)
I've ranked 15 outfielders so it would be comparable to the five I ranked at the other positions. Picking between #1 and #2 was tough, but I went with Washington due to his five-tool potential. Through all the injuries Weglarz is still producing (.897 OPS last year). I would like to see him stay healthy this year and push for a starting spot with the Tribe in 2012. I know the Indians may move Sizemore to left, but what if Brantley struggles and Weglarz is ready in '12? Would Sizemore move right back to centerfield? That's an interesting problem. I'm still high on Abreu despite his terrible BB/K rate (20/130). After those three, I think the rankings from 4-9 are fungible. The Indians will be losing Sizemore and Choo in a few years and hopefully Weglarz and either Abreu/Washington/Greenwell will have developed into players that can fill their spots when that time comes.
Didn't Make the Cut:
Aaron Siliga (18)
Mark Brown (19)
Greg Folgia (23)
Carlos Moncrief (22)
Anthony Gallas (23)
Brian Heere (23)
Trent Baker (21)
Henry Dunn (22)
Marcus Bradley (20)
Jordan Casas (23)
Kevin Rucker (21)
Joel Torres (21)
Future Prospects From the DSL Team:
Luigi Rodriguez (18) -
Hit .301-2-27 as a 17 year old last season. Luigi stole 31 bases and had a solid BB/K ratio (36/35). He played 42 games in centerfield along with 21 games at second base. That's a pretty good eye and some speed for a 17 year old, but we'll see how that transfers to the AZL team in the future.
Organizational Report:
Cleveland - Sizemore / Brantley / Choo / Kearns
Columbus - Weglarz / Carrera / McBride / Crowe
Akron - Fedroff / Henry / Drennen / Webb
Kinston - Greenwell / Cid / Abreu / Folgia / Smit
Lake County - Holt / Washington / Moncrief / Baker
Extended Spring Training - Siliga / Casas / Rucker / Heere / Torres / Brown / Gallas / Bradley / Dunn
Cut? - Buck / Head / Huffman
I'm with the idea of moving Sizemore to left to save some wear and tear on his body, and that pretty well sets the Cleveland outfield. Kearns will stick as the 4th outfielder, though I think the Indians overpaid for him. If Brantley has a terrible start to the season, would they move Sizemore back to centerfield or would they bring Crowe/Carrera up?
In Columbus, Weglarz/Carrera/Crowe probably start with McBride and Jordan Brown playing some outfield as well. Carrera may have passed Crowe in the pecking order in terms of a call to Cleveland. I don't see Jerad Head or Chad Huffman making the roster unless there are some injuries.
Akron will have Fedroff, Henry, and Drennen, but the last spot will come down to Donnie Webb or Bo Greenwell. The Indians may decide that Greenwell might need more at bats in Kinston. If they think he is ready, then he'll start and Drennen will be the 4th outfielder and Webb will start in Kinston.
Cid and Abreu will make for a young interesting outfield with a lot of strikeouts with Greenwell or Webb. Greg Folgia may hang on here as a backup outfielder and DH. Jason Smit could also make the Kinston team or he could end up back in Lake County.
The Captains will have Holt and Washington providing some excitement and the 3rd and 4th spots are wide open between Carlos Moncrief, Trent Baker, and a number of other players from Mahoning Valley and the AZL team.
The Indians outfield appears set for the next two seasons, but with Sizemore and Travis Hafner done after the 2012 season, the outfield prospects will have to start producing. Nick Weglarz fits that OF/DH mold, and he isn't far away from getting his chance. Michael Brantley also hasn't proven to me that he is an every day outfielder yet, so if he doesn't produce things could get a little shaky (counting on Crowe or Carrera). Choo's last season could be in 2013 and at that point LeVon Washington hopefully is ready to take over in 2014.
With all of the high ceiling prospects the Indians have, they will have to start coming through by 2013/14. The future outfield could be Weglarz/Washington/Abreu with Brantley/Greenwell in the mix, but it would be nice if the Indians could entice Choo to sign an extension especially if we can win some division titles in '12 and '13.
User Comments
No comments currently. Be the first to comment!