2011 Organizational Overview - Corner Infielders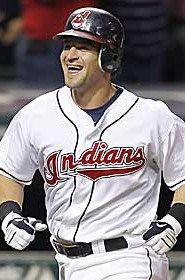 The Indians need LaPorta to start producing
at first base in 2011 (Photo: AP)
Today we continue with the overview of the Indians organization by taking a look at the corner infielders, namely third base and first base. As previously noted, I'll be using the same rules as Tony concerning eligibility for prospects (50 IP, 130 AB, and played stateside). The age next to the players name is for next season using the July 1 cut-off date.
First Basemen
First Basemen Not Eligible:
Matt LaPorta, Travis Hafner
Prospect Ranking (1st Basemen):
1.) Jordan Brown (27)
2.) Beau Mills (24)
3.) Jeremie Tice (24)
4.) Jesus Aguilar (21)
5.) Wes Hodges (26)
This position has many players that were one time or another ranked in the Tribe's Top 10 list. Now three of them (Brown, Mills, Hodges) are just hoping to keep any prospect status. I've got Brown first just because he has done everything the Indians have asked of him, and he may get his shot elsewhere if he does not clear waivers. Mills has more ppower than Brown, but he'll likely be returning to Akron again for a 3rd straight season. Tice really had a nice season last year with 14 HR and 70 RBI, and Aguilar has some good, raw power and it will be interesting to see how he does with a full season team this year. Hodges inability to stick at third base makes him not as usable and he could be a surprise cut from the Columbus roster.
Didn't Make the Cut:
Chase Burnette (23)
Chris Kersten (25)
Ben Carlson (23)
Nate Recknagel (25)
Andrew Kinney (23)
Future Prospects From the DSL Team:
Charlie Valerio (20):
He played 48 games at 1B and just 17 at catcher. He hit .276-4-37 and had a 37/34 BB/K ratio. The Indians plan to develop him as a catcher, but first base could be a position he falls back to down the road. He could make a name for himself on a short season team this season.
Orgizational Report:
Cleveland - LaPorta / Hafner
Columbus - Brown / Hodges
Akron - Mills / Recknagel
Kinston - Tice / Kersten
Lake County - Burnette / Aguilar
Extended Spring Training - Valerio / Kinney
Cut? - Carlson
First Base involves a lot of hoping on the part of Indians fans as severak former top prospects are hanging onto their careers at the position. It is clearly a position of weakness in the organizational, and it is possible down the road someone like Chun Chen is moved there to fill a need. The first hope is that LaPorta becomes the jewel of the Sabathia trade and hits 30 HR's every season. That would allow Brown/Hodges/Mills to flesh themselves out this season and potentially repair their rapidly declining value. I think that Hodges might not make Columbus due to their need for a utility middle infielder on the bench and not another 1B/DH type like him. Recknagel could make the Akron roster as a DH, but he can't do much else. The one wide open battle will be for the backup 1st Basemen/Designated Hitter at Kinston behind Tice. I know Ben Carlson was a high pick (6th '09), but Chris Kersten has proven more to me so far and would deserve that spot, and it could also be Recknagel too.
Overall, this position is in danger if LaPorta fails. Brown could fill in, but he is not the long term answer and would only be a stop gap at the position. Maybe (hopefully) Mills will surprise us all and start smashing the ball and prove that his 1st round draft status was worthy.
Third Basemen
Third Basemen Not Eligible:
Jayson Nix, Jack Hannahan
Prospect Ranking (Third Basemen):
1.) Lonnie Chisenhall (22)
2.) Kyle Bellows (22)
3.) Giovanny Urshela (19)
4.) Jared Goedert (26)
5.) Hunter Jones (19)
Though the position is a mess at the Major League level with the trades of Casey Blake and Jhonny Perlata and the failure of Andy Marte, the future is bright at the minor league level. Former first round pick Lonnie Chisenhall has risen to the top of almost everyone's prospect list and the Indians are counting on a long and successful career from him. Chisenhall will be in Columbus to start the year, and if the Indians are somehow making a run in the summer, maybe he'll get the call. If they are struggling again, we'll have to wait until September to see Chisenhall.
Kyle Bellows' solid season last year at Kinston has him set to replace Chisenhall at Akron. Everyone raves about his defense as he only made 8 errors at 119 games for Kinston at third. Urshela has shown a good bat at each stop so far and he geta raves for his defensive work, so it will be exciting to see how he does at Lake County this season as a 19 year old. Jared Goedert exploded last season with 27 HR and 83 RBI, but he hasn't put up a consistent season like that throughout his career. With Chisenhall at third in Columbus, I think Goedert has a shot to be a backup on the Indians roster to start the season. I've got Hunter Jones ranked 5th at third base because he did play seven of his eight games last season for the AZL team at third. I'm not sure what the Indians future plans for him will be, but with the depth at third ahead of him, they may decide to play him somewhere else (outfield).
Didn't Make the Cut:
Adam Abraham (24)
Juan Romero (18)
Future Prospects From the DSL Team:
Leonardo Castillo (18):
.269-0-16 last year as a 17 year old for the DSL team. He played the bulk of the games third base with Erik Gonzalez playing the rest. He made 19 errors in 58 at games at third, so will need a lot of work there when he comes stateside this season.
Orgizational Report:
Cleveland - Nix / Goedert
Columbus - Chisenhall
Akron - Bellows
Kinston - Abraham
Lake County - Urshela
Extended Spring Training - Jones / Romero
Cut? - Hannahan
I know that no one is really excited about Jayson Nix being our third basemen, but he is likely going to be starting for Cleveland in April. I know that he is not amazing, but it appears that the Indians' leadership has made the decision that they'll get more out of Nix than they would have gotten out of Andy Marte, and I can't say that I don't agree with them. I think Jared Goedert can make the Indians as a corner infield backup and he may be able to push Nix for playing time. I think the Indians would be willing to let him sit on the bench for extended periods of time rather than Cord Phelps.
If the Indians are battling for first in June/July and Chisenhall is tearing up the International League, then we may get an early glimpse of Lonnie. If not, then he'll make an appearance in September and then hopefully never leave the Indians infield for the next 10+ years. Of all the Tribe prospects, the Indians really need him to pan out to help their plans at contention in 2012.
If Chisenahall ends being the top prospect we hope that he will be, then Kyle Bellows will just be working on his development at Akron with no pressure. Bellows could be a nice fall-back option if Chisenhall doesn't succeed, or he could be trade-bait in 2012 if the Indians are making a playoff run.
Adam Abraham saved his career in the 2nd half of the season last year at Lake County. With no one else really ready to play third at Kinston, Abraham will get his chance to stay ahead of Urshela in the third base depth chart. I don't see Bellows, Abraham, or Urshela moving from the teams they start the season with this year. What's nice about third base is that each of the players on a full season team essentially have the position to themselves. Barring injury they should all get to play 130+ games at the hot corner.
As questionable as third base is at the big league level, the Indians have a top prospect (Chisenhall), a solid prospect (Bellows), and a young promising prospect (Urshela). That's the kind of organizational balance that the Indians would like to see at every position.
User Comments
No comments currently. Be the first to comment!