2011 Rule 5 Draft Preview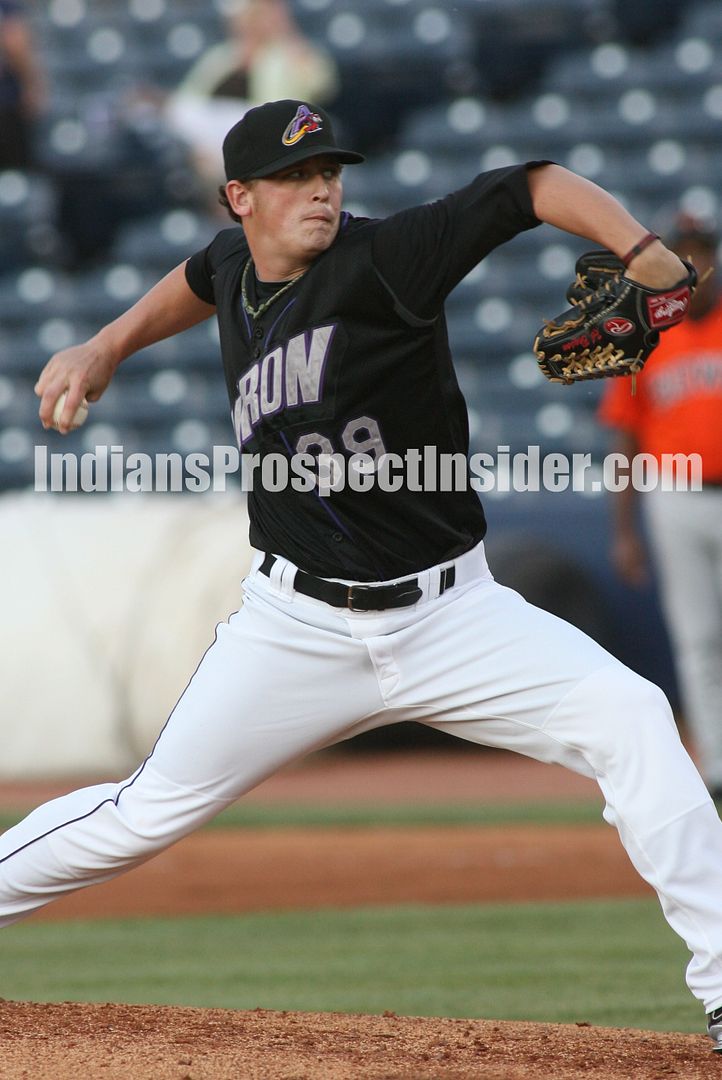 Rob Bryson (Photo: IPI)
Note: I'll be doing a live blog tomorrow before and during the Rule 5 Draft with and news or information on any picks the Indians make or players they lose.

Welcome to Rule 5 Eve.

Okay, so it does not have the same ring to it as Christmas Eve or New Year's Eve, nor is it a major story at the Winter Meetings. But it is something that all clubs are preparing for and it should garner a good chunk of attention tomorrow as the meetings come to a close.

At this moment the Indians are not going to draft a player in the Rule 5 Draft. The main reason for this is that they have a full 40-man roster and to draft a player a spot needs to be cleared on the roster. This issue can always be resolved just before the start of the draft as the Indians can designate a player for assignment, but the Indians are not expected to clear any roster room to add a Rule 5 candidate.

The Indians do have a few players which should create some interest from other teams for possible selection in the draft. They have lost a few players in the Major League phase of the draft in four of the last five years though in every case except one the player was offered back (only Brian Barton in 2007 was kept).

Here is a rundown of the top Rule 5 eligible players they may lose as well as a quick rundown of the rest of the eligibles with a brief explanation on why they will or will not be selected.

Elvis Araujo (Left-handed pitcher)
There is no doubt that of all the players eligible for the Rule 5 Draft that Araujo is the best prospect of the bunch as he should be included in just about every Indians' Top 10 prospect list imaginable this offseason. But the Rule 5 Draft is not about picking up the best prospects; it is about finding some guys that a club feels can legitimately help them in the upcoming season at the big league level. Araujo is not that guy. He has never pitched in a full season and has but two games of experience above rookie level baseball. He is extremely raw and inexperienced as even though he is eligible for the draft he has only played in two professional seasons thanks to Tommy John surgery which wiped out his 2009 and 2010 campaigns and he did not pitch in his first season after signing in 2007. He's big, talented, has a powerful mid-90s fastball, a nice curveball, and loads of potential, but there should not be a lot of fear that even if he is selected that he sticks in the big leagues an entire season. Given his injury history and where he is as a prospect it would also be a disservice to him to try and stash him on a roster all year since he needs to go out and pitch regularly in order to develop his pitches and delivery. I do not believe he will be selected.

Rob Bryson (Right-handed pitcher)
I think there are several Rule 5 possibilities from the Indians' list, but I do not think that any of the potential selections have a chance to stick….except for Bryson. He is the one eligible player that I believe has the stuff and ability to get selected and stick (survive?) an entire Major League season. Do not mistake that as meaning I believe he would stick if he were selected because even if that were to happen I think in the long run he is returned. I just think he has the potential to stick. There is no denying his stuff as he has a fastball that explodes out of his hand and consistently clocks in at 92-94 MPH and touches 96 MPH, and his slider is a Major League offering. He also has the moxie and business-like approach to pitch in high leverage situations and the pedigree as a high level relief pitching prospect and a player included in the C.C. Sabathia trade. The red flag with him has been injuries as he had shoulder surgery after the 2008 season and broke his foot this spring that caused him to miss a lot of the past three seasons. But the important thing is his shoulder is fine and he is pitching well and has continued to do so this offseason pitching winter ball in Venezuela. I think there is a decent chance he is selected.

Matt Langwell (Right-handed pitcher)
Langwell could be a sleeper. He has been a performer throughout his minor league career, reached Triple-A at the end of this past season, and if not for the likes of Lee, Hagadone, Judy, Putnam and others we would get a lot more attention. He sits in the low 90s with his fastball and can get it up to 93-94 MPH and has a solid slider, and the Indians believe if he stays healthy he could pitch in the big leagues someday. A team with a barren system of relief prospects may think that opportunity is now and pry him away from the Indians by taking him in the draft, and I would not be surprised if some sort of deal is swung next spring to trade his rights to the drafting team (if he were selected).

T.J. McFarland (Left-handed pitcher)
McFarland is a sinker balling lefty that the Indians really like, but was left off the 40-man roster because of a deep system filled with a lot of pitching depth. He does not have the power arsenal that is typically drafted in the Rule 5 Draft as he is a soft tossing lefty with a good feel to pitch. He only throws 88-92 MPH, but he has made big strides with his delivery mechanics as he did a better job this past season of staying on his front side and getting his arm out and reaching which gives him more depth and sharpness to his pitches. Being compared to former Indians' lefty Aaron Laffey kind of limits the impact he could have in the big leagues as well. He should pitch in the big leagues, but is not expected to be anything more than maybe a back of the rotation depth starter or a second lefty in a bullpen. But he was tough on lefties this year at Double-A Akron (.221 BAA, .624 OPS) and in 2010 at High-A Kinston (.227 BAA, .579 OPS), so a team may take a look at him as a possible left-on-left guy. Because of this I think there is a small but limited chance he is selected.

Alexander Perez (Right-handed pitcher)
Two years ago it seemed like a foregone conclusion that Perez would be rostered in the 2011 offseason to protect him from this draft. But an elbow injury changed all of that as his last two seasons were ruined by the injury and subsequent Tommy John surgery. He completed his rehab from elbow surgery and pitched in Instructional League and all signs point to him being 100% available to start next season. Some injured high profile pitching prospects have been drafted and stashed on a roster in the past, but the difference here is Perez is healthy and ready to pitch so a team can't just stash him on the Major League disabled list next year. He is also more valuable to the Indians than other clubs at this point as he has no experience above Single-A, is coming off of an injury, and teams have no scouting information on him since they have not seen him pitch in almost two years. He should remain with the Indians.

Roberto Perez (Catcher)
Perez is one of the best defensive catchers in the minors and some would say is ready to handle a big league pitching staff right now. But the problem is his very limited bat which he has struggled to improve the last few seasons. He shows a lot of patience at the plate as he draws a lot of walks which helps him put up a high on-base percentage and he has some occasional home run power, but his inconsistency with his ability to put the ball in play or square up the bat with the ball is an issue for him that he is still working hard to improve. I think it is doubtful that he is selected, yet there are a lot of teams out there desperate for catching help. While catchers are often not a Rule 5 pickup a team could take him to see what he can do this spring.

Bryan Price (Right-handed pitcher)
Price is another sleeper in the bullpen. He has the pedigree as a former 1st round pick, was involved in a high profile trade for Victor Martinez in 2009, and has some very good stuff with two Major League pitches - a 91-93 MPH fastball that has touched 97 MPH and a good slider. Since joining the Indians he has been hindered by a several injuries which have affected him and cost him a good amount of games and development opportunities, otherwise he would probably already be at Triple-A by now. His name will certainly pop out as teams peruse the list of eligibles and cause them to check their internal reports on him to see if he is a worthy draft option. He might get picked.

Bryce Stowell (Right-handed pitcher)
Stowell is the wildcard of the Indians' entire eligibility list. No one truly knows what will happen to him, and to be honest, no one really knows what is up with him. He was up to 100 MPH in 2010 with his fastball but suffered a scare at the end of that season when he hurt his elbow and was shut down the final few weeks of the season. He worked out and rested in the offseason, but when he reported to spring training this year he did not look good. Even though he has always been a bit wild his command was noticeably off and his velocity was down considerably in the low 90s. He missed the first few months of the season for an undisclosed reason, and when he returned he only pitched at Low-A Lake County, High-A Kinston and Double-A Akron, and his velocity just never approached the levels it did in 2010. These are signs of a pitcher who may have an arm/shoulder issue, though he and the Indians deny it, so buyer beware. Few pitchers can throw a ball 100 MPH, so a team may make the $50K gamble on him just to see what he does this spring. I'd say there is a less than 50-50 chance he is picked.

Steven Wright (Right-handed pitcher)
Wright is one of the most experienced players eligible for the draft and has a lot of ability to pitch in the higher levels. He has spent the last year-plus working on a knuckleball that he has added to his repertoire and the progress with it has been slow but steady. He has thrown a lot of innings with it this year and has continued to pitch this offseason in Panama where he was named an All Star. He can start or relieve, and if that knuckleball ever gets the green light as a Major League pitch it offers up a nice complementary piece to his fastball-slider combination which are pretty solid. I don't think he gets picked, but all it takes is one team to be intrigued by that knuckleball and unique pitching repertoire.

The Rest

Adam Abraham (3B/1B): Versatile, hardnosed player who can play first base, third base, and catcher, but just too old and inexperienced in the higher levels to be considered.
Eric Berger (LHP): There is a very small chance he could be selected, but the teams I have talked to over the past year are very concerned with his command issues. He has really struggled the past two years in limited time at Triple-A Columbus.
Delvi Cid (OF): He is a speedy outfielder and good defender, but has very limited experience above Low-A and has some big plate discipline issues. He is staying.
Ben Copeland (OF): A minor league free agent the club signed last summer to fill a need at Double-A because of injuries and who was resigned this offseason. He will be with the Indians at either Double-A Akron or Triple-A Columbus next year.
Trevor Crowe (OF): Every team in baseball passed over the chance last month to pick him up off waivers and avoid the restrictions that a Rule 5 Draft pick brings. He is not getting selected.
Paolo Espino (RHP): Undervalued and often over looked, he continues to put up very good numbers in the minors. He just does not have the typical power arm reliever profile that most Rule 5 picks have and most teams have a pitcher or two like him already in their system.
Tim Fedroff (OF): A nice bounce back season for him and he logged some time at Triple-A and did okay. He is well rounded and could be a fourth outfield candidate for someone, though the lack of any plus tool limits interest in him.
Bo Greenwell (OF): He certainly has the pedigree as his father is a former Red Sox All Star outfielder, but it has been a tough road so far for him because of numerous injuries, the most recent of which an ACL tear that will sideline him a good portion of next season.
Chad Huffman (OF/1B): He has a lot of experience in Triple-A and even a smidgen of big league experience. He also has some power and some versatility as a corner outfielder and first baseman. But he had a bad year this past season and interest has really waned on him.
Francisco Jimenez (LHP): He is a soft tossing lefty reliever that saw some improvement with his velocity this past season, shows good command of his pitches and creates some deception. He has no experience above High-A, so it would be a big reach to draft him.
Kyle Landis (RHP): A great comeback story this past season as he returned from a serious nerve issue. If the Indians were not so deep with relievers in the minors he may have pitched most of the season at Double-A Akron.
Joey Mahalic (RHP): Lots of injuries and inconsistent performance over his career combined with pitching most of last season at Low-A equals no shot of getting picked.
Argenis Martinez (2B): An excellent utility infielder candidate from a defensive standpoint as he can really pick it, but unfortunately he has all kinds of issues swinging the bat which really limits his future. He is going nowhere.
Beau Mills (1B): He is a "name" that will pop out as a former 1st round pick and top prospect, but even after a nice bounce back season this past year there are still concerns around the league about what kind of future he may have. Also, first basemen are almost never selected in the Rule 5 Draft.
Carlos Moncrief (OF): One of the most talented position players in the Indians system, but for as talented as he is and for as nice a skill set he has, he is just too raw with the bat to consider for a Major League roster.
Doug Pickens (C): He is an organizational player and considering all of the minor league catching depth the Indians have signed this offseason it looks like Pickens' days with the organization are numbered. I can't see him returning to High-A for a fourth straight season….though you never know.
Marty Popham (RHP): He is another example of a guy who gets overlooked because of some good pitching depth in the upper levels. He has some potential as a starter or reliever, but he lacks a dominating fastball as he sits in the low 90s though has gotten it up to 95 MPH in the past. He stays.
Karexon Sanchez (INF): A versatile player who can play any infield position and has some pop, but just too inconsistent and not highly valued by other teams. The Indians probably value him most because they know him and because of his versatility.
Jeremie Tice (1B): He has some good power and when healthy has been a run producer. But he has no experience above High-A, has no versatility, has durability issues, and plays a position that rarely ever gets picked in the draft. He'll be back with the Indians next year.
Donnie Webb (OF): He is a versatile, speedy outfielder who had a nice breakout season in 2009 at Low-A Lake County and then performed well above expectations in a late season opportunity at Triple-A Columbus. It has been all downhill since as injuries and inconsistency have dampened his standing.

Follow Tony and the Indians Prospect Insider on Twitter @TonyIPI. Also, his latest book the 2011 Cleveland Indians Top 100 Prospects & More is available for purchase for $20.95 to customers in the US (shipping and handling extra).
Follow Tony and the Indians Baseball Insider on Twitter @TonyIBI. Also, his new book the 2014 Cleveland Indians Baseball Insider which profiles the Indians' Top 100 Prospects and more is available for sale.
User Comments
No comments currently. Be the first to comment!