2011 Tony Awards: Biggest Breakthrough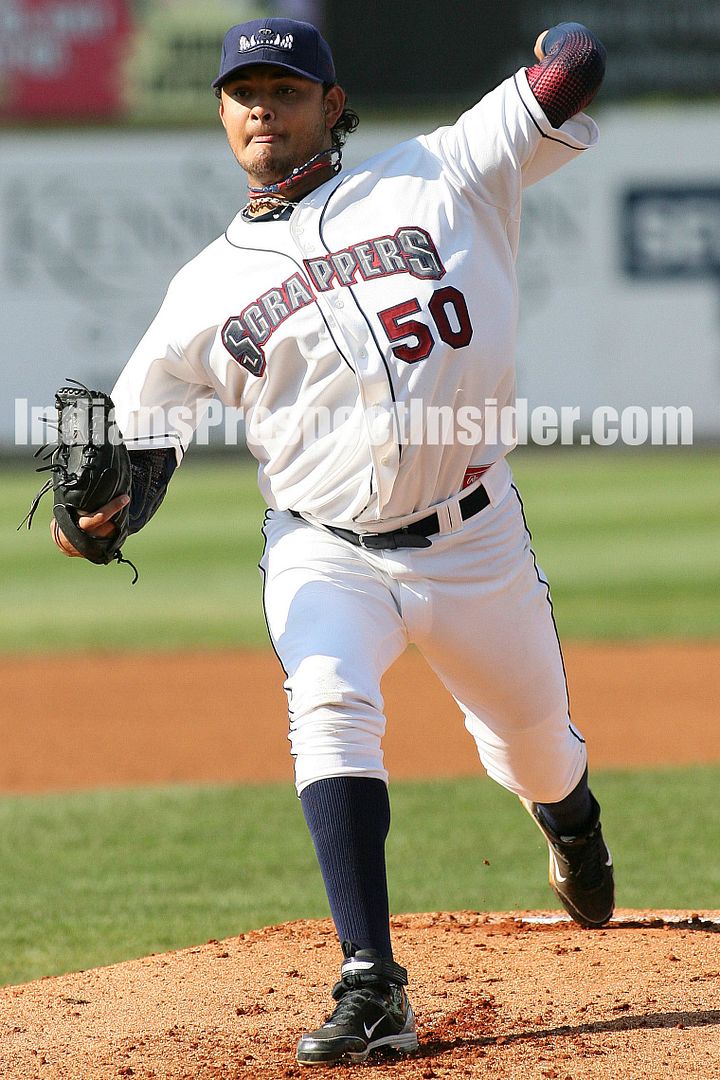 Elvis Araujo (Photo: Jesse Piecuch)
Today we continue the IPI postseason awards with the announcement of the Biggest Breakthrough.

This award goes to the player who may not have been as highly touted coming into the season on prospect lists, but by the end of the season is definitely on the prospect map and should be ranked as a Top 50 prospect going into next season.
Here are the 2011 Tony Awards so far:
Again, these awards are simply for fun to hand out at the end of the year.

Also, the Cleveland Indians in no way whatsoever had any input in these awards.
Biggest Breakthrough Nominees:
Jesus Aguilar (1B – Lake County/Kinston)
.284 (131-for-462), 70 R, 30 2B, 2 3B, 23 HR, 82 RBI, 46 BB, 126 K, 2 SB, .865 OPS
Aguilar came into the season as the IPI's 83rd ranked prospect and had a very nice full season debut this year, and is now the best right-handed power hitting prospect in the Indians' system. He hit .292 with 19 HR, 69 RBI and a .915 OPS in 95 games at Low-A Lake County before he was promoted to High-A Kinston at the end of July. Even though he spent the last month-plus in another league, he still finished 7th in the Midwest League in home runs (19), 16th in RBI (69), 17th in doubles (27), 2nd in slugging percentage (.544) and 2nd in OPS (.915).
Cody Allen (RHP – Mahoning Valley/Lake County/Kinston/Akron)
5-1, 1.65 ERA, 23 G, 54.2 IP, 35 H, 1 HR, 14 BB, 75 K, .182 BAA
Allen was the Indians' 23rd round pick in this year's draft and made a splash this season, so much so that he was named the IPI's Rookie of the Year a few days ago. Due to his draft slot, injury history, and low profile coming out of college the expectations for him as a prospect were low coming in, but he has certainly raised those expectations considerably with a dominating pro debut. It looks very possible that he will move to a starting pitching role next year, which would increase his stock even more. His performance and potential will very likely rank him somewhere in the IPI's Top 100 next year.
Elvis Araujo (LHP – AZL Indians/Mahoning Valley)
9-1, 3.36 ERA, 15 GS, 69.2 IP, 65 H, 2 HR, 25 BB, 63 K, .245 BAA
Araujo was a higher profile Latin signing back in July of 2007 and had a nice pro debut in the DSL in 2008 as a 16-17 year old going 4-2 with a 1.89 ERA in 14 starts. An elbow injury in spring training in 2009 resulted in Tommy John surgery. His recovery process was slow as he had some setbacks along the way, which is why he missed all of 2009 and 2010. He came back in a big way this year and ranked 1st in the Arizona League in wins (9), 3rd in ERA (2.86), 9th in games started (11), 4th in innings pitched (63.0), 3rd in strikeouts (58), and 3rd in WHIP (1.14).
Mike Rayl (LHP – Lake County/Kinston)
6-8, 3.42 ERA, 25 GS, 123.2 IP, 114 H, 9 HR, 26 BB, 121 K, .243 BAA
Rayl was great in his full season debut this year. He opened the year at Low-A Lake County where in 17 starts he went 5-5 with a 2.83 ERA (82.2 IP, 66 H, 3 HR, 13 BB, 84 K) and then went on to High-A Kinston in July and was solid in 8 starts going 1-3 with a 4.61 ERA (41.0 IP, 48 H, 6 HR, 13 BB, 37 K). The walk, hit and home run rates all spiked after his promotion, but even so he had a Matt Packer-esque rise in the organization this year. Had he qualified his 2.83 ERA at Lake County would have been 7th in the Midwest League.
Luigi Rodriguez (OF – AZL Indians/Lake County)
.304 (69-for-227), 28 R, 10 2B, 4 3B, 3 HR, 19 RBI, 19 BB, 55 K, 18 SB, .779 OPS
Rodriguez is another player who emerged this season in the lower levels of the Indians' farm system. He was my #1 rated Latin prospect coming stateside this season and he did not disappoint as he got off to a great start at rookie level Arizona where in 25 games he hit .408 with 3 HR, 14 RBI, 12 stolen bases, and .987 OPS. He was quickly promoted to Low-A Lake County and as an 18-year old held his own in 34 games hitting .250 with 0 HR, 5 RBI, 6 stolen bases, and .630 OPS. He is a switch hitter and made remarkable progress this year as a hitter showing very good hand-eye coordination from each side of the plate. He is a converted outfielder and this was his first full season playing out there where he made some significant strides as a defender.
Ronny Rodriguez (SS – Lake County)
.246 (91-for-370), 41 R, 28 2B, 7 3B, 11 HR, 42 RBI, 13 BB, 83 K, 10 SB, .723 OPS
Ronny Rod had a very good pro debut at Low-A Lake County, especially considering that aside from some Instructional League games last fall and spring training games this spring he had almost no game experience as a player. That is what makes his Lake County performance so impressive because while there are certainly areas in need of improvement like his discipline and defense, he has abilities at the plate and in the field to be an impact player down the road.
And the Tony Award goes to….Elvis Araujo
All of the players have improved their value and standing as prospects in the Indians' system, but two players were clearly a step above the others: Jesus Aguilar and Elvis Araujo.
Aguilar has that right-handed power that fans are coveting at the big league level as he has been blasting balls all over the diamond in the lower levels of the minors for the last three years. The time is now for him to take a big leap forward next year and show he can continue to do that when facing more advanced pitching in High-A and potentially Double-A.
Aguilar is playing in the Arizona Fall League for a few weeks this offseason, which should provide a good barometer of how he stacks up against more advanced pitching. He is still a few years away from the big leagues given his issues defensively and with his plate discipline. He continues to improve at first base and the Indians believe he can ultimately become an above average defender there, so developing that plate discipline is going to be the biggest key for him going forward.
In the end, the difference between Aguilar and Araujo is that while Aguilar may be a one tool kind of player with the exceptional power, Araujo is showing the potential to be a front of the rotation starter. Even though this past season he was pitching in games for the first time in two years he showed good strike throwing ability and with his mid-90s fastball and good breaking ball he has the power arsenal that teams covet from the left side.
Like with Aguilar, Araujo has a long ways to go as a prospect. He will likely pitch next season at Low-A Lake County at the start of the season, but could move quickly if he performs well and is healthy. His ability to rack up strikeouts and overpower hitters is very exciting, and seeing how his stuff and abilities translates as he moves up the minor league system the next few years is very intriguing. He jumped squarely onto the map this season, and is very likely going to be a Top 20 prospect next year or even in the Top 10.
Follow Tony and the Indians Prospect Insider on Twitter @TonyIPI. Also, his latest book the 2011 Cleveland Indians Top 100 Prospects & More is available for purchase for $20.95 to customers in the US (shipping and handling extra).
User Comments
No comments currently. Be the first to comment!