2011 Tony Awards: Biggest Disappointment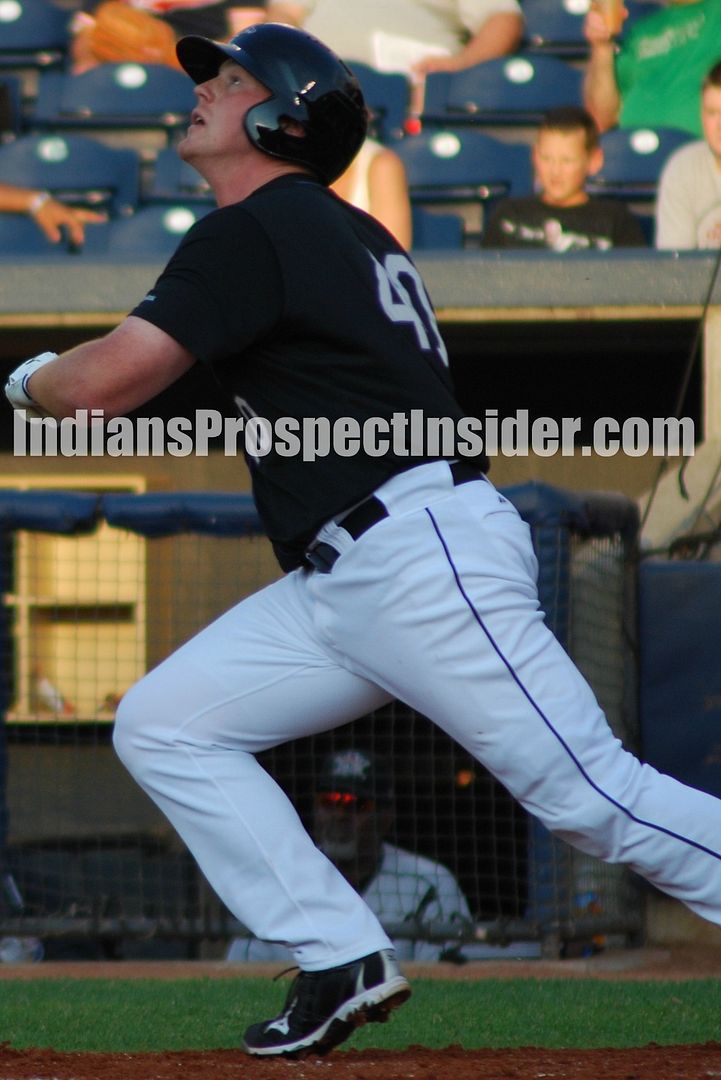 Nick Weglarz (Photo: IPI)
Today we continue the IPI postseason awards with the announcement of the Biggest Disappointment, the one year end award no one wants to win.

This award goes to the player who was a highly rated prospect coming into the season who performed poorly.
Here are the 2011 Tony Awards so far:
As with any season, no matter how good things go there will always be a few players who fall short of expectations. The toughest thing to balance is considering who truly had a poor season since a lot of these players had their season's affected by significant injuries, and in an evaluation process that is something that teams very much consider. Either way, the great thing is most of these players will get a chance next year to make the necessary corrections and could very well be next year's Comeback Player of the Year.
Again, these awards are simply for fun to hand out at the end of the year, though this is one award that is not really "fun" to hand out.

Also, the Cleveland Indians in no way whatsoever had any input in these awards.
Biggest Disappointment Nominees:
Nick Bartolone (SS/2B – Lake County)
.219 AVG (78-for-356), 41 R, 12 2B, 2 3B, 0 HR, 26 RBI, 25 BB, 70 K, 11 SB, .537 OPS
Bartolone was not a highly rated prospect coming into the season, but he was a 6th round pick in 2010. His biggest area of strength was supposed to be his defense, but whether it was early nerves or just a rough patch he struggled at the start of the season with 16 errors in the first two months (37 games). He also struggled at the plate early on where he was hitting under .200 well into June, which cut into his playing time some for the rest of the season.
Kyle Blair (RHP – Lake County)
3-5, 5.02 ERA, 24 G (14 GS), 82.0 IP, 81 H, 7 HR, 40 BB, 72 K, .259 BAA
Blair was a 3rd round pick in 2010 that the Indians paid a handsome bonus to, and he came into the 2011 season as the IPI's 14th ranked prospect. His numbers were not up to par for what is expected of a high profile college pitcher pitching in Low-A, especially one of his stature. However, he was battling a knee issue for most of the season so it probably had a big affect on him, especially with his command issues all year.
T.J. House (LHP- Kinston)
6-12, 5.19 ERA, 25 GS, 130.0 IP, 133 H, 12 HR, 66 BB, 89 K, .269 BAA
House came into the 2011 season as the IPI's 11th ranked prospect and he also returned to High-A Kinston to pitch for a second consecutive season. Considering his lofty prospect ranking and a return trip to a league he pitched well in the previous year, he should have pitched much better this year. His ERA ballooned and the numbers that were not good were the significant increase in both his home run rate and walk rate as well as the decrease in his strikeout rate.
Corey Kluber (RHP – Columbus)
7-11, 5.56 ERA, 27 GS, 150.2 IP, 153 H, 19 HR, 70 BB, 143 K, .263 BAA
The Indians traded right-handed pitcher Jake Westbrook for Kluber in July of 2010, they added him to the 40-man roster last offseason, and he was the IPI's 29th ranked prospect coming into the season. His performance took a step back this year and he had some very notable issues with his fastball command. He made some progress in the second half of the season and the Indians are still high on him, but from a performance perspective it was a disappointing year.
Jason Knapp (RHP – Kinston)
Knapp came into the season as the IPI's 6th ranked prospect and he was also one of the key players the Indians received from the Phillies in exchange for Cliff Lee back in July of 2009. So far his career with the Indians has been a disappointment, but not because of performance but because of injuries. There is no doubt he has the talent.

The Indians just have to find a way to keep him healthy. His recent should injury and surgery put a huge question mark on his future.
Alex Lavisky (C – Lake County/Mahoning Valley)
.203 AVG (90-for-443), 48 R, 28 2B, 0 3B, 13 HR, 52 RBI, 29 BB, 137 K, .621 OPS
Lavisky was an 8th round pick in 2010 that the Indians gave a seven figure bonus to in order to woo him away from college. He also came into the season as the IPI's 17th ranked prospect. He showed some potential with the power and production numbers and was first class as expected as an individual. He also did a nice job behind the plate this year. But the bat-to-ball and the high strikeout rate is very concerning, and something that will be a huge focus for him going forward.
Giovanny Urshela (3B – Lake County)
.238 AVG (120-for-505), 57 R, 24 2B, 2 3B, 9 HR, 46 RBI, 14 BB, 69 K, .608 OPS
Urshela came into the season as the IPI's 23rd ranked prospect. He slipped slightly as a defender this year partly because it is believed he was not in good shape coming into the season. He is still a top notch defender, but he needs to be more committed in his offseason workouts this year. He also took a step back in his performance at the plate where it was hoped he would show more power, discipline, and bat-to-ball ability.
LeVon Washington (OF – Lake County)
.218 AVG (65-for-298), 35 R, 9 2B, 4 3B, 4 HR, 20 RBI, 49 BB, 89 K, 15 SB, .647 OPS
Washington
was a 2nd round pick in 2010 that the Indians gave a seven figure bonus to and he came into the season as the IPI's 7th ranked prospect. He did not live up to expectations as a defender, base-runner or hitter, but a lot of that probably had to do with some of the significant issues he had before and during the season with his hip surgery and leg injuries. Injuries are not an excuse though, and I expect him to come back strong next season.
Nick Weglarz (OF – Akron)
.179 AVG (24-for-134), 25 R, 8 2B, 0 3B, 3 HR, 12 RBI, 36 BB, 43 K, .666 OPS
Weglarz came into the season as the IPI's 5th ranked prospect and has been in the IPI Top 10 for four years running. He suffered a significant knee injury in spring training running to first base, and from that point his season got untracked. He still showed the patience he has always been lauded for as he had a .360 on-base percentage even though he hit just .179, but his power completely disappeared and he was only able to play in 41 games all season.
And the Tony Award goes to….Nick Weglarz
As mentioned at the top, this is a tough award to hand out since I respect the hard work that a lot of these players put into their seasons and careers.

I am always more for talking about the positive things with regard to the Indians' minor league system, but to be balanced I know from time to time I have to be fair and talk about the things that are not good too.
Sometimes things just do not go well because of injuries or for various other reasons. But in the end there are players who make progress over a season, and there are players who do not.
Weglarz just had a forgettable season. The season was a disappointment on many levels for him, but most of the disappointment stems from yet another injury that forced him to miss a huge chunk of the season. While I often give players a pass when they suffer injuries over the course of the season, it was hard to do so in this case.
There is no doubt that Weglarz was not 100% when he returned from his knee injury. He had almost no drive in his swing and was not making very consistent hard contact. His eye was still fine as he drew his customary high amount of walks and the strikeouts remained about the same.

But his power numbers cratered with a .306 slugging percentage as compared to his .455 career slugging percentage coming into the season.
Weglarz's injury was a big blow to the Indians this year considering their need at the Major League level with outfield help almost all season. He came into the season on the 40-man roster as a legit big league option that was about ready for a chance should the opportunity and need arise. The opportunity and need both arose quickly in May and June when Grady Sizemore, Shin-Soo Choo, and Travis Hafner went down with injuries, but he himself was down with an injury as well so the Indians moved on to other options.
It was a big league opportunity lost this season that Weglarz may have a hard time getting again.

He turns 24-years old in December, so his age is no longer on his side. His injury history is also a huge red flag going forward as he has now finished four of his last six seasons on the disabled list including the last three seasons in a row.

His primary goal this offseason will be on getting 100% healthy and coming into camp in the best shape possible so as to better help avoid the injury bug.
Weglarz will probably remain on the 40-man roster this offseason and he has options remaining, so there are no immediate roster issues with him for next year. This should allow the Indians to be patient with him for one more season to see if he can stay healthy and get that coveted big league opportunity and be the impact player everyone has felt he can be for so long.
Follow Tony and the Indians Prospect Insider on Twitter @TonyIPI. Also, his latest book the 2011 Cleveland Indians Top 100 Prospects & More is available for purchase for $20.95 to customers in the US (shipping and handling extra).
User Comments
No comments currently. Be the first to comment!