2011 Tony Awards: Rookie of the Year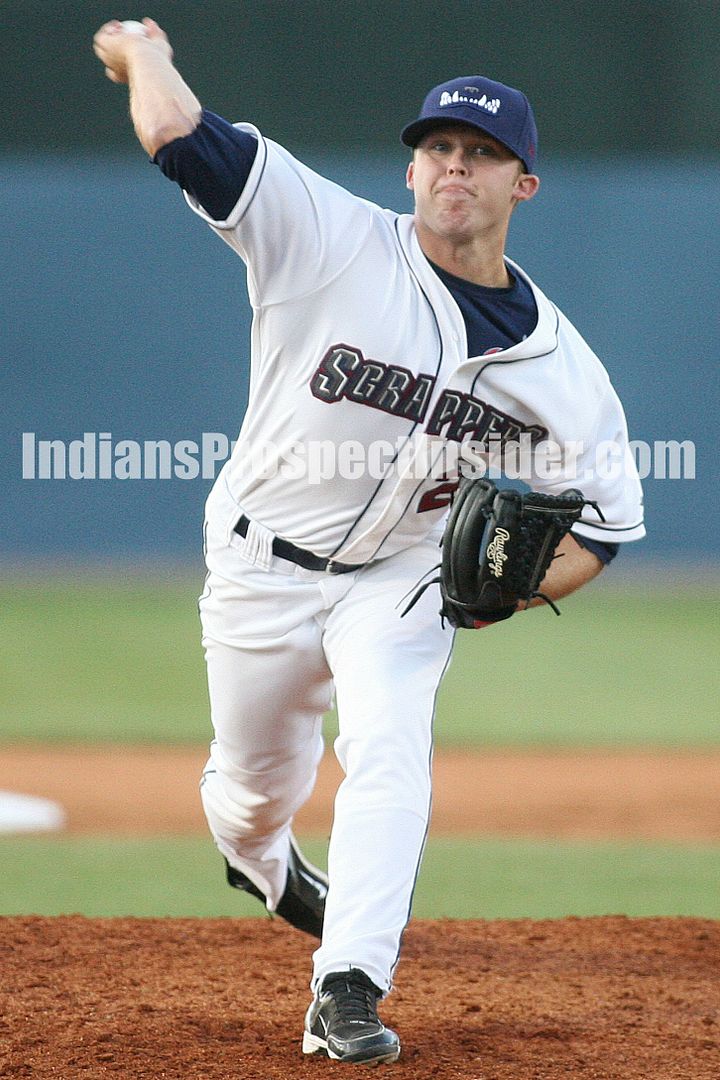 Cody Allen (Photo: Jesse Piecuch)
Today we kick off the IPI's year end awards with the announcement of the
Rookie of the Year
. In the coming days the Defensive Player of the Year, Biggest Disappointment, Biggest Breakthrough, Reliever of the Year, Comeback Player of the Year, Pitcher of the Year, Offensive Player of the Year and All-Tony Team will be announced.
The Rookie of the Year Award is given to the Indians minor leaguer who had the best professional stateside debut this year. If a player had logged any time in previous seasons, even just a game or one at bat they were not eligible. As a result some players who saw limited action at the end of 2010 like shortstop Tony Wolters were not eligible. The same will happen next year for shortstop Francisco Lindor.
As always, prospect standing is not considered with these awards as they are 100% awarded based on performance. Please keep that in mind as just because a guy is or is not listed does not mean anything from a "prospect" standing. These awards are simply for fun to hand out at the end of the year. Also, the Cleveland Indians in no way whatsoever had any input in these awards.
Onto the nominees...
Rookie of the Year Nominees:
Cody Allen (RHP – Mahoning Valley/Lake County/Kinston/Akron)
5-1, 1.65 ERA, 23 G, 54.2 IP, 35 H, 1 HR, 14 BB, 75 K, .182 BAA
Allen was a redraft this year by the Indians and this time he and the organization were able to come to terms. So far it is looking like a match made in heaven as he hit the ground running and blew away the competition this season. He made his pro debut at short season Single-A Mahoning Valley and in 14 appearances there was 3-1 with a 2.14 ERA (33.2 IP, 21 H, 9 BB, 42 K) before the Indians promoted him to Low-A Lake County. All he did there was go 2-0 with a 0.00 ERA in 7 appearances (17.0 IP, 10 H, 5 BB, 28 K). He did not pitch at any one stop long enough to figure into the league leaders, but the overall numbers speak for themselves.
Jake Lowery (C – Mahoning Valley)
.245 AVG, 43 R, 23 2B, 1 3B, 6 HR, 43 RBI, 54 BB, 56 K, 3 SB, .792 OPS
Lowery was another high profile player from the 2011 Draft who got to playing right away. If not for him missing a few games in late June to head out to the Midwest to receive the Johnny Bench Award as the top collegiate catcher in 2011 he would have played in every game for Mahoning Valley. He showed a nice combination of power and patience at the plate and even though the batting average was not there absolutely everything else was. He finished 5th in the NY-Penn League in runs (43), 1st in doubles (23), 7th in RBI (43), and 1st in walks (54).
Josh McKeon (RHP – AZL Indians/Mahoning Valley)
1-0, 1.36 ERA, 21 G, 33.0 IP, 20 H, 0 HR, 15 BB, 37 K, .171 BAA
The Indians picked up McKeon this year shortly after the draft as an undrafted free agent out of Upper Iowa University. He went to rookie level Arizona and performed well going 1-0 with a 1.00 ERA in 17 games (27.0 IP, 15 H, 14 BB, 30 K) before getting a late season promotion to Mahoning Valley. In four games with the Scrappers he went 0-0 with a 3.00 ERA (6.0 IP, 5 H, 1 BB, 7 K). Overall it was a very impressive performance, which he absolutely has to continue doing going forward since there is little invested in him. He was 5th in the Arizona League in games finished (13).
Toru Murata (RHP – Kinston)
3-2, 2.36 ERA, 22 G, 49.2 IP, 37 H, 2 HR, 10 BB, 58 K, .208 BAA
Technically Murata is a rookie in that he has not pitched professionally as a member of an organization in the United States, but he has three years of pro experience in Japan under his belt and also pitched in the Arizona Fall League in 2009. In nine games (4 starts) to begin the season he was 0-2 with a 4.05 ERA (20.0 IP, 17 H, 6 BB, 27 K) before going down in the beginning of June with a lat injury which resulted in him missed a month and a half. When he came back he was dominating as in 13 appearances he was 3-0 with a 1.21 ERA (29.2 IP, 20 H, 4 BB, 31 K).
Bryson Myles (OF – Mahoning Valley)
.302 AVG, 36 R, 10 2B, 3 3B, 1 HR, 15 RBI, 24 BB, 32 K, 20 SB, .795 OPS
Once the 2011 Draft concluded Myles was a player that a lot of people immediately highlighted and were excited to see how his power-speed combo played as a professional. He did not disappoint as while the power did not show itself (yet) he showed the ability to consistently hit the ball and be a threat on the basepaths. Even though he missed a handful of games because of a bothersome hamstring and wrist he finished 5th in the NY-Penn League in batting average (.302), 7th in on-base percentage (.394) and 8th in stolen bases (20).
Jose Ramirez (INF – AZL Indians)
.325 AVG, 30 R, 13 2B, 4 3B, 1 HR, 20 RBI, 7 BB, 17 K, 12 SB, .800 OPS
The Indians actually signed Ramirez in November of 2009 but he did not play anywhere in 2010. He came stateside this year and made his pro debut with the rookie level AZL Indians and impressed with his performance. He is undersized, but he showed some versatility and an ability to make consistent contact this season out in Arizona. His .325 average was impressive, though it is an offensive oriented league as that batting average for as high as it was only placed 14th in the Arizona League.
Ronny Rodriguez (SS – Lake County)
.246 AVG, 41 R, 28 2B, 7 3B, 11 HR, 42 RBI, 13 BB, 83 K, 10 SB, .723 OPS
Rodriguez was signed last fall and was an unknown to many coming into the season, but he quickly endeared himself to the fans with his infectious smile and the way he played the game. He displayed a deep assortment of tools on a nightly basis with some power in his bat and arm as well as a lot of athleticism both in the field and at the plate. He only played 98 games this year, but still managed to finish 8th in the Midwest League in triples (7) and 15th in doubles (28).
Jordan Smith (3B – Mahoning Valley)
.300 AVG, 36 R, 20 2B, 1 3B, 0 HR, 47 RBI, 35 BB, 30 K, 3 SB, .794 OPS
Smith was one of the biggest surprises from the 2011 Draft as he signed a few days into the season and just hit right out of the gates. He hit close to .350 all season, but he struggled in his last 17 games of the season hitting just .197/.329/.279 to finish right at .300 on the year. He did not hit any home runs, but he finished 5th in the NY-Penn League in doubles (20) and 2nd in RBI (47). He also finished 6th in the league in hitting (.300), 3rd in on-base percentage (.403), and 10th in hits (73).
And the 2011 Tony Award goes to….Cody Allen
This was a tough decision as there was no clear cut winner and every one of the candidates was certainly deserving of the award. In the end it came down to the Mahoning Valley foursome of Lowery, Smith, Myles and Allen.
The triumvirate at the plate of Myles, Lowery and Smith were three of the main cogs in the Mahoning Valley lineup this year. All had good pro debuts, but for different reasons. Myles put up a high average and on-base percentage along with a good amount of stolen bases. Smith put up a high average and on-base percentage along with a big number of RBI. Lowery showed power and patience along with run production ability. In a way they all sort of cancelled each other out, and in the end the one player who really stood out from the rest was Allen as no other pitcher had anywhere near the debut he did.
Allen, 22, had an excellent pro debut, especially for a non-starter. He is a very confident pitcher that knows how to use his stuff. He featured a fastball this year that mostly sat around 91-93 MPH and touched 95 MPH a few times. He complemented the fastball with a good, hard breaking ball and showed a good feel for a changeup. He is aggressive and is not afraid to pitch inside to keep hitters honest.
Allen showed so much ability out of the pen this year that it is very possible he will transition to a starting role next spring and could open the season in the Low-A Lake County rotation. He started in college this past year in college at High Point and impressed going 4-6 with a 3.12 ERA in 13 starts (83.2 IP, 77 H, 29 BB, 89 K), and looks 100% recovered from Tommy John surgery the year before. He may ultimately just be a reliever, but even if he has become a priority relief pitching prospect he still needs to start in order to better develop his pitches and delivery.
It was a nice season overall for several new prospects in the Indians' farm system…..and hopefully they continue to make progress as they move up the system.
Follow Tony and the Indians Prospect Insider on Twitter @TonyIPI. Also, his latest book the 2011 Cleveland Indians Top 100 Prospects & More is available for purchase for $20.95 to customers in the US (shipping and handling extra). Use discount code 2Z6F362B to receive 40% off the book through the site store!
User Comments
No comments currently. Be the first to comment!