2011 Trade Deadline: Target Edition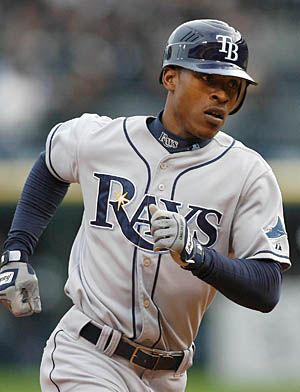 B.J. Upton (Photo: AP)
So it's been a lot more an interesting season for the Indians than just about any fan would have expected so far. The problem is they went from having a huge lead to being two games out of first now. This means a team everyone thought would be a seller, is looking to buy.
The question is how much can they spend and is it worth it to acquire a big name. So I am going to break down a few names and go over cost, impact, etc.
Let's start out big and then go down:
Carlos Beltran, OF, Mets

Pros: Switch hitting outfielder who does a lot of his damage from the right side, has a positive post season history, and the Mets are willing to eat salary.
Cons: Injury history, is a free agent to be, Mets want a lot.
Percent chance: 0%

Commentary: Back in May I was the first person I saw to bring up Beltran, so I would love to get him because it would make me look smart. In all seriousness, there are many issues with him though. One, he cannot be offered arbitration thanks to the wording Boras put in his contract, so this means no draft pick compensation if he leaves. Second, he has a no trade clause, and I am not sure he will waive it for Cleveland. He is heading into his last free agent splash, the Mets will definitely trade him, and he seems to want to go to big name contenders. Third, the Mets are asking for top shelf prospects. They are asking for guys who are in the top 50 in all of baseball. The Indians have a few guys who fit that mold such as Pomeranz, Chisenhall, and Kipnis. Beltran is not happening, so Tribe fans it is time to move on to other targets.
Hunter Pence, OF, Astros

Pros: Under contract for 2 more years, young, right handed.
Cons: Heavy cost in specs, in the midst of a near career year, will be up for a big raise in arbitration
Percent chance: 0%

Commentary: Pence is having the second best year of his career. The thing with Pence is he is a good player, but he is nowhere near a great player. He doesn't walk as he typically hits about .280 with a .330 OBP and 25 homers. He is a good, consistent player, but the high average this year along with going to an All Star game means he could get $10-12 million in arbitration. Until this year he was Choo without the walks or steals, and every team in baseball would have taken Choo over him. Is he worth the salary he will get and the cost in prospects to get him? People who think Houston will settle for a lesser package are dead wrong. The Indians have an incredibly deep minor league system, but in terms of centerpiece trade assets they only have four to five guys. Cord Phelps is not getting you Pence. A deal would start with one of the three big names and then include two other top 20 prospects. The front office is not going to trade the future for a good player, and that's why Pence will not be an Indian.
BJ Upton, OF, Rays

Pros: locked up though next year, young, righty, athlete
Cons: strikes out a lot, low and declining average, not much pop
Percent chance: 45%

Commentary: Tampa is a team that we have traded with in the past and are very familiar with. Upton has the advantage that he would not be a rental and would be back for 2012 as well. He had one great year, one good year and has been okay since then. He can steal some bases but is not the most efficient basestealer, has 12-16 HR pop, will take some walks but it is not enough to make up for his low average. In the last three years he has hit .241 or worse with an OBP of about .315. He will be good for 30 doubles, but all in all is a guy who has never quite lived up to his tools. In spite of feeling like he has been around forever he is only 26 years old so should just be hitting his prime now, and he has hit better on the road, so getting him out of Tampa Bay might do wonders for him. He is an interesting player just in terms of youth, pedigree, and ability. For a player like Upton it comes down to price, and Tampa Bay needs to make room for former Indians draftee Desmond Jennings. I don't think the cost to acquire him would be super high. A guy like Lou Marson might make a real attractive piece along with Raffy Perez for a team that needs to shore up weak spots while trying to win the wild card.
Hiroki Kuroda, SP, Dodgers

Pros: Top starting pitcher available, consistent player, if lost to free agency would get compensation picks.
Cons: Has a no trade clause
Percent chance: 0%

Commentary: Kuroda has been linked to the Tribe, and has been a very steady pitcher in the NL. For a smart team that does not have to give up too much you would also end up with draft picks back. If the Indians could trade from depth to get Kuroda they would then be able to turn around and be assured two picks if he left in the offseason. For a team like the Dodgers it is great to get prospects because they won't offer him arbitration and they would save some money, which is pretty huge for them right now. The issue is a full no trade clause, and little desire to come to Cleveland. Besides, if he does just stay with the Dodgers then he could avoid arbitration which is always a bonus for a player when it comes to free agency.
Josh Willingham, OF, Athletics

Pros: Right-handed bat, been on a tear recently, and has a good history.
Cons: Is coming off injury.
Percent chance: 40 %

Commentary: Willingham has been a consistent bat in baseball for the last six years. If you look at his numbers he has been a bit underrated as he might only hit .260 but he can take a walk and has a career OBP of .362. He has average power as a 18-22 HR guy. He plays power positions as a corner outfielder and first baseman, so this is why he has bounced around a bit. The thing is in three stops he has hit and played well. He really by this point has deserved to nail down an everyday gig and might get that in free agency next year. He is considered one the Indians main targets and for good reason as he is a solid right handed bat. He is something this organization lacks and he should not cost a king's ransom to acquire. I would not be shocked to see a deal that could be headlined by a reliever as Oakland is trading most of theirs. The only roadblock I see is deals might be slow until the bigger dominoes fall. Once a Beltran is out of the way all the teams chasing outfielders such as the Tigers, Giants, Braves, Pirates, Phillies, Red Sox and Rangers will be more interested. The other road block is Oakland is shopping everyone including fellow outfielders David Dejesus and Coco Crisp, which means a lot of deals are being worked on at once.
Kosuke Fukudome, OF, Cubs

Pros: Good defender and an excellent eye at the plate.
Cons: Owed $5 million still, no draft pick compensation, another left-handed bat.
Percent chance: 35%

Commentary: The Indians do have a trading history in the past with the Cubs, and Fukudome might not be the power bat that most fans want but he would be a big help. If he joined the Indians he would have the best OBP on the entire team by 21 points. He does not have HR pop but does have solid doubles power. He would fit ideally into the two-ole and be a guy the Indians can count on to get on base. His contract is structured like Beltran so he cannot be offered arbitration, so unless the Indians could resign him he is strictly a rental. If this team is going to start scoring runs it needs people who get on base and Fukudome can do this better than anyone on this list not named Beltran.
Ryan Ludwick, OF, Padres

Pros: Right handed bat, knows the stadium.
Cons: One good year, in the midst of a horrible year, hits righties better than lefties.
Percent chance: 70%

Commentary: The Indians know Ludwick and have a long trade history with San Diego as the front offices do about a trade every other year. He will not cost a lot to acquire in a deal, but I have to be honest I would much rather than Willingham or Fukudome. Ludwick had one fantastic year where his OPS was 150 points higher than any other year, and his HR total that year was only two worse than his next two best years combined. He has posted two good years and one great year. He doesn't walk, he strikes out a lot, and for his career hits righties better than lefties. Even if you think it's an issue of ballpark his road OPS is still .700. A .725 OPS is considered average, but his .700 OPS would still be an improvement for the Indians so there is logic in adding him. He has been in decline stat wise over the last three years, so I am not sure if he would get the Indians compensation picks or not. At the end of the day Ludwick will be the cheapest bat to acquire in terms of prospects and cash. Add in the history between the Indians and Padres and a deal seems very likely. I would expect the price to be along the lines of what the Indians got last year in trades for Kearns and Westbrook.
I also want to throw out two names I have been tracking that no one else has mentioned. I like to think a bit of outside the box, so I looked for guys who are young, right handed and blocked.
The first guy is Chris Heisey of the Reds. The past two years he has put up solid numbers in a limited role, but the Reds are also looking into outfielders so are not sold on him. In spite of his youth he could be acquired. The Reds biggest need matches up with the Indians biggest strength which is pitching, so I am sure a deal could work.
The player I really like though is Allen Craig of St. Louis. He is coming off a knee injury, but has hit with power on every level. The issue for him is that he blocked in St. Louis, plus La Russa does not like to play young players. Craig would be the 5th or 6th best prospect in a system which is incredibly deep if he still qualified. The depth on the major league roster is also high, so Craig should be a tradeable asset. The Cardinals need relievers in the worst way as they have managed to contend in spite of leading the majors in blown saves at 17. They cut their closer this year, and there best young arm just got hurt. St. Louis would be a natural match for the Indians to turn some of their many arms into a bat, and in this case one that is right handed with good power.
I know there are other names on the market, but these are the ones I have seen the most discussion on or actually seen linked to the Indians. As a fan I do hope they make a deal, but I would rather they do not over pay. While the C.C. Sabathia trade was great for Milwaukee, they are a team that has sold off its farm in big deals and all it has to show for it is one post season and one win in that year. So hopefully the front office can find the right deal that makes sense without costing the players who will be the heart of this team very soon.
Follow Tony and the Indians Prospect Insider on Twitter @TonyIPI. Also, his latest book the 2011 Cleveland Indians Top 100 Prospects & More is available for purchase for $20.95 to customers in the US (shipping and handling extra).
User Comments
No comments currently. Be the first to comment!