2012 Scouting Reports: Hector Rondon and T.J. McFarland
These are the scouting reports written up for the 2012 Indians Prospect Insider book that was published back in February. I am posting these simply to get the information out on the two players the Indians lost.
23. T.J. McFarland – Left-handed Pitcher
Born: 06/08/1989 – Height: 6'3" – Weight: 209 – Bats: Left – Throws: Left
History: McFarland, 22, is a left-handed pitcher the Indians selected in the 4th round of the 2007 Draft out of Amos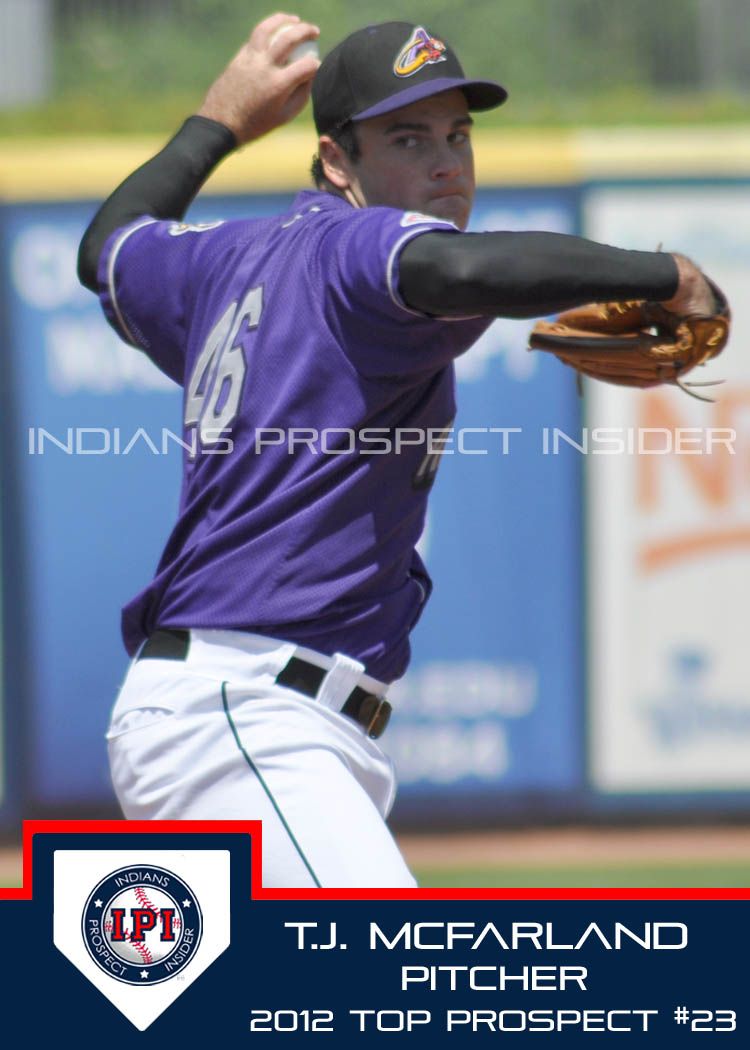 Alonso Stagg High School (IL), and signed for $285,000. He suffered a serious elbow injury as a junior in high school but did not require surgery, and when he complained of elbow soreness shortly after signing with the Indians he did not pitch in 2007. He pitched in the Arizona Fall League this past October and November and made eight starts going 3-0 with a 3.18 ERA (28.1 IP, 30 H, 1 HR, 13 BB, 22 K). Last season he finished 10th in the Indians organization in ERA (3.74), and also finished 2nd in the Eastern League in complete games (2) and 11th in innings pitched (137.1).
Strengths: McFarland is a young, athletic groundball machine that has the ability to be a Major League caliber starting pitcher. His bread and butter pitch is a two-seam sinking fastball that sits at 89-92 MPH and touches 94 MPH, and is considered the best sinker in the Indians system. His sinker is a pitch he really trusts and does not fear contact with, and he uses that pitch to contact approach to get hitters to pound the ball into the ground at a very high rate. He has very good control of his sinker and consistently throws it for strikes down in the zone. His ability to command and spot his slider continues to improve, and it has the makings of an average Major League offering. His changeup is an inconsistent offering, but is still developing and a work in progress.
McFarland has shown a great ability to put the ball on the ground in his career as in four minor league seasons he has yet to have a groundball-flyball ratio below 2.17, and in over 455 career innings has allowed just 30 home runs. He works quickly and creates some deception in his delivery which helps keep hitters off balance, and is a very durable and can pitch deep into games. He is getting better at mixing up his pitches, being more efficient with his pitches, reading swings, and his strikeout numbers improve each year. He continues to show a much improved mental approach to the game with significant gains in his maturity and mental toughness.
Opportunities: McFarland is still learning how to pitch and use his secondary offerings as he predominantly pitches with his fastball. In order to become a reliable Major League pitcher he needs to improve the quality of his secondary offerings and gain more trust in using them so that his fastball is more effective. His changeup needs the most work and is something he has been challenged to use more so that he can throw it in any count and in any situation so hitters don't know how to put him into a corner. He needs to work on repeating his delivery, and he needs to hone in on his fastball command. The Indians would like to see more strikeouts from him and less home runs allowed, and his walk rate jumped a little at Double-A Akron last year so he needs to work on getting that down. He needs to continue to work on limiting the damage and avoiding the big innings, something he has gotten better at is still something he is working through.
Outlook: McFarland is a lot like former Indians' lefty Aaron Laffey as an athletic left-handed pitcher that induces a ton of groundballs and has the versatility to pitch in almost any role. The Indians continue to rave about his ability to eat innings and be a groundball machine, which are two things that fit right into their current organizational philosophy with starting pitchers. He has been a consistent performer throughout his minor league career and has a lot of potential as a back-of-the-rotation starter in the Major Leagues or as a lefty in the bullpen. Due to the abundance of starting pitching depth at the big league and Triple-A level he will likely open the 2012 season with a return trip to Double-A Akron, but should pitch a meaningful amount of games at Triple-A Columbus this season.
46. Hector Rondon – Right-handed Pitcher
Born: 02/26/1988 – Height: 6'3" – Weight: 180 – Bats: Right – Throws: Right
History: Rondon, 24, is a right-handed pitcher the Indians signed as a free agent out of Venezuela in August of 2004.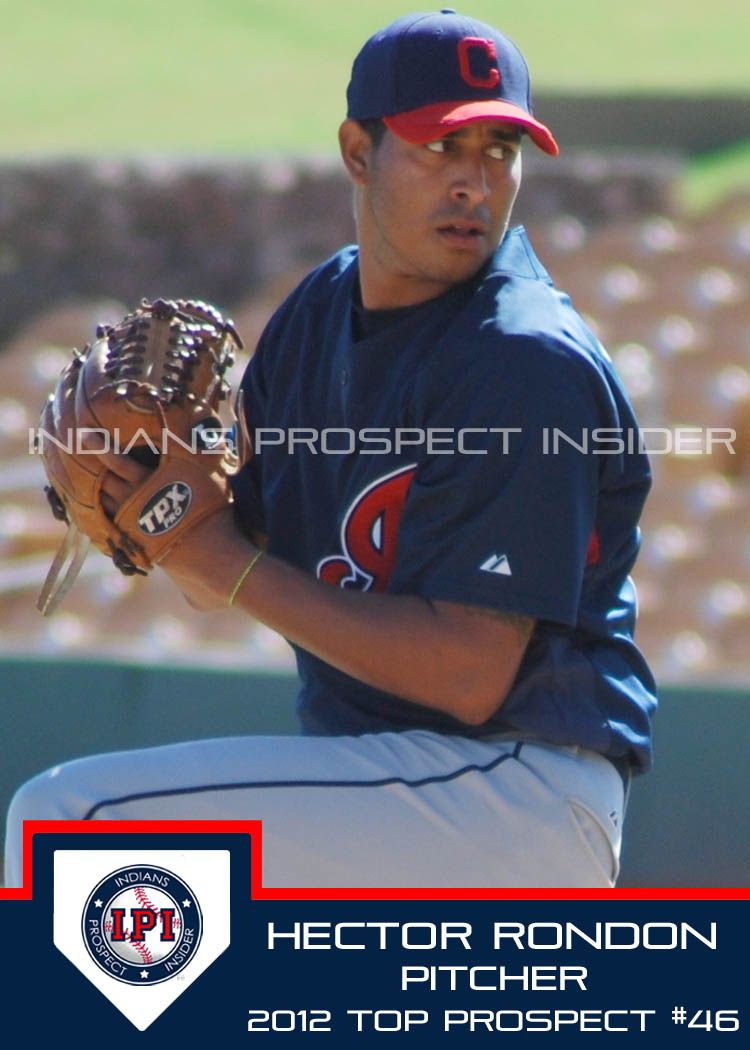 He was a part of history back in July of 2007 at Low-A Lake County when he threw six innings of no-hit ball and combined with two other pitchers to throw a no-hitter. He was also selected to the World Team as part of the Futures Game in 2008 at Yankee Stadium. He injured his elbow during the early part of the 2010 season and had Tommy John surgery in August of 2010.
Strengths: Rondon made a successful return late last summer from Tommy John surgery and went out to the Venezuela Winter League to pitch and make up some innings in the offseason. Unfortunately, on November 5th he suffered a setback where he fractured his right elbow and had surgery on November 15th to repair it and is expected to be out until July or August. Prior to the elbow fracture he was really making strides with his consistency and his velocity was all the way back. His fastball had the same pop and great late life that made it so effective prior to his injuries.
When healthy, Rondon has an electric four-seam 92-95 MPH fastball that has topped out at 96 MPH in the past. He pitches off his fastball and has a ton of confidence in it, and really attacks hitters with it at the top of the zone. His fastball has some great life, especially the last two to three feet through the zone as it really gets on hitters quickly. His average slider has come a long way and has potential to be more, and he recently tweaked it into more of a slurve so he can get more separation in velocity from his fastball. His straight changeup has shown moderate improvement but is still fringy at best.
Rondon pitches with a lot of power and consistently puts the ball on the plate, and is a competitor that is not afraid to challenge hitters. He has swing and miss stuff and the ability to put hitters away with two strikes. He has a free and easy delivery with a long, lanky frame with room to grow, and has really added a lot of strength to his lower half the last two years which helps him better maintain his delivery. He shows an ability to stay calm under pressure and he really does a good job controlling his effort level. He has a good plan when he takes the mound, sticks with it, and shows good tempo. He has an excellent work effort and is mature beyond his years.
Opportunities: Two significant elbow injuries later, Rondon's future is in serious doubt. In the past 18 months he has now had reconstructive surgery to the ligaments in his right elbow and also fractured the bone in his elbow. The injuries have stalled his career and if he pitches at all this coming season it will be on a very limited basis, which would mean he has basically had his last three seasons wiped out due to injury. Once he returns from his latest elbow injury he needs to immediately get to work on refining his pitches to make himself a Major League option. He still lacks a suitable secondary offering to team up with his plus fastball. His slider lacks consistency with its shape and he is still learning how to use it effectively, and his changeup is too firm and needs softening up to make it more effective offering for him. He could still end up a starting pitcher, but after all the injuries and the development time he has lost his path will likely be in the bullpen going forward. A move to the bullpen could also help his stuff play up and also maintain the health of his tender elbow.
Outlook: Rondon was one of the bright spots near the end of last season because of the news of how well he was progressing in his rehab from Tommy John surgery, so much so that there was a belief he would get strong consideration to make the Indians bullpen sometime in the early part of the 2012 season. That positive vibe came crashing down in November with the announcement that he broke his right elbow and would miss most of the 2012 season. He has since been removed from the 40-man roster, cleared waivers, and is now kind of stuck in purgatory for another season while he sorts out his latest health issue. He is a very talented arm, but he is starting to get up there in age and the Indians may ultimately run out of time with him, so this is an important year for him and the organization. He should open the 2012 season in extended spring training to continue his rehab and then pitch for an affiliate later in the summer.
Follow Tony and the Indians Baseball Insider on Twitter @TonyIBI. Also, his new book the 2014 Cleveland Indians Baseball Insider which profiles the Indians' Top 100 Prospects and more is available for sale.
User Comments
Tony
December 7, 2012 - 8:47 AM EST
Rondon would have been 40-44 in the 2013 rankings, and McFarland would have been 30-35. Nothing set, but that's where placement area they were in.
roger
December 6, 2012 - 9:58 PM EST
sorry fellow IPI readers but i want the credit of the TJ MAC
as euphamism for T.J. McFarland T.J McF is short for TJ mac which is like TJ Maxx. I would have loved to get the crredit for the Zac Mac nickname but i do like the TJ Mac idea. That is the only reason i didnt want the anonomous handle as to the blogger.













roger
December 6, 2012 - 5:24 PM EST
anonomous is me not some innoculous reader/blogger
anonymous
December 6, 2012 - 5:14 PM EST
tony i am sure you have some idea where rondon and tj Mac would have been in the mix numerically since they are gone now and wont be listed where would they have been had they not been drafted in your top 50
Dan
December 6, 2012 - 1:16 PM EST
Rondon can make a major league team out of the pen in my opinion.... i don't think he should have been exposed.
Tony
December 6, 2012 - 11:53 AM EST
Not really worried about losing either as both have a strong likelihood of being returned. They are also just depth guys and not major prospects. You hate to lose any assets, but I think the Indians did the right thing rostering who they did and leaving the guys they left unprotected. McFarland has limited experience above Double-A and really struggled in his short Triple-A time, and he lacks put away stuff so I just don't see him impressing enough to stay on a ML roster all year. Rondon has barely pitched the last three years, and even though he has been impressive this winter....it is still just winter ball. He could stick, but I see health/secondary issues being a problem in spring. I think the Cubs did him a disservice by drafting him as the push to the big leagues could hurt him. Would have benefited more from a regular spring training and open in Triple-A.
Roger
December 6, 2012 - 11:44 AM EST
i still do not like losing a left handed starting pitcher left handed reliefers always find a way to stay up in the bigs. we may not get him back and not sure whether he is big loss or not but did lead the entire organizaton in wins but sizable margin with 16. 144 game seaon ------------------------16 wins that is pretty good. as for rondon i hate to loose him too however he is likely to come back due to being right handed. oh well when other teams covet your talent it says something!
shy
December 6, 2012 - 11:43 AM EST
Is there a good reason the Indians didn't roster Rondon? He gave up exactly 1 run in his past 14 appearances and appears to be fully recovered from ligament surgery and throwing better than ever, and he's only 24. The scouts in the Winter League have been very impressed w him. McGinness on the other hand is ANOTHER flat footed lefty first baseman, just what the Indians need. I'm starting to think Antonetti is mentally ill. I already believe Dolan and son are for keeping him. Francona? He's along for the ride. His salary is probably 3X what he was making at ESPN.