2013 IBI Top 100 Prospects & More book available for sale
The new 2013 Cleveland Indians Baseball Insider which features the Indians' top 100 prospects and more is now available. The book retails for $24.95 (shipping and handling not included) and can be purchased on-line by clicking on the book cover below at the bottom of this page. You will be taken to an e-store to complete the purchase.
The book is available in the following ways:
The best way to get it is through my publisher's e-store as linked with the photo of the book at the bottom of the page. The link to the store is right here.

The team shops for the Cleveland Indians, Columbus Clippers, Akron Aeros, Carolina Mudcats and Lake County Captains will all have the book in there at the start of the season.

The book is available for sale at Amazon.com and can be purchased at this link.

A Kindle version of the book can also be purchased through Amazon. It retails for $9.99 and is a stripped down version of the book without any stats, graphs, or pictures, but has all 204 scouting reports. To purchase it

go to the Kindle store

.

A signed copy of the book can also be purchased directly through me. To make arrangements to receive a signed copy from me please

contact me

(the form is sent right to my personal email address). Note that I will not be able to mail out any orders until March 28th since I am in Arizona for spring training.
The book is 252 pages in length with full detailed and updated scouting reports for the Indians' top 100 prospects. In addition to that, the book has scouting reports for every single player that played stateside with the Indians last season and was taken in the 2012 Draft, as well as a handful of players from the Dominican Summer League. In total, 204 players are featured, with 32 new entrants into the Top 100 and over 80 completely new reports for players not in last year's book. If the player was in the organization at any time last season and still with the organization, a report is written on him!
As always, in addition to the scouting reports the book serves as a handy reference guide throughout the season not only for the minor leagues but for the big league team as well. The book includes a listing of the top prospects at each position, a complete 5-year ranking history, affiliate information, 2012 Draft results, projected opening day rosters from Cleveland to Lake County, Rule 5 Draft eligibles from 2013-2017, 2012 released players recap, 2012transactions, 2013 minor league spring training schedule, a complete 2013 Indians' affiliate minor league schedule, and more! It is basically the IBI website in book format and a great reference tool all season.
Also only in the book and not on the website:
Tool grades: The tool grades are back this year as for each of the Top 100 prospects they are graded on several of their abilities (power, hitting, speed, fastball, command, etc).
Individual player transactions: This is a listing under each scouting report so you can see when each player in the Top 100 was moved to a new team or went on the disabled list last season.
"Best Tools": This listing ranks the best in the system in several tools categories.
Previous ranking: This is included with the tool grades so people can see where prospects were ranked in 2012.
Upside and value grades: Grades to show what kind of upside and ML value each player in the Top 100 has.
International Top 20 prospects: This listing profiles all the top talent coming stateside this year from last year's Dominican Summer League team or who were recently signed on the international front in the past year.
College stats: Stats for all college players from the 2012 Draft.
This book will serve as all the reference you need this season to follow the 2013 Cleveland Indians and their future big league players of tomorrow. Order your copy today!
NOTE: Purchase of the book does not come with premium access to the site. For information on purchasing a monthly or annual site subscription, please create an account to view subscription information.
To order a copy online of the 2013 book or any previous edition just click on the image below. If you do not want to make the purchase on-line and wish to pay by check or money order, please contact me and we can make arrangements. Also, previous editions of the book can be purchased for very reduced prices by clicking on the book covers below: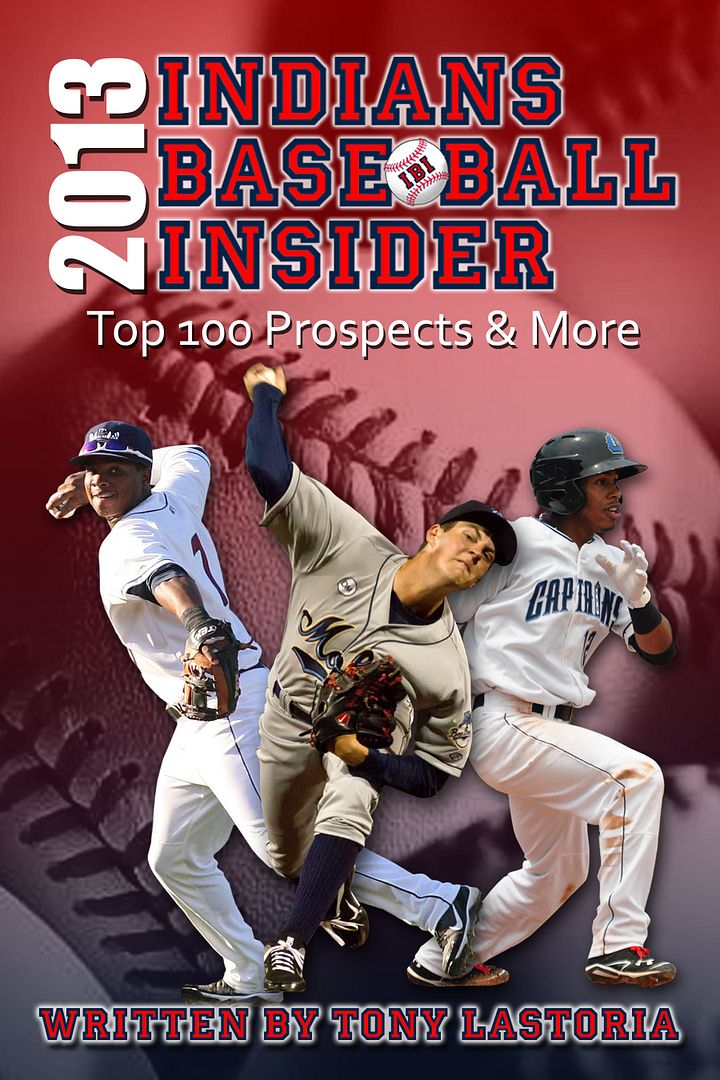 Follow Tony and the Indians Baseball Insider on Twitter @TonyIBI. Also, his new book the 2014 Cleveland Indians Baseball Insider which profiles the Indians' Top 100 Prospects and more is available for sale.
User Comments
jerry skinner
March 14, 2014 - 11:27 AM EDT
when does the 2014 book come out?
Tony
April 9, 2013 - 4:10 PM EDT
Nick Kirk was released two years ago.
Dave
April 9, 2013 - 4:02 PM EDT
Is Nick Kirk still with Cleveland
MT88 in WI
March 14, 2013 - 7:39 PM EDT
2 copies arrived via UPS today. thanks Tony.
Tony
March 8, 2013 - 9:03 AM EST
Thanks! As for Mahoning Valley......yes, I plan to have it there. I realized last year too late that I had never contacted them about putting it in there.
Arthur
March 7, 2013 - 11:53 PM EST
Any chance of the Mahoning Valley Team Shop getting it in?
Brian in NW PA
March 7, 2013 - 4:58 PM EST
One copy headed to Pennsylvania! Thanks Tony!!!
MT88 in WI
March 7, 2013 - 12:55 PM EST
Two copies being sent north... Thanks Tony.