2014 IBI Top 50 Prospects: #6 INF Jose Ramirez
6. Jose Ramirez – Second Baseman
Born: 09/17/1992 – Height: 5'9" – Weight: 165 – Bats: Switch – Throws: Right
History: Ramirez was signed by the Indians as an undrafted free agent out of the Dominican Republic in November of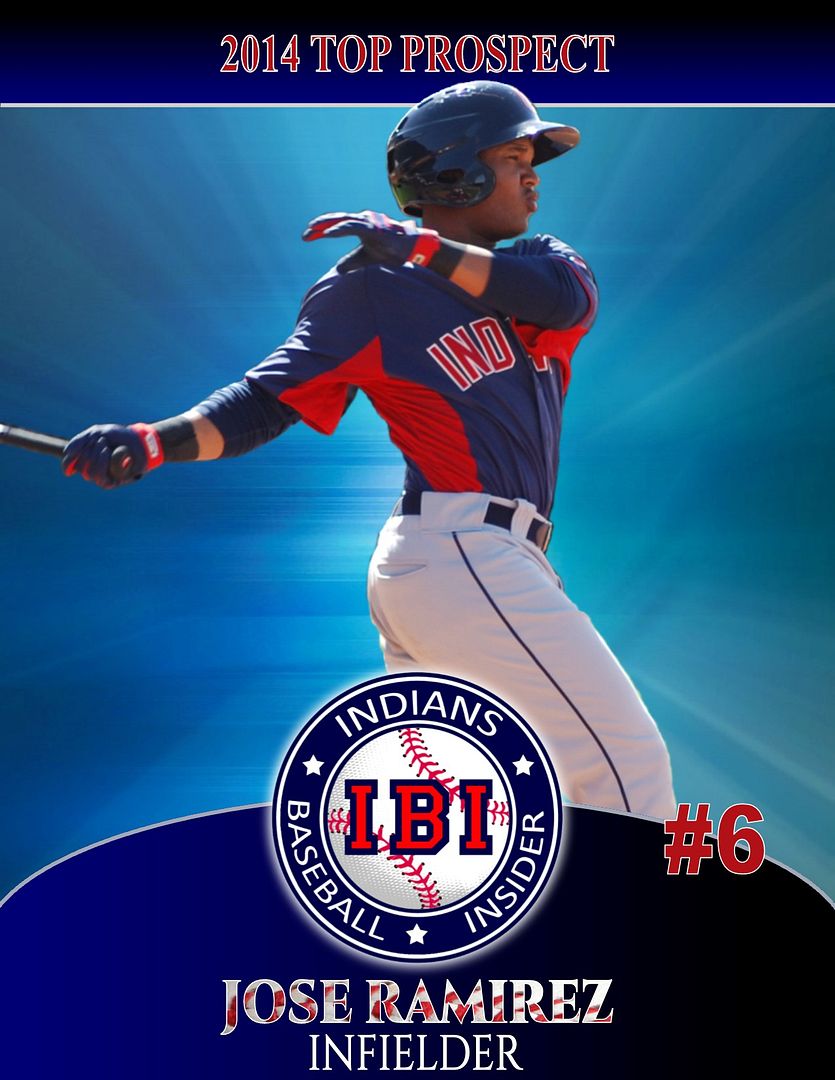 2009. He did not play in 2010 due to injury and made his professional debut in 2011 stateside at rookie level Arizona. Last season he ranked 1st in the Eastern League in steals (38), 5th in runs (78), and 1st in lowest plate appearances per strikeout (13.00 TPA/SO – second place had a 9.92 ratio).
Strengths: Ramirez is a small sized middle infielder who brings a lot of electricity to his game with the reckless abandon in which he plays. His is not an imposing figure as he is undersized but he gets every ounce of ability out of his small frame and just has a special feel for the game at his age. His game is predicated on playing very good defense, being a catalyst on the basepaths with his energy and speed, and consistently putting the bat on the ball. He is a switch hitter with natural ability from both sides of the plate and low maintenance swing who just knows how to hit and has such good hand-eye coordination to make good, hard contact. Probably most impressive about him is his approach and unbelievable ability to limit strikeouts even though he is aggressive with his swing on pitches inside and outside the strike zone. He has a solid approach at the plate where when he gets a good pitch to hit he doesn't try to do too much and puts a good swing on it. He has a good feel for timing pitchers which gives him a really good look at the ball and allows him to have no fear with two strikes because he sees the ball so well. He is a cool customer and handles pressure well as he is not afraid to hit behind in the count and stays within himself well by not trying to do too much at the plate. He lacks much physical strength and does not have much power, but he has some good bat speed and drives the ball well for his size. He is a plus runner who can impact the top of a lineup and put pressure on the defense every at bat and a threat to steal when he gets on the basepaths. He runs the bases very hard and has good instincts as a runner.
Ramirez's energy and ability to impact the game on both sides of the ball is impressive, and the recklessness with which he plays is contagious. He is a lot like former Indians outfield prospect Jose Constanza with his size and speed and the way he can do so many things to impact a game, but the big difference is his much better approach and ability to make such consistent contact. He is really confident in his abilities and knows who he is as a player and how he fits on the team. He might not be the most physically gifted athlete, but he helps his team win with what he brings to the table. He is just a good ballplayer who knows how to play the game. Whether he does something great or something wrong, nothing fazes him as whatever happened is immediately past him – which is a rare quality and something that can't be taught. He is reliable as you know you will get everything out of him day in and day out. He shows some leadership qualities, has very good makeup, and is a very hard worker.
Ramirez primarily played second base coming up through the system, but he has the skills to be a solid defensive shortstop in addition to a very good defensive second baseman. He uses his quickness and athleticism very well as a runner, and defensively it not only helps him get good jumps and range to balls well but also helps him make quick adjustments. He shows impressive instincts as a defender with good lateral movement to his left and right, good hands and footwork, quick feet, and a solid average arm that is accurate. As a defender he has a knack for making what he has physically work and has a good feel for the timing of the game where he has a good internal clock and knows the speed of the runners and where the ball is at. The Indians believe he is more of a second baseman at the moment, but they have played him some at shortstop to give him exposure there and all over the diamond in order to add to his versatility. One of his greatest assets is that versatility to handle a premium defensive position at shortstop and play anywhere in the infield, which only increases his value as an everyday Major League player or a utility infielder.
Opportunities: While Ramirez is such a good hitter, he needs to be a little more patient and selective at the plate. He hits for a high average but he does not walk much and his on-base percentage is not as good as it probably could be. He has so much confidence in his ability to make contact that at times he expands the zone too much and settles for weak contact, so he needs to lay off those borderline pitches and be more consistent staying in the zone with his swing. As a base-runner he needs to work on using more than just his raw speed on the basepaths and be more mechanically sound as a runner which should allow him to read pitchers better, get better jumps and be a little quicker when stealing bases. At times he needs to be reminded to keep things simple as he can be a little out of control as a hitter, defender and base-runner. Defensively he is working to fine tune his abilities, get better with his pre-pitch positioning, and maintain a strong focus throughout the game. He had some injury trouble last year as he missed a little time with a hip flexor injury and also a minor ankle injury. He also tore the ligament in his left thumb early during winter ball and had surgery, though is expected to be 100% by the start of the season.
Outlook: The Indians took a bold approach to have Ramirez skip the High-A level last season, something that never happens and shows how much they like him and believe in him, and he rewarded them with a good year at Double-A Akron. Even with an aggressive push to Double-A he maintained his good approach and performance and did not press – something some players end up doing in order to prove they belong at a level after a promotion. It was a remarkable first full season for him as he more than held his own as a very young 20-year old in a league dominated by guys two to three years older than him. His OPS and power numbers may not be impressive, but it is everything else he does that makes him special such as his 38 stolen bases that led the league, his exceptional 39:41 walk to strikeout ratio which shows how much of a tough out he is, and the plus defense with the versatility to play second base and shortstop. If you grade him out as a scout and put numbers on his ability, he would seem rather ordinary, but when you watch him play he shows everything a team looks for in a Major League ballplayer and looks like he could have a long career in the big leagues. The rate with which he has climbed up the system is astounding. He came out of extended spring training in June of 2012 as an unknown prospect and then 15 months later was called up to the big leagues and part of a playoff push for the Indians. Now, he is in the mix for a utility role for the Indians over the next few seasons and if an opportunity arises could even start at second base or shortstop in Cleveland. For now, he is expected to open the season at Triple-A Columbus and be on reserve as one of the first options the Indians call upon when they have a middle infield need.
| | | | | | | | | | | | | | | | | | | | |
| --- | --- | --- | --- | --- | --- | --- | --- | --- | --- | --- | --- | --- | --- | --- | --- | --- | --- | --- | --- |
| Year | Age | Team | Lvl | G | AB | R | H | 2B | 3B | HR | RBI | BB | SO | SB | CS | AVG | OBP | SLG | OPS |
| 2011 | 18 | AZL Indians | R | 48 | 194 | 30 | 63 | 13 | 4 | 1 | 20 | 7 | 17 | 12 | 6 | .325 | .351 | .448 | .799 |
| 2012 | 19 | Mahoning Vy | A- | 3 | 11 | 2 | 4 | 2 | 0 | 0 | 0 | 1 | 0 | 2 | 1 | .364 | .417 | .545 | .962 |
| 2012 | 19 | Lake County | A | 67 | 277 | 54 | 98 | 13 | 4 | 3 | 27 | 24 | 26 | 15 | 6 | .354 | .403 | .462 | .865 |
| 2013 | 20 | Akron | AA | 113 | 482 | 78 | 131 | 16 | 6 | 3 | 38 | 39 | 41 | 38 | 16 | .272 | .325 | .349 | .674 |
| 2013 | 20 | Cleveland | MLB | 15 | 12 | 5 | 4 | 0 | 1 | 0 | 0 | 2 | 2 | 0 | 1 | .333 | .429 | .500 | .929 |
| | | MiLB Totals | | 231 | 964 | 164 | 296 | 44 | 14 | 7 | 85 | 71 | 84 | 67 | 29 | .307 | .354 | .404 | .758 |
| | | MLB Totals | | 15 | 12 | 5 | 4 | 0 | 1 | 0 | 0 | 2 | 2 | 0 | 1 | .333 | .429 | .500 | .929 |
Follow Tony and the Indians Baseball Insider on Twitter @TonyIBI. Also, his new book the 2014 Cleveland Indians Baseball Insider which profiles the Indians' Top 100 Prospects and more is available for sale.
User Comments
Tony
March 13, 2014 - 11:29 PM EDT
Path, I don't see it that way. A utility infield role is fine with me because he is not falling into such a role right now because that is his ceiling and he has failed.....it is because of two guys named Kipnis and Lindor who will force the Indians to use him in a different way to get him on the team and in the lineup. He's a good handcuff to have on hand and one who if Kipnis or Lindor get hurt or struggle for an extended period of time, perhaps he gets a shot and makes good on it....

As for Ramirez being better than Cabrera right now at shortstop....I wonder what people are basing this on. While I do agree that I think that Ramirez is probably better skilled defensively than Cabrera, it is important to note that Ramirez only grades out as average to slightly above average defensively at shortstop. He's kind of helter skelter out there and the consistency is coming, so maybe once he settles down he becomes more.....but his true impact defensively would be at second base.
Chip
March 13, 2014 - 9:25 PM EDT
I think the Indians would be a better team right now with JRam at SS. You can say all you want about OBP & power, but take all the stolen bases from walks & singles then add the 40+ steals and recalculate his power numbers. On top of that, he is so much better defensively than Cabrera. I think it would be a shame to waste his value as a "utility player". It's obvious that Lindor is the future SS of this team, but imagine if a guy like JRam proves to be a high value player.

E. Gonzalez has been impressive this spring also, as has Sellers. Quite the young middle infield depth they've aquired. If I was a team looking for a SS, the Indians phone would be blowing up!
Joseph
March 13, 2014 - 12:33 PM EDT
I have seen Ramirez play twice. He was electric on offense and defense. He is not going to hit for power, but he does everything else. Ii think he is going to be a very good major league player.
Matthew
March 13, 2014 - 12:05 PM EDT
Count me among those who are really, really high on J-Ram. I look at his numbers from last year and I'm blown away. I think too many people looked at those numbers and thing they were somehow unimpressive. This is a guy who, as Tony mentioned, was playing rookie ball at the beginning of 2012. One year later he was playing AA, and by the end of the season he was holding his own in the big leagues. He is still SO young, and needs some time to develop. AAA will be a great place for him. He has an excellent chance to develop that plate discipline he needs to add some walks, and be more selective with pitches he can drive. I see the potential for a .310/.380/.425 player.

Everything else is there for J-Ram. He will play almost the entire 2014 season as a 21 year old. He will continue to get a little stronger, and more and more of those singles will turn into doubles as they find the gaps.

He'll probably never hit more than 7-10 homers in a season, but he has a very good chance to turn into a plus speed/plus defense guy who almost never strikes out, and sprays lasers into the gaps. That's a really, REALLY valuable top of the lineup player.
pathofkindness
March 13, 2014 - 12:02 PM EDT
I agree w Rich. OBP needs to get better. And I've also been curious about why no doubles, so good catch.

Maybe I'm totally misreading you Tony, but one thing that I've never understood is talking about a prospect as if developing into a middle infield utility player is something to feel good about. Its not. For the 6th ranked player in a system to become a utility player is a major FAIL. That's because if Ramirez ends up being a utility infielder then he's just not very valuable. Utility infielders are not exactly a dime-a-dozen, as its great to have a quality fill-in, but they're about as close to it as you can get.

Also, decent to really good utility infielders can be found or acquired fairly easily, just look at the Indians this year, they've got Sellers and Johnson (from the looks of it, two pretty darn good players) in camp on no obligation deals to fight for a backup job, and that's with Aviles already manning the position! The simple truth is Ramirez becomes valuable to the Tribe if he's a starter, either for us, or to another team that we can trade him to. Not as a backup. So am I missing something? Why even talk about a high ranked prospect as becoming a utility infielder?

I do love this guy's energy (and understand why Francona likes him too), and I think that he can probably, eventually, become a ML starter at 2B, but I seriously doubt that he can become a ML regular at SS (and clearly this is never going to happen for the Tribe with Lindor around), but that's just from the limited amount of times I've seen him on the screen, i.e. never in-person.
art
March 13, 2014 - 11:28 AM EDT
I think he may evolve into a Marco Scutaro type of player with a little physical maturity.
Rich
March 13, 2014 - 10:24 AM EDT
This guy has great speed but hit only 16 doubles in 482 AB's at Akron. You'd think he'd have more than 16 if he's fast enough to stretch a few singles into doubles. Or maybe all 16 of those doubles were singles he managed to take an extra base on. In which case he really lacks power.

He's still only 21 so maybe he'll add some power. But if he rarely gets an extra base hit he'll need a better OBP than .325.