2014 Indians 30th round pick: RHP Nick Hynes
With their 30th round pick in the 2014 Draft the Cleveland Indians have selected right-handed pitcher Nick Hynes out of Riverside Community College (CA).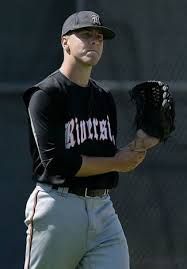 Born: 11/15/1993 – Height: 6'4" – Weight: 230 – Bats: Right – Throws: Right
Jeff Ellis: Nick Hynes is a big 6'4" right hander from Riverside. Last year the Indians selected Kenny Matthews out of Riverside, though they did not see Hynes as this was his first year with Riverside. Hynes was a commit who went to Arizona but was stuck not getting the time he needed so he transferred out to Riverside so he could play this year. He might be 6'4" but he looks pretty filled out so I am not sure if there is a ton or projection left in him. He throws in the mid 80's to low 90's with a nice downward plain on his pitches. He worked out of the pen this year and averaged over a strikeout an inning. Since he is a freshman I think he might be a harder sign and a lot like Winfrey and Cooley this pick might be more about getting to know a kid who you might be more interested in next year.
Video:
None
User Comments
No comments currently. Be the first to comment!