2014 Indians 31st round pick: RHP Dominic DeMasi
With their 31st round pick in the 2014 Draft the Cleveland Indians have selected right-handed pitcher Dominic DeMasi out of Valdosta St. University (GA).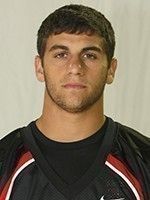 Born: 2/23/1993 – Height: 6'3" – Weight: 190 – Bats: Right – Throws: Right
Jeff Ellis: Dominic DeMasi is yet another right-handed pitcher for the Indians, who have been targeting right handed pitchers heavily on the third day of the draft. Demasi is 6'3" right handed pitcher who played two sports at Valdosta State. He was not only a starting pitcher but was a punter on the football team. As a starter this year he had a 2.79 ERA, 77/42 strikeout to walk ratio, and .216 BAA in 80.2 innings. Demasi is obviously a pretty good athlete and being a junior there is a good chance he will sign with the Indians rather than return to Valdosta State for his senior year.
Video:
None
User Comments
Northern Needle
June 8, 2014 - 8:49 PM EDT
Good Luck Dominic! Great news