2014 Instructional League roster and schedule
The 2014 Fall Instructional League is set to get underway out in Goodyear, Arizona. Over a span of a month around 50 players will participate in weight training and conditioning drills, on-field instruction, and play in 10-12 games until it wraps up on Sunday October 12th.
This is a time when a lot of the players selected in the 2014 Draft, key Latin signings, and other players acquired throughout the season get exposed to the spring training environment. It is also a time when the player development staff gets to sit down with the new players and work on things to get them prepared for the offseason and make the adjustments needed for the next season.
This will allow young players like Justus Sheffield, Grant Hockin, Bobby Bradley, Sam Hentges, Micah Miniard and others to get more game experience in a highly instructional enviroment that also provides the opportunity to play in games. Instructional League also allows some players that had injury issues throughout the season (like Mike Rayl and Jeff Johnson) to make up some much needed time they lost.
It is also important to note that several of these players will be playing in the Arizona Fall League and some listed will be using Instructional League simply to get ready for the AFL which begins on October 7th. We already know some of the players going as they are Tony Wolters, Jordan Smith, Dylan Baker, Nick Maronde and Louis Head, but there are two to three players that will be added soon.
As noted last season, the Parallel League (AKA the Advanced Instructional League) is once again not expected to be back this season.
Here is the schedule and roster:
Schedule
Roster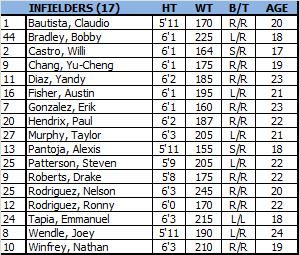 Follow Tony and the Indians Baseball Insider on Twitter @TonyIBI. Also, his new book the 2014 Cleveland Indians Baseball Insider which profiles the Indians' Top 100 Prospects and more is available for sale.
User Comments
Bill
October 14, 2014 - 11:48 AM EDT
Surprised that Grant Fink is not on the list, given the number of strikeouts he had this year. Any news on him?
Matt
September 14, 2014 - 11:18 PM EDT
Hi Tony, do you know any or know where I could find rosters for other Instruct league teams? Thanks
Hiram
September 11, 2014 - 6:54 PM EDT
Santander and Johnson are two names that we missed this year. I hope they can come back next year and show some significant progress. I'll be watching for Lovegrove too. We need Lovegrove and Cody Anderson to step up next year to give this farm system depth in terms of starting pitching
elrod
September 11, 2014 - 3:45 PM EDT
Thanks, Tony.
Walter
September 11, 2014 - 2:01 PM EDT
Surprised that Sincarf Loopstock is not on the list.

Tony
September 11, 2014 - 12:55 PM EDT
Not sure yet on Murphy. But there are usually 1-2 position experiments in Instructs so would not be a surprise.
elrod
September 11, 2014 - 12:37 PM EDT
Is Taylor Murphy being moved to 1st or 3rd base?
Tony
September 11, 2014 - 10:20 AM EDT
Rehab guys like Santander, Rayl and Johnson should all be there rehabbing....and maybe get in a game or two if cleared (Rayl is obviously already cleared).
Canadian Joe
September 11, 2014 - 10:12 AM EDT
Tony, what is the status with Anthony Santander ? Thought he might be included, however he may still be in rehab. for his shoulder.