5-4 Putout (of the Lineup)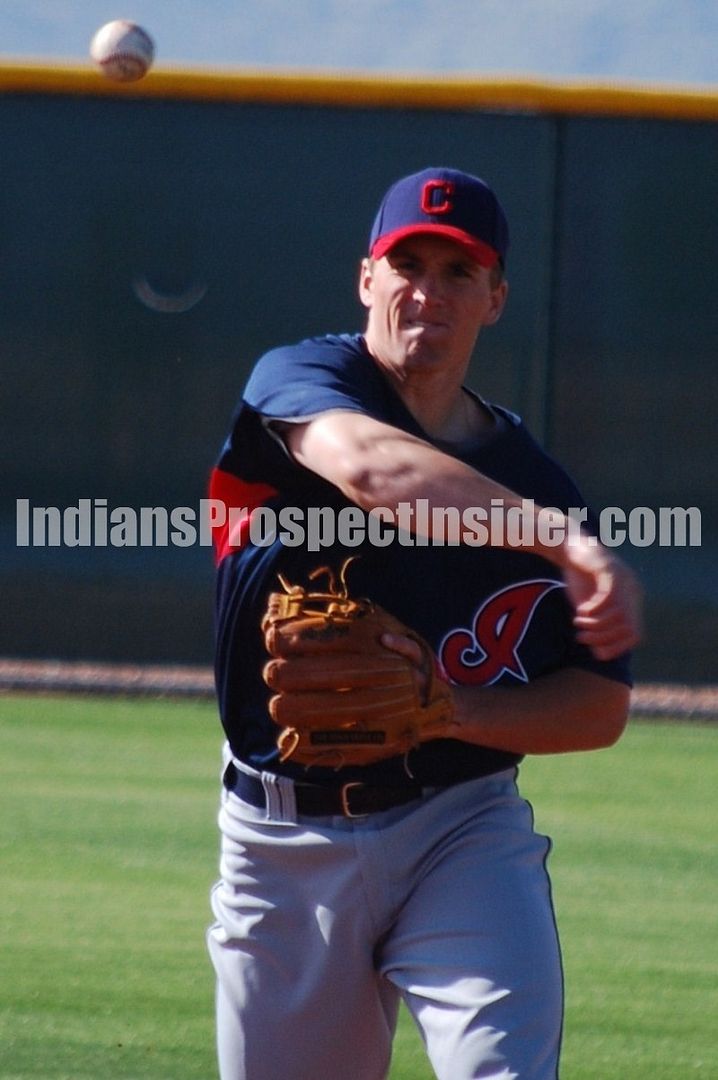 Cord Phelps (Photo: Tony Lastoria)
The organization has answered the call of the fans, as Cord Phelps was promoted to Cleveland. Can Phelps answer the distress call coming from the Indians' offense?
The once magical Indians lineup has taken a turn for the worst in recent weeks, and while the skid has been almost top to bottom (with the exceptions of Asdrubal Cabrera and Michael Brantley), there are two particularly easy targets. Warranted targets.
Third baseman Jack Hannahan was a pleasant surprise at the plate early on, but has regressed hard since April, where he hit .273 (career .224 hitter coming into the season), drove in 14 runs and accumulated an OPS of .829 (career .661 OPS). Obviously, one month is a small sample size, but for a player of historically-limited offensive capabilities, it can still be an outlier. In nearly the exact same amount of playing time in May, he came closer to what was expected from him at the plate (unfortunately, even worse), batting .184, driving in only three runs and managing an abysmal .494 OPS. Still, Hannahan holds quantifiable value to this team because of his defense. Not playing every day value, but value, nonetheless.
Orlando Cabrera, who has manned second base for all but three games so far this season, holds little value to the Tribe, and none of it is quantifiable. There is no denying that leadership and experience are important to a young team such as this one, but at what point will that not be enough for Manny Acta? The team's once stellar infield defense was widely attributed to "stabilizing force" Cabrera, but it has taken a hit recently. In fact, fundamental play across the board has been down, and a youthful team has started to play more like you might expect a youthful team to. I will not pretend to know what kind of impact Cabrera truly has on the other 24 players behind closed doors, but between the baselines, the evidence of it is becoming less visible.
There is still plenty that numbers can tell you about Cabrera, though. Like Hannahah, he also got off to a good start offensively. .245 average, 28 RBI on the season. Not so bad, right? He even had his share of turns as hero in the late innings during a great first few weeks for the Indians. But, that is about where the appeal wears off.
Giving him any kind of credit defensively is unwarranted, as his UZR ranks seventh-last among all of the innings-qualified position players in baseball. Of course, his even bigger detriment comes from within the lineup. While some of his overall numbers may seem acceptable, most of them are anything but. His .580 OPS ranks 165th out of 172 qualified hitters. Yuniesky Betancourt, who many believe to be the worst everyday player in the game, has 32 points on Cabrera. 10 extra-base hits and six walks in 214 plate appearances will put you in that kind of "company." Before his double last night, his last hit that was not a single came on May 21st. Any way you spin it, the 36-year-old is just not a viable everyday player anymore.
And here is where the clamoring for Phelps came from. It may seem strange to some that Phelps' name come up before Lonnie Chisenhall's or Jason Kipnis', the organization's two best position prospects, but he was drafted one year earlier and is the most ready now. Through 55 games in Columbus, Phelps' slash-line stands at .299/.391/.488. He hit seven home runs and driven in 40, all while playing three different infield positions (and occasionally DH). Switch-hitting also lends to his versatility. He has hit at every stop along the way, and there really was nothing more for him to prove. This is not to insist that Cabrera be released or traded, but Phelps has earned this call-up.
And it comes at an interesting time, as Cabrera sits on 1,999 career hits. He has been a good player for a long time, but his days of being the Indians' everyday second baseman are over.
Chisenhall, who Hannahan was always considered just a stopgap for, expects to make his big league debut soon, as well. He is hitting .265 with a .773 OPS overall, but a slow start skews those numbers slightly, as he has performed much better in the past month-plus. He also has five home runs, 30 runs batted in and 39 runs scored. The one thing working against Chisenhall and for Phelps offensively right now is that Chisenhall is strictly a left-handed hitter, and putting him in a lineup full of left-handed hitters that have recently been struggling against left-handed pitching is tough. Chisenhall has had his own problems in that area.
No one should expect Phelps or Chisenhall to step in, dominate and get this offense back on track by themselves. Neither of them is going to replace Travis Hafner's presence and production, nor solve Shin-Soo Choo's or Carlos Santana's problems. As rookies, they may even struggle.
But, if there is something to be said about "leadership" and "experience," why can't the reverse be true, in regards to youth and energy? Not only does the lineup need a boost, the team as a whole does. The free and easy attitude has disappeared during this slide, and who better than a kid or two to find it again?
User Comments
No comments currently. Be the first to comment!