50 Games: The Good, the Bad, the Future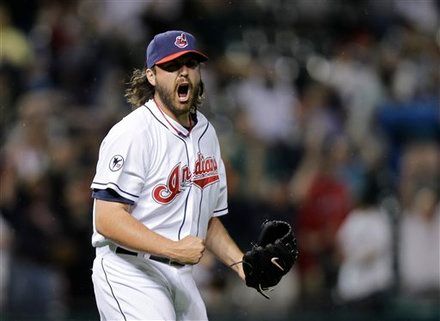 Chris Perez and the Indians are off to a
screaming start. (Photo: AP)
Please welcome new site columnist Kevin Dean to the fold. He will be writing about the Cleveland Indians and other topics throughout the season.
The Indians are officially four games away from being a third of the way through the regular season (no worries about any more rain outs over that span - four straight dome games!), but 50 is a more practical number than 54, so let us take a look at what we have seen from the team, and what can be expected from them going forward.
The Good
When any Major League team starts a season 31-19, there are surely going to be a number of positives to take away from such a start. When a team that was expected to win about twice as many games as that for an entire baseball season is 31-19, there are more than you can imagine.
Asdrubal Cabrera's emergence:
The team's undisputed Most Valuable Player through 50 games, we are seeing the culmination of Asdrubal's talent. He has already set a career-high with 10 home runs, along with 35 RBI, a .300 batting average and a near .900 OPS. Besides that, he has shown slick, seemingly effortless glove work at short, and stolen seven bases. Arguably the best all-around shortstop of 2011 so far, and a league MVP candidate.
Travis Hafner's reemergence:
Indians fans have desperately been waiting for any glimpse of the old Travis Hafner, and they have gotten it. Although he has been battling injuries and will be out for at least a few more weeks, the healthy version of Pronk has hit .345 and driven in 22 runs in 32 games.
Grady Sizemore's presence:
The face of the franchise returned with a bang after essentially two years on the shelf, hitting at almost a .400 clip, along with four home runs and nine batted in in his first 10 starts. His non-stop energy and effort cost him a little bit more time on the disabled list after an injury to his other knee, but just his name on the lineup card and his presence in center field was a driving force to the team's good play early on.
Michael Brantley's swagger:
Sizemore, the team's best player and entrenched leadoff hitter has recently been batting fifth and sixth. Enter Michael Brantley. With a quiet confidence and an unflappable demeanor, he has not looked like a 24-year-old between the lines. Whether he has batted first, sixth, or seventh, he has had a disciplined approach far beyond his years, and a number of clutch hits, batting .414 with runners in scoring position. He has also shown somewhat surprising pull power, hitting four homers.
Jack Hannahan's defense:
He may have gotten the starting job at third base by a little bit of chance, but he quickly proved his worth. Hannahan has played Gold Glove-caliber defense, solidifying the infield behind a barrage of groundball pitchers.
Justin Masterson's justification:
July 31st, 2009 was a poignant day for the organization and its fans. Victor Martinez was yet another trade victim of a highly disappointing season, and the centerpiece of the return was not Clay Buchholz. Instead, it was Masterson, who many pegged as an eventual reliever, something he had mostly been in Boston, because of his inability to get left-handed hitters out. While he has still struggled to do that at times, the overall results can't be overlooked. He is 5-3 with an ERA just over 3.00, and has one of the best groundball-to-flyball rates in all of baseball.
Josh Tomlin's consistency:
By now, we have all heard about Tomlin's career-long streak of 22 straight starts lasting at least five innings, but it is still no less impressive. He leads the team in wins, all but one of his starts have been quality starts, and boasts an incredible 0.90 WHIP. While he is never going to strike out a ton of guys, and is susceptible to the long ball, he has gone out every fifth day with no fear and a plan that has worked.
The bullpen's cohesion:
They have given themselves a nickname (Bullpen Mafia), they have taken to Twitter together, and they are doing their jobs. Chris Perez is first in the American League in saves. Tony Sipp leads the American League in holds with 11, and Vinnie Pestano, Rafael Perez and Joe Smith have combined for 12 more. The pen as a unit has the third-best ERA in the American League, and the second-best batting average against. They have no doubt been the strongest, most consistent area of the team.
The bench's preparation:
Shelley Duncan has been the best pinch-hitter in baseball so far this season, going 4-5 with 7 RBI. Lou Marson is a dramatically improved hitter at the plate, while still being a weapon behind it. Ezequiel Carrera walked up to a Major League batter's box for the first time, only to send the team to a walk-off victory by way of a drag bunt. When called upon, the reserves have generally held their own.
The team's flair for the dramatic:
The team has won eight games in their final at-bat at home, including two gutsy squeeze plays and a Friday night grand slam that shook the city's streets. Progressive Field has become a stage for magic once again, and two months of baseball has brought back years of memories in Cleveland.
Manny Acta's belief:
When manager Manny Acta told anyone that would listen that he expected his young ballclub to compete this year, everyone passed it off as professional coach-speak. Well, everyone except the rest of his coaching staff and his players. When the Indians were down 14-0 on Opening Day, it looked like they were off to an all too familiarly dubious start. But something special happened on that day, and that fight and never say die attitude instilled in them by Acta has carried on.
The Bad
Of course, all has not been perfect. While the Indians have seen more success than almost anyone could have imagined so far, there have been some negatives.
Shin-Soo Choo's slow start:
.250, 5 home runs and 22 runs batted in. On the surface, that may look like a solid line through 50 games. But when you expect the kind of consistency that Choo has shown so far in his career, and see his .713 OPS, it has been a somewhat disappointing first two months. He has also been striking out at a higher percentage than usual, while walking at a lower one. And while he has thrown out seven baserunners from right field, his normally-sound defense has been shaky, as he has looked lost at times, even when making catches.
Carlos Santana's slump:
Santana came into the spring ready to go after rookie season-ending knee surgery. Unfortunately, the start to his 2011 was not like that of 2010, and it is starting to worry some. He has seen a number of "mental" off-days, although the results aren't there yet. He does have 22 RBI, and due to his generally lengthy at-bats and ability to draw walks, an OBP that is 135 points higher than his .212 batting average, but it is clearly an internal struggle right now. His swing looks too busy, and he is trying too hard to get out of his slump with one at-bat. A recent drop in the order could help take some of the pressure off.
Early surprises coming back down:
Hannahan and Orlando Cabrera were signed primarily for their infield defense, but the first few weeks of the season saw them contributing offensively just as much as anyone. It was a great and welcomed surprise, but we have seen regression from both of them for quite some time now. Hannahan has shown why he has never been an even mediocre hitter, and Cabrera should not be an everyday player at this point in his career.
Baserunning:
To win 31 of your first 50 games, you are going to have to execute fundamentally. For the most part, the Tribe has. Recently, though, the team has made a number of inexcusable outs on the bases, including a number of flyout double plays that had no business happening, and even a runner being picked off of third base.
Injuries:
Three of the seven different starting pitchers and arguably the two best hitters on the team have paid a visit to the disabled list. The Indians have managed to overcome those setbacks thus far, but it will be particularly concerning going forward if the injuries continue to mount. The lineup has been noticably struggling to score recently with Hafner and Sizemore out.
The Future
With 112 games still to come, there is little that can be predicted. Such is baseball. What is certain is that this team will continue to battle through injuries and criticism, and it should be a very enjoyable summer for the team and its fans.. Even though the rest of the Central Division has struggled, is there much doubt that there will almost certainly be a very interesting, competitive month of September to decide who advances to October? And of course, there will be several good up-and-coming prospects like Lonnie Chisenhall, Jason Kipnis and Cord Phelps to also look forward to who could help provide some punch to the offense down the stretch.
Follow Tony and the Indians Prospect Insider on Twitter
@TonyIPI
. Also, his latest book the 2011 Cleveland Indians Top 100 Prospects & More is
available for purchase
for $20.95 to customers in the US (shipping and handling extra).
User Comments
No comments currently. Be the first to comment!